Trump's Venezuela coup plotting is just the latest move in a long history of US hypocrisy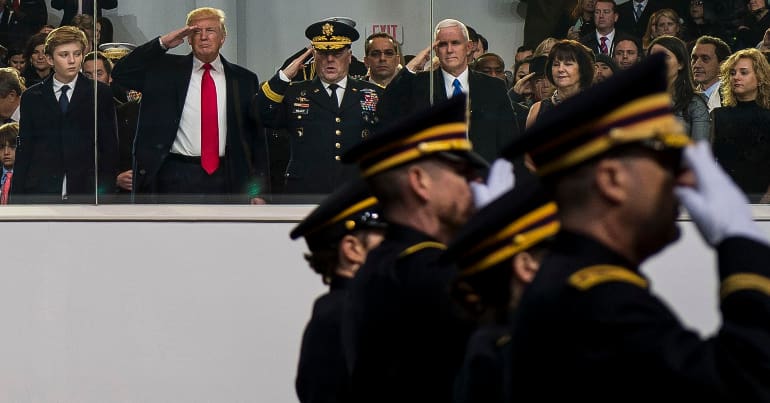 Support us and go ad-free
It was recently revealed that the US has been in contact with dissident Venezuelan military personnel about the possibility of aiding an internal coup. The revelation should come as a surprise to no one, but analyzing its broader context is illuminating. The focus on "regime change" in Venezuela, when contrasted with the treatment dealt to other countries in the region and elsewhere, opens a revealing window into the cynical motives and double standards of US foreign policy.
Covert backchannel
On 8 September, an article in the New York Times reported that Trump administration officials have held secret meetings with disaffected Venezuelan military officers. They discussed launching a US-backed coup against the beleaguered government of President Nicolás Maduro. The article revealed that a backchannel was established in the autumn of 2017 to arrange the covert meetings.
The White House reportedly "declined to answer detailed questions about the talks". But, in an apparent concession, it released a statement saying that the Trump administration supports "dialogue with all Venezuelans who demonstrate a desire for democracy", in order to "bring positive change to a country that has suffered so much under Maduro". A later White House statement said that the US seeks "a peaceful, orderly return to democracy".
Unsurprising
This kind of sabre-rattling by the US against Venezuela (and the accompanying prevarication) is nothing new; the leftist government of the oil-rich South American nation has been in the US's crosshairs for decades. The story is a familiar one: a US-backed coup against former President Chavez in 2002 followed by constant intervention via covert funding of opposition activities, sanctions and consistent refusals to recognize Chavista election victories ever since.
But under Trump, the siding with opposition forces has been more open and the threats more brazen. His administration, for instance, has publicly hosted various Venezuelan opposition figures at the White House, including Liliana Tintori, wife of Voluntad Popular leader Leopoldo Lopez.
The country's crippling economic crisis has provided the latest convenient ruse to present intervention to the US public and international community as being based on benevolent concern for the Venezuelan people. The idea that this is what motivates the US's desire to intervene is obviously false due to the fact that US intervention in Venezuela and the desire to oust the Chavista government long predates the crisis.
In August 2017, Trump, nonetheless, predictably used it as justification when making clear that he was not ruling out military intervention in an effort to 'solve' the country's problems. He said:
Read on...
Support us and go ad-free
We have many options for Venezuela, and by the way, I'm not going to rule out a military option
"This guy is insane"
To be clear, the crisis Venezuela has been facing for the last few years is real. Its effects have been severe. Though its causes are highly contested (socialism, by the way, isn't one of them), it's beyond doubt that it has precipitated a humanitarian situation that has led to great suffering and a large exodus of people out of the country. Nonetheless, the idea that US intervention is the solution to the situation is beyond ludicrous.
Don't just take my word for it. In September 2017, Trump met with the leaders of four Latin American countries – Argentina, Brazil, Colombia and Panama – to discuss US relations and issues facing the region. They responded to Trump's idea of military intervention in Venezuela by stating: "This guy is insane." (Keep in mind that all four represent parties of the centre-right and are not exactly friendly to Maduro.)
Regional organizations, including the generally hostile Organization of American States (OAS), are also opposed to military intervention. And most damning of all for Trump's positioning, polls consistently show that a majority of Venezuelans oppose military intervention, which includes many who support the opposition.
Selective indignation
But there's a bigger underlying issue with the stance that the US has taken toward Venezuela: one of even-handedness and credibility. Since long before the crisis, the US has based its hostility to Venezuela on an implicit set of criteria. They are often poorly defined but are frequently communicated by stealth in the mainstream press. Examples include (often vague) accusations of human rights violations, violence on the part of state security forces, election tampering, rising crime levels and generalized 'authoritarianism'.
To be sure, though the mainstream Western media (and human rights establishment) has a long record of exaggeration, distortion and outright lies about Venezuela, there are legitimate criticisms of the Chavista government surrounding some of these issues. But a comparison with other situations in the region and around the world shows that the US is highly selective in its outrage over such matters. The late director of the Council on Hemispheric Affairs, Larry Birns, coined the term 'selective indignation' to describe this double standard in the way the US applies human rights standards.
Contrast with Honduras
Take the last decade of US relations with the Central American nation of Honduras. In 2009, there was an illegal coup that violently deposed the democratically-elected government of Manuel Zelaya. It's now widely known that the US State Department, under the leadership of Hilary Clinton, played a significant role.
Since then, the country has descended into an increasingly brutal human rights nightmare. It has, in fact, developed many of the problems that the US criticizes the government of Venezuela for. This includes violence on the part of state security forces, which several mainstream human rights organizations have denounced in no uncertain terms. There have also been significant increases in crime, making Honduras one of the most violent countries in the world. Its most recent election in 2017, meanwhile, was widely believed to have been tainted by fraud, violent voter intimidation and electoral irregularities. In spite of this, the US accepted the result without question.
The situation has become so bad that, like Venezuela, it has been described as a humanitarian crisis that has likewise led to an exodus of people fleeing the country. Yet the post-coup governments have not only never been threatened with intervention of any kind by the US, but have rather been propped up and generously funded by the US State Department.
Obedience to neoliberal orthodoxy
What explains this discrepancy? The answer lies in examining the difference between these two countries' obedience to the US's neoliberal orthodoxy and imperialist interests in the region. Whereas post-coup governments in Honduras have dutifully followed the neoliberal path of the Washington Consensus, Venezuela has experimented with social democratic reforms. In the first decade of the Chavez presidency, for instance, there was a huge expansion in access to education and healthcare. The Chavez administration also established literacy programs and subsidized food markets. This was paid for in large part by wresting control of the lucrative oil sector from a societal elite and rediverting funds to social programs.
Chavez also called for Latin American unity against US aggression and domination in the region. And most significantly of all, he threatened US economic interests in the country by partially nationalizing the private business sector, including some operations that were owned by large US multinational corporations such as the agro-industrial giant Cargill Inc. For this defiance of neoliberal orthodoxy and imperial hegemony, Venezuela was punished with a destabilization campaign by both the United States and an allied, US-funded internal opposition that frequently resorted to violence.
Before getting deposed, the Zelaya government was likewise resisting neoliberalism by pursuing similar progressive reforms in Honduras, such as raising the minimum wage along with promoting LGBT and ethnic minority rights (issues, it should be noted, that then-Secretary of State Clinton claims to champion). Just as with the hostility toward Venezuela, it was this defiance of the US's dominant economic system and interests in the region that led to him suffering the fate of a US-backed coup, like that which Chavez had narrowly survived in 2002. The post-coup governments, on the other hand, have fallen in line with US interests and neoliberal orthodoxy – and have been rewarded generously.
A familiar tale
Similar stories of the US going beyond inaction to actively aiding and abetting obedient governments of countries in similar conditions of crisis are too numerous to detail extensively but include:
Funding of state terror and allied paramilitaries in Colombia throughout its half-century-long armed conflict.
Funding of

state security forces

implicated in extensive human rights violations in Mexico (ranked in 2016 as the second most dangerous country in the world after Syria).
Propping up the homicidal Pinochet regime in Chile that disappeared thousands of political opponents (the US also orchestrated the coup that put him in power in the first place).
Funding and training right-wing death squads in El Salvador during its 12-year-long civil war.
There are also plenty of examples from outside Latin America, including:
Arming Saudi Arabia despite its human rights abuses and war in Yemen (which, incidentally, has sparked a humanitarian crisis – has anyone ever heard of a US proposal to intervene to stop that one?).
And, of course, the decades-long provision of billions in military aid to Israel. This in spite of its illegal occupation of Palestinian territories, flagrant flouting of international law, frequent human rights violations including war crimes, and sporadic waging of war against its neighbors.
Never benevolent
Again it should be stressed that the severity of the crisis in Venezuela and the suffering of its people ought not to be minimized. But it is not whataboutery to compare the situation with others in order to expose the double standard and hypocrisy of the interventionist stance. The US's behaviour in Latin America has shown consistently that it is neither an honest broker nor a positive influence in the region.
Therefore, nothing that it does can be expected to help the situation, whether it be in Venezuela, Honduras or anywhere else. When intervening in other countries' affairs, its motives are not, and never have been, benevolent. Rather, the US has been hell-bent since the 1940s (at least) on imposing its preferred economic system on the rest of the world by any means necessary and advancing its national interest through imperialist control and coercion.
Venezuelans should look instead to regional institutions such as the Union of South American Nations (UNASUR) and Community of Latin American and Caribbean States (CELAC) for help in recovering from the crisis. These bodies are untainted by the base motives of Washington. As Bolivian President Evo Morales pointed out, they represent a "weapon against imperialism" and the culmination of the decades-long struggle for Latin American independence and regional integration.
Get Involved!
– Join the Venezuela Solidarity Campaign.
– Take part in one of the campaigns of Just Foreign Policy.
– Go on a delegation to Honduras with the Honduras Solidarity Network.
– Support Witness for Peace in its campaigns for peace and social justice in Latin America. You can also travel on one its many delegations to the region.
– Check out The Canary's Latin America coverage. If you appreciate our work, support us.
Featured image via Master Sgt. Michel Sauret/Wikimedia Commons
Support us and go ad-free
We know everyone is suffering under the Tories - but the Canary is a vital weapon in our fight back, and we need your support
The Canary Workers' Co-op knows life is hard. The Tories are waging a class war against us we're all having to fight. But like trade unions and community organising, truly independent working-class media is a vital weapon in our armoury.
The Canary doesn't have the budget of the corporate media. In fact, our income is over 1,000 times less than the Guardian's. What we do have is a radical agenda that disrupts power and amplifies marginalised communities. But we can only do this with our readers' support.
So please, help us continue to spread messages of resistance and hope. Even the smallest donation would mean the world to us.
Support us