The week in satire Vol. #88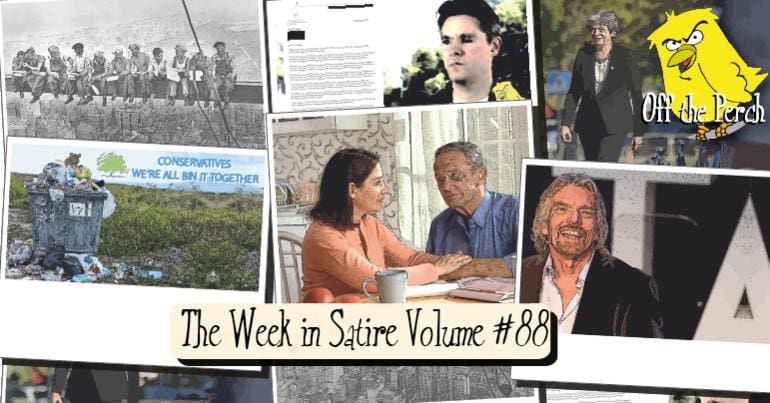 Support us and go ad-free
And what a week it was!
A week in which Labour said Remain was still on the table! A week in which Labour said Remain wasn't still on the table! And a week in which the Tories' attempts to use Labour's Brexit strategy as a distraction from their own was once more thwarted by Labour's stance being too confusing to understand!
But what else happened?
Let's look back and see:
Increasingly, the rich own more than the rest of us combined. We're at a point where Richard Branson owns more cars than every UK male named 'Dave' and where Jeff Bezos's wallet is stuffed with minor Banksy murals.
Labour has announced new plans to spread the wealth that include giving company shares to employees. As you can imagine, the greedy, bourgeois pigs company owners are less than pleased.
Read on...
Support us and go ad-free
Cry us a river
One multi-billionaire said:
If you people earn more, then I earn less, which seems pretty selfish to me? I've got a shot at becoming the first ever trillionaire. Why should I lose out just so that people can afford – how do you say – 'enough to eat'?
Another pointed out:
What's more exciting – people having enough to afford their own homes and put money back into the economy, or Elon Musk firing cars at the moon and accusing heroes he disagrees with of being paedophiles? You complain about us living like Greek gods, but you love reading about our exploits!
Meanwhile, someone who isn't a billionaire said:
They'd be wise to take a bit less now before they push us too far and we end up eating them.
Revolution
Obviously, no one at Off The Perch is recommending that people start eating the rich.
*LOOKS AROUND TO SEE IF THERE ARE ANY COPS WATCHING AND THEN WHISPERS*
"Eat the rich!"
If there are two things people in Britain love, it's:
Festering piles of stinking rubbish.
Hideous, disease-ridden rats.
Well good news, people of Britain! You keep voting for the austerity party, and now we're getting monthly rubbish collections!
Let them eat shit!
Of course, monthly collections aren't bad news for everyone. It's great for rats, flies, and pigeons. The Tory minister for desperately trying to cling to power said this:
Some people say that 16-year-olds should be able to vote. We in the Tory Party say, 'why not rats'? I've done many things more sickening than a rat – should I not have a right to vote? It's a real injustice that needs solving.
Obviously rats can't scurry into polling booths and vote. The Tories propose that any rat which accepts their rubbish probably supports the Tory Party, though. They also pointed out rats are naturally in line with Tories, as both rely on the output of other people to sustain their grimy lifestyles.
Nationwide 
Not every council implementing monthly collections will be Conservative, but every one will be doing so because of Tory austerity.
This is what David Cameron meant when he planned for us to 'all be in it together'. A country that stinks and has a permanent cloud of flies hanging over it.
Welcome to Great Shitain!
by Steve Topple
Daily Mail columnist and Jeremy Corbyn anti-fanboy Dan Hodges has found himself at the centre of a storm on social media. The scandal surrounds the 'leaking' of a letter to him from a prominent organisation. But the content is so controversial that the chair of the organisation has launched an investigation into how the leak happened.
It's all kicking off-al 
The Tripe Marketing Board (TMB) claims to be the UK's leading promoter of all things offal. It says its aims are to:
raise the profile of tripe to the pre-eminent position it held back in the days when Britain was truly great and you could feed a family of six on a nourishing dish of tripe for less than a halfpenny.
But recently the TMB has moved away from promoting the finest offal money can buy. Because the 'hard left' has seemingly infiltrated it. The TMB has now wedded itself to the 'Corbynite cult' within the Labour Party. But this anti-establishment zeal came to a head on Monday 24 September. Because Twitter user Adrian Littlejohn tweeted an allegedly 'leaked' letter from the TMB to Hodges. And it appears to make the outrageous accusation that Hodges' attacks on Corbyn are somehow incompetent.
Off The Perch has verified the authenticity of the letter. But some on social media are implying that it's actually satire and the TMB doesn't exist.
Anyone for tripe?
The letter to Hodges from TMB chair Sir Norman Wrassle states:
My team have noticed that you have spent the last few years pillorying… Corbyn via a relentless barrage of Tweets and newspaper articles. The nett [sic] effect of this has been an increase in his popularity and a huge boost to the numbers of people recruited to the Labour Party.

We wondered if you might be persuaded to take a similar line against tripe?
As soon as Littlejohn leaked the letter, TMB's PR team leapt into action:
Well! If this is not a fabrication, I think the chairman of the Tripe Marketing Board has some questions to answer, @TripeUK. (Copy received from a 'friend'). Cc @DPJHodges pic.twitter.com/TBNjovi33i

— Adrian Littlejohn #FBPE #GTTO (@yorksfella59) September 24, 2018
Then it issued a swift apology:
An apology. https://t.co/z6l5QbtmMz pic.twitter.com/15PAaItfPB

— Tripe Marketing Board (@TripeUK) September 24, 2018
But far from being over, the scandal over Hodges allegedly writing about and promoting finest quality tripe (and also being asked by the TMB to promote its offal-based product) has twisted and turned.
A stewing scandal
First, Wrassle immediately took to Twitter to claim the letter was indeed from him, but never actually sent:
I can confirm that this had NOT been posted at the time it was tweeted. It doesn't bear my signature. https://t.co/pJHlXi1odb

— Sir Norman Wrassle (@Sir_Norman) September 24, 2018
Then, on Tuesday 25 September, TMB issued a bombshell statement from Wrassle. He claimed he had not actually read the content of the letter, drafted by an aide, but that:
I got as far as reading the words 'Mr DPJ Hodges' and 'Daily Mail' and read no further. This is because the TMB has a long-held policy of not advertising our product in that newspaper as we have learned that its readers are unable to distinguish between tripe and its editorial content.
Wrassle has launched an investigation.
So Off The Perch put it to him that the leak had been intentionally timed. This, we suggested, was to cause maximum disruption to the Blairites (quite rightly) moaning and whinging at the Labour conference. An angry Wrassle told Off The Perch:
We are first and foremost a meat-based marketing board. Our job is to get tripe noticed. Whatever the motivation for the leak, I doubt very much that it was to undermine Labour's right wing. They are doing a very good job at that themselves.
Hodges: chatting shit
Meanwhile, Hodges has stayed silent on the matter. But Off The Perch has exclusively learned that he's been approached by another organisation to promote its product; allegedly because he spouts so much of it already:
In the run-up to the last election, Theresa May said:
Let me be clear, I will definitely not – cross my heart and hope to die – be calling another election.
And:
Let me be clear – an election I will not call!
And:
Let me be clear!
And:
CLEAR!
And:
CLEAR, CLEAR, CLEAR!
And:
I AM THE CLEAR WOMAN! THEY ARE THE CLEAR MEN! I AM THE WALRUS!
And:
STOP! CLEAR TIME!
Before finally admitting:
We're having an election. But let me be clear, this was always part of the plan; I've never said otherwise.
As May has once more been clear that we won't be having a snap election, we can probably assume she'll call one before Christmas.
May Day 
A fresh election will be problematic for May for a number of reasons:
She has all the charm of a cheese-grater.
She has no new policy ideas, and everyone knows that any she pretends to have will end up in the bin – just like her last manifesto.
Everything is problematic for her. She just isn't very good at doing things.
She'll have to call an election whether she likes it or not, though. She said she wouldn't. And May incorrectly saying she won't do something is the closest thing you'll ever get to a straight answer from her.
The phrase 'anti-business' once had some political capital. The majority of people weren't fighting a daily battle to survive against poverty and precarious work; many assumed they had businesses to thank for that.
Now, when people think of 'business', they imagine Amazon owner Jeff Bezos wrapping his hands around their neck and laughing as he squeezes the last remaining pennies out of their bank account.
As such, the idea of being opposed to some businesses isn't all that odd. Unless you're still living in the bubble, obviously:
On @BBCNewsnight they asked me if @jeremycorbyn speech was not radical enough, and if @johnmcdonnellMP was anti-business… pic.twitter.com/NeID5JHvYv

— Paul Mason (@paulmasonnews) September 27, 2018
This is why Labour's suggestion that companies should treat their employees as human beings has caused something of a stink.
Monkey business
A gaggle of politicians, wealthy business owners, and newspaper columnists discussed the proposal on BBC Breakfast. They'd picked these guests to make sure there was a clear balance between those who benefit from capitalism-run-amok and those who lick these people's arses.
The widely hated Mike Ashley commented:
They're taking the piss now – everyone knows workers are just shaven chimpanzees.
Columnist Dan Hodges confirmed this assessment, claiming to have seen some of them up close:
Labour conference cabbie check: "I like Jeremy. He's ordinary, not like other politicians. The press say all these terrible things about him being racist. He's not". I'm walking now…

— (((Dan Hodges))) (@DPJHodges) September 24, 2018
Brave new world
If businesses like Amazon and Uber are allowed to carry on abusing their workers, then being 'anti-business' will be no more controversial than being 'anti-litter' or 'anti-Al-Qaeda'.
It's in the interest of most businesses that the worst companies are brought in line now. Although, if we have to eat Jeff Bezos before things change, then so be it.
Brexit is a big deal, and it will probably – to put it mildly – fuck everything up. Many realise this yet still acknowledge other issues. Others, however, can't indulge in any conversation without dragging it back to Brexit.
All Brexit, all the time
If you're on social media, you'll have experienced this. You'll tweet about NHS underfunding, and one of them will say:
After Brexit, we won't even have syringes. Doctors will get your blood out with a sharpened straw and a good suck.
You'll post a picture of your cat and be told:
Hold on to that – you'll need a ready source of protein when the food riots start.
You tell the world you're getting married, and someone will say:
I used to be married to something called the European Union. I just hope you aren't forcibly divorced against your will like I was #SomethingBlue
Onmipresent
Of course, if you ever point out there are issues other than Brexit, they'll say:
But Brexit will make them all worse!
They'll also refuse to talk about these other issues. Almost as if they only care about things that directly affect them.
If you yourself are finding it difficult to talk about something other than Brexit, don't worry. With any luck, it will all be sorted in 10-50 years or so.
Get Involved!
– For more satirical news, you can also follow Off The Perch on Facebook and Twitter.
– Join The Canary, so we can keep holding the powerful to account.
Featured image via Flickr – Jarle Naustvik / 5 News – YouTube / the TMB / pixabay / British Pest Control Association / EU2017EE Estonian Presidency – Wikimedia / Free Stock Photos [IMAGE WAS ALTERED]
Additional image via Alexander king – Flickr
Support us and go ad-free
We know everyone is suffering under the Tories - but the Canary is a vital weapon in our fight back, and we need your support
The Canary Workers' Co-op knows life is hard. The Tories are waging a class war against us we're all having to fight. But like trade unions and community organising, truly independent working-class media is a vital weapon in our armoury.
The Canary doesn't have the budget of the corporate media. In fact, our income is over 1,000 times less than the Guardian's. What we do have is a radical agenda that disrupts power and amplifies marginalised communities. But we can only do this with our readers' support.
So please, help us continue to spread messages of resistance and hope. Even the smallest donation would mean the world to us.
Support us