Shooting innocent civilians didn't end in Ireland, the British army continued doing it in Iraq and Afghanistan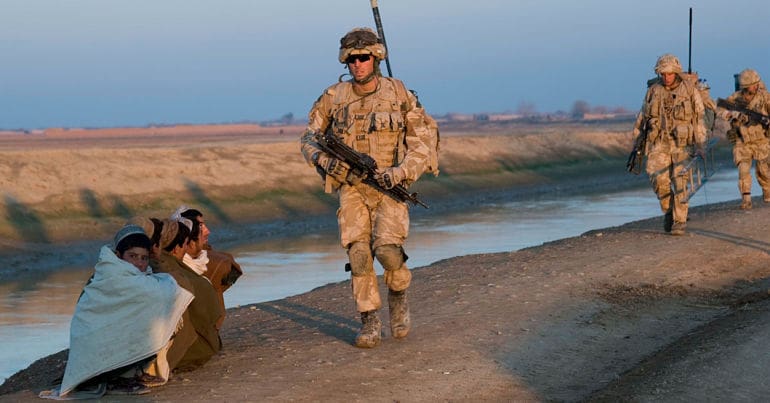 Support us and go ad-free
The Military Reaction Force (MRF), an undercover unit of the British army, shot and killed unarmed civilians in the north of Ireland. It did so for about 18 months until it was disbanded in 1973.
But a Middle East Eye investigation believes the British army used this same cold-blooded tactic in Iraq and Afghanistan between 2004 and 2011. At a public talk on Wednesday 6 February, the Pat Finucane Centre (PFC) said it believes a colonial mindset links both places. But that's little comfort for victims' families looking for justice.
'Dicking'
In Iraq and Afghanistan, British soldiers called these unarmed civilians "dickers". Dickers were civilians who reported troop movements. The term apparently originates in Ireland where people reported British troop movements to the IRA.
The Canary contacted the Ministry of Defence (MOD) for comment. A spokesperson said:
All UK operations comply fully with International Humanitarian Law and we ensure that we always take the necessary precautions to minimise civilian casualties.
Further connections with Ireland
At the PFC talk, Anne Cadwallader and Alan Brecknell highlighted further connections between these events.
In doing so, they discussed at length the barbarity of the Glenanne gang. As The Canary previously reported, this gang consisted of the British army, police and loyalist paramilitaries.
Read on...
Support us and go ad-free
Glenanne gang
British forces were locked in a conflict with the IRA between 1968 and 1998. But it wasn't just British forces or IRA combatants who lost their lives. Large numbers of innocent civilians also died.
In fact, the Glenanne gang were involved in 120 deaths between 1972 and 1976. And these civilians weren't just in the crossfire. The gang targeted them deliberately.
Britain's imperial past
The barbarity of targeting innocent civilians is difficult to understand. So Cadwallader and Brecknell used PFC research to show that this cold-blooded tactic comes from a colonial mindset.
Cadwallader explained the "importance of psychological strategy" in colonising people. Then she linked George Bush's "shock and awe" strategy in Iraq to that colonial mindset; a mindset that seeks to dominate the people it colonises.
Cadwallader quoted Major General Sir Charles E. Callwell as saying:
the people over whom they dominate must be made to feel a moral inferiority and recognise that there's nothing they can do against the powers who colonise them
Poisoning the water
Later in the talk, Cadwallader discussed Frank Kitson, who served extensively in the British Empire and ended up in Ireland. He brought that colonial mindset with him.
Kitson was "a counterinsurgency theorist" and an operational commander in Belfast between 1970 and 1972. In counterinsurgency Kitson believed:
If a fish has got to be destroyed it can be attacked directly by rod or net . . . But if rod and net cannot succeed by themselves it may be necessary to do something to the water
Therefore the British targeted ordinary people in Ireland in a deliberate attempt to persuade others to reject the IRA.
Innocence murdered
Those murdered by the Glenanne gang weren't in the IRA. Some were trade unionists, GAA (Irish sporting organisation) fans and members of the Socialist Labour Democratic Party SDLP. Brecknell's father Trevor, originally Church of England and from Birmingham, was another. 
Getting the word out
Cadwallader and the PFC keep people informed through public events. They also documented the Glenanne gang's killings in the book Lethal Allies. And Cadwallader's opening remarks summarised the purpose of these talks and the campaign for justice:
If anybody tells people to 'move on' or, 'get over it' or, 'forget about it' or, 'don't let your life be dominated by it', what they're asking people to do is to stop loving their relatives and that is no way reasonable.
As the Middle East Eye investigation shows, this tactic didn't end in Ireland. And this is just one more reason why it's so important that the families' justice campaign continues.
Featured Image – ResoluteSupportMedia/Flickr
Support us and go ad-free
Get involved
– Find out more about the work of the PFC and its support for families of the victims of British state killing seeking justice.
Fund our Investigations Unit
You can help us investigate corruption, expose injustice and uncover the truth.
As one of the only independent investigations units in the country, we work for you – but we need your help to keep going. We need to raise £10,000 to continue our groundbreaking investigations. Can you chip in?
Fund us