Namibia's government is at risk of presiding over the extinction of rare desert lions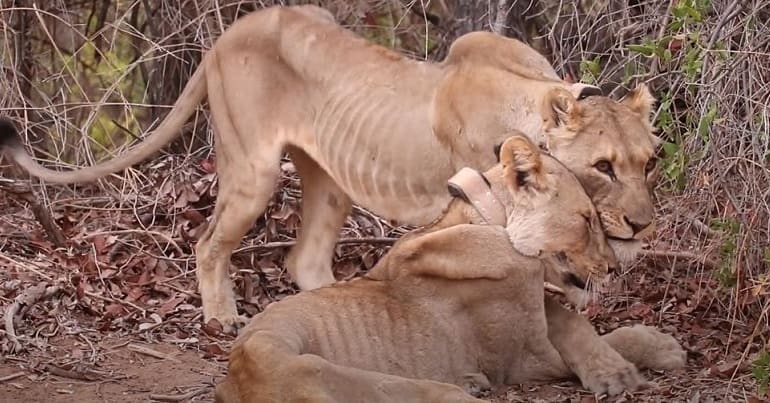 Support us and go ad-free
Namibia is often held up as a conservation success story. However, the country's government has also received criticism regarding its policies and their impact on wildlife conservation. The dire situation its rapidly diminishing population of rare desert-adapted lions is facing is a case in point.
Alongside years of drought, an apparent catalogue of policy failures over the last decade or so has contributed to the lions facing a serious risk of extinction. The Namibian government is essentially at a crossroads in terms of their survival. It can either learn from its mistakes and take action to bring the lions back from the brink, or go down in history as presiding over the rare animals' demise.
Desert-adapted lions
The majority of Africa's remaining lions live in savannah and grassland areas. In Namibia, however, there are lions in the desert too. They are unique, free-roaming individuals who have adapted to the harsh conditions in the Namib Desert. In 2016, National Geographic reported that there were no more than 150 of the desert-adapted lions left in the country. According to Desert Lions Human Relations Aid (DeLHRA), however, the number dropped to a maximum of around 85 individuals two years ago, with the numbers imploding of late.
The Canary spoke with DeLHRA's chairperson Izak Smit about the desert-adapted lions' situation on 19 April. It's a voluntary organisation that works with communities in the Namib Desert to facilitate peaceful coexistence between them and lions. DeLHRA, for example, helps subsistence farmers to protect their domesticated animals against predation. It does this by securing kraals, which are the enclosures where those animals are kept. And it provides floodlights and firecrackers to scare lions away too. The organisation has also given compensation to farmers who have been financially affected by the lions' behaviour.
Desperate situation
Just how desperate the lions' situation is has been on full display recently. The Ministry of Environment, Forestry and Tourism (MEFT) shot one painfully thin lioness who was found near a farmer's kraal of goats on 18 April. DeLHRA said MEFT took the action to relieve the lion from her "obvious misery and suffering".
Two other female lions, part of a Huab pride, also died in February and March. One was killed as a result of human lion conflict (HLC), according to DeLHRA. The farmer who shot the lioness did so "in self-defense and protection of his property". The MEFT euthanised the other due to her physical condition and an assessment that she posed a threat to farmers' safety. Both lionesses appeared to be suffering from starvation:
Read on...
Support us and go ad-free
Four other lions from the same Huab pride are also increasingly putting themselves at risk of HLC as a result of inadequate food sources.
Rapid response?
Namibia has a comprehensive national policy on human wildlife conflict management. As part of that, an 'early warning'  and 'rapid response' system is in place. In theory, the system should help to avoid potential conflict between people and the desert-adapted lions. Some of the lions have satellite collars, for example, in order to monitor their movements through satellite tracking. Rapid response teams can then take action to stop conflict in its tracks by scaring the lions away.
MEFT, the Lion Rangers and Integrated Rural Development and Nature Conservation (IRDNC) all have rapid response teams and access to the necessary tracking data for the four lions from the Huab pride, according to DeLHRA. However, no rapid response team came to attend to a recent HLC threat involving those lions until the fourth successive day of it occurring.
DeLHRA can and does assist communities by responding to such HLC situations. But it doesn't have access to the data collected through the early warning system. That's despite it being a stakeholder with a right to the data, as it has a mandate from affected communities. Smit said that, without the data, DeLHRA is left in a situation:
where we must drive up and down like idiots at night, over rocks and stones and mountains – because these lions just go anywhere – without being effective, and endanger ourselves and the villagers because [we] don't know where the lions are
The Canary contacted the IRDNC and the Lion Rangers regarding the delay of their rapid response teams. They did not respond to our request for comment.
Catalogue of errors
The MEFT put out a press release on the desert-adapted lions' predicament on 21 April. It assured "the public, farmers and communities that there is constant monitoring of the lion situation in the region". It also said that what's happening with lions in the northwest of the country, i.e. the desert-adapted lions, is "natural". MEFT cited lack of prey, old age, diseases and drought conditions as responsible for the "poor body condition" and "starvation" of some of the lions. It said that these factors can make lions "weak and unable to hunt". It also asserted that starvation and the lack of prey can lead to "increasing incidents of human-lion conflict".
Namibia goes through 'boom and bust' cycles in terms of its rainfall, or lack thereof, and the associated ecological conditions. Smit said the last 'boom' in the desert ended around 2012, with droughts common from 2013 onwards. Similar to the MEFT, DeLHRA's chair also asserted that it's "not an unnatural phenomena to have lions lose [body] condition in the rainy season", which runs from November to April. This is due to their prey migrating to wet areas, such as the plains, in which it's difficult for the lions to hunt.
But Smit also detailed a series of policy choices in Namibia over the last decade or so. Alongside natural phenomena, these have contributed to the lions' current predicament.
Over-utilisation of nature
Namibia's provision for the conservation of wildlife has two key prongs. It has designated around 17% of the country as national parks and protected areas. Communities then run 'communal conservancies', which make up a further 20% of the country. The conservancies follow the Community-Based Natural Resource Management (CBNRM) model, where communities manage nature. Community management is "guided by policy directives of the government".
Smit asserted that the MEFT presided over an over-utilisation of desert species by conservancies towards the end of the last 'boom' cycle. This over-use occurred due to excessive hunting quotas and a 'shoot-and-sell' policy. This policy allowed businesses to kill large amounts of so-called 'game' species (such as gemsbok, springbok, and zebra) to sell commercially. The MEFT has faced criticism over this over-utilisation from others too. Christiaan Bakkes, who worked in Namibia on wildlife conservation for over 20 years, wrote a damning article in 2019. Titled End of the game, the article discussed the over-exploitation of wildlife populations. Bakkes wrote:
Financial benefits to the community were the focus [in community-based conservation in Namibia]. National pride, ethics, aesthetics and sound ecological practices shared a sad second place. If any place at all.
Little food left
Smit told The Canary that MEFT's policies didn't appear to take the future needs of predators into account. As a result, there have been few prey animals around for predators during the 'bust' years. The policies have disturbed the natural cycle whereby predators would survive droughts by preying on animals weakened by the dry conditions and gathered at water holes, Smit said. Lions aren't the only predators in the area either, he pointed out. The shortage of food is an issue for species like hyenas and jackals too.
As MEFT's statement noted, without wild sources of food, some lions have resorted to preying on domesticated and farmed animals. This puts them in danger of dying in HLC incidents, or becoming so-called 'problem' animals. Namibia's human wildlife conflict policy contains provision for the killing of problem-causing animals by approved authorities. It states that, in particular, lethal means may be used:
where life and property are threatened, where animals persistently cause problems or where the numbers of wild animals are so high that conflict becomes an intolerable burden on resident people
The policy also notes that:
individuals should have the right to defend themselves or their property against a wild animal if attacked
Trophy hunting takes a toll
Trophy hunting has taken its toll on the lion population too. Smit said that this hunting resulted in a significantly skewed gender ratio among the desert-adapted lions. That's because – as is often the case with trophy hunters – the hunters preferred to kill male lions. Smit said:
This logically hugely upset natural pride dynamics and impacted severely on the Lion population growth, needed to replace those killed in HLC as well as genetic diversity.
As Lion Aid noted in 2011, desert-lion researcher Philip Stander has also asserted that the targeting of male lions, especially adult males, by trophy hunters since 2004 "resulted in a significant reduction of males in the population". Stander said that trophy hunting:
also contributed to vastly different age-specific mortality rates between males and females, that serves to illustrate the negative impact on the population. Increasingly skewed sex ratios, favouring females, have reached critical levels (2010 –  1 adult female : 0.18 adult male).
Smit said that officials introduced a moratorium on trophy hunting desert-adapted lions from 2013/14 onwards. But the practice continued due to a policy whereby trophy hunters were allowed to pay to shoot 'problem' lions. This policy is outlined in the country's human wildlife conflict plan. The policy was subject to abuse, Smit asserted. Some hunters targeted mature male lions rather than the sub-adult individuals who were actually responsible. After DeLHRA exposed this abuse, the MEFT appears to have "canned" trophy hunting under this "incentivizing system", Smit said.
Settlements and blocked corridors
Isolation and human-encroachment is another issue for the lions. Historically, desert-adapted lions could move between Etosha national park and the desert. But the corridors into the park are now blocked by subsistence farmers and pastoralists, Smit said. This is stopping the supply of new genetic material being introduced into the desert lion population from lions leaving the park. Of course, it's also blocking the desert lions from entering the park to find food sources. So the blocked corridors further inhibit the lions' chance of survival in both the short and long-term.
Smit also pointed out that conservancies generally consist of zones. There's a zone for wildlife and tourism and another for general hunting and farming. And national policy directs that these zones should exist and be respected. In drought years, however, subsistence farmers and nomadic tribes may encroach on the zones for wildlife in an attempt to keep their domesticated animals alive. This is shrinking lion habitat and furthering the risk of HLC.
The Canary contacted the MEFT regarding these policy issues. We also asked the department about the delay of the rapid response teams to the situation involving the four Huab lions, and why DeLHRA doesn't have access to the tracking data. The MEFT did not respond to the request for comment.
Solutions
Despite the multitude of issues, and the dwindling numbers of desert-adapted lions, Smit believes the situation can still be turned around. He said that reversing the lions' present predicament would require restoring "the balance and equilibrium in their habitat". This can be done "by removing or minimizing conflict to begin with because that's the first and biggest threat to these animals". He argued that "then you must restore the habitat for the prey species". This would be by reintroducing the now missing populations of prey and fixing water holes. He continued:
 and when you allocate hunting quotas… you must take into the equation disease, predator offtake, droughts, boom and bust cycles. You've got to make intelligent decisions which will serve for long-term survival of both the prey species and the predators.
Smit further argued that arresting human encroachment of wildlife zones and corridors and tackling the poaching threat was crucial. Without these measures, he said "you may as well forget it, that's it, game over".
Immediate sustenance?
Some also believe that due to the depletion of prey species in the immediate present, sustenance should be provided to lions at risk of starvation. South African ecologist and conservation biologist Neil Wilson, for example, told The Canary that the authorities should consider establishing "temporary Lion restaurants". This would be somewhere that food is strategically provided to the lions. He argued this would:
constitute an initial temporary measure to provide vital sustenance in the form of natural prey carcasses in strategic locations as a substitute for an anthropogenically depleted prey base and to draw the Lions away from conflict with stock farmers.
Wilson said determining the "how, where and for how long" of such a provision would be crucial. This is so the lions don't become habituated to humans and vehicles. There's also a risk of them becoming reliant on the provided carcasses of natural prey species. However, he said:
The next and most important objective is to rapidly restore the natural prey species in the home range of the Desert Lions
Smit doesn't see feeding the lions as a viable option though. That's due to the risk of habituation and the impact it could have on their natural hunting behaviour and patterns, among other things. The MEFT also stated in its press release that "the feeding of wild animals is against our conservation principles, ethics, laws and policies". And it said feeding may "further escalate" human wildlife conflict.
The best long term plan
The ministry has stated that it has launched a project to "construct predator proof livestock kraals in identified hotspot areas". This is in an attempt to tackle human lion conflict. It also said it may move lions where "necessary and appropriate".
The MEFT further stated that the current situation has triggered a review and development of the Lion Conservation and Management Plan. The plan aims to "determine the best long term sustainable management options on how we conserve lions… given the changing environmental and climatic conditions".
As Smit detailed, there's no shortage of 'best' long-term options. But whether the Namibian government will implement them remains to be seen. If it doesn't, however, it could well go down in history as a government that presided over the extinction of the king of the desert. Given the pride it takes in its conservation credentials, that's surely not an accolade it's keen to receive.
Featured image via the Lion Rangers / YouTube
Support us and go ad-free
We know everyone is suffering under the Tories - but the Canary is a vital weapon in our fight back, and we need your support
The Canary Workers' Co-op knows life is hard. The Tories are waging a class war against us we're all having to fight. But like trade unions and community organising, truly independent working-class media is a vital weapon in our armoury.
The Canary doesn't have the budget of the corporate media. In fact, our income is over 1,000 times less than the Guardian's. What we do have is a radical agenda that disrupts power and amplifies marginalised communities. But we can only do this with our readers' support.
So please, help us continue to spread messages of resistance and hope. Even the smallest donation would mean the world to us.
Support us