Labour frontbencher takes apart Tory MP over Venezuela on BBCQT, proving Labour's imperialist days are over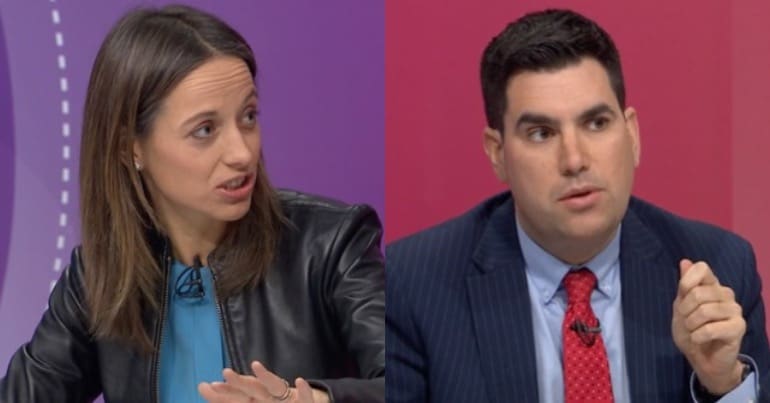 Support us and go ad-free
Richard Burgon represented Labour on BBC Question Time this week. And he was in no mood to take lectures on Venezuela. But more importantly, he showed that Labour will no longer be cheerleaders for Western-backed regime change efforts.
Devastatingly calling out Tory hypocrisy
BBCQT put particular focus on the ongoing US-backed coup attempt in Venezuela.
Overall, Burgon didn't give an idealised account of the current Venezuelan government. Instead, he gave a reasoned and pragmatic analysis of the situation, calling for a negotiated settlement rather than hostile Western intervention.
He also called out the hypocrisy of Conservative MP Helen Whately, who shamelessly attempted to take the moral high ground over Venezuela against Burgon:
Richard Burgon owns this Tory MP: "I'll take no lectures from you on this, when you were criticised for receiving hospitality from the Saudi Royal family – who cut people's heads off and bomb people in Yemen!"

Well said @RichardBurgon 👏👏#BBCqt pic.twitter.com/aq6a25qrh7

Read on...

Support us and go ad-free

— C0RBYNAT0R (@Corbynator2) February 1, 2019
And that's a key point to highlight amid all the current talk on Venezuela: that while Western governments openly push for a coup against the oil-rich democracy in Venezuela, they fully back the murderous oil-rich dictatorship in Saudi Arabia.
The BBC set-up
The mainstream media have led weeks (and years) of biased coverage of Venezuela. And that serves several purposes. Firstly, to demonise Venezuela's left-leaning government as a pretext for regime change. Secondly, to hype up the West's anointed leader, Juan Guaidó. Absent from all this analysis is acknowledgement of the economic warfare conducted against the country. Nor is there any historical context highlighting the numerous US interventions throughout Latin America, and Venezuela in particular.
A third purpose Venezuela serves is as a stick to beat Jeremy Corbyn's Labour with. The media's bogeyman 'socialist' government is used to smear Labour by association. This is because many Labour politicians have expressed support for Venezuela's government in the past. Also, right-wing fearmongers wish to terrify British people into believing that Labour's democratic socialist project will lead to a similar situation to that currently happening in Venezuela. It's a typical smear. And it's a complete fallacy, as The Canary has explained.
Considering the above, it came as no surprise that – when Venezuela was raised on BBCQT – host Fiona Bruce took special care to direct the question at Labour's shadow justice secretary Richard Burgon.
Staying strong: No apologies from Burgon
Burgon refused to bow to pressure from an overwhelmingly hostile panel. And it was refreshing to watch. Instead of expressing regret for historically supporting Venezuela's government, the shadow minister acknowledged its achievements:
Richard Burgon refuses to say he regrets supporting the Maduro Government. #bbcqt pic.twitter.com/waaA43zmpn

— Ben (@Jamin2g) February 1, 2019
He also acknowledged the oil-covered elephant in the room that motivates US interest in the country, a fact apparently lost on Fiona Bruce:
Richard Burgon: Venezuela has one of the largest oil reserves in the world, and the reason Donald Trump wants to get involved is for that purpose.
The Vatican, Mexico, and Uruguay have offered to get involved in peace talks. What we need is a negotiated outcome.@RichardBurgon pic.twitter.com/Cu9Tz7698w

— C0RBYNAT0R (@Corbynator2) February 1, 2019
And here is US national security advisor John Bolton unashamedly admitting to Washington's oil motivation live on Fox News, as Burgon referenced:
On Fox News, Trump's National Security Adviser John Bolton let the cat out of the bag on Venezuela.

Bolton said Trump's aim is to help US companies get their hands on Venezuela's oil – the largest oil reserves in the world

Watch here 📺 pic.twitter.com/w53HX7fIzC

— Jeremy Corbyn for PM (@JeremyCorbyn4PM) January 31, 2019
Elsewhere, Burgon has expressly condemned the desire for US regime change in Venezuela in an open letter in the Guardian:
"Whatever views people hold on Venezuela, there is no justification for backing the US attempt at regime change under way which, if successful, could go the way of the disastrous interventions in Iraq and Libya."

Letter to @guardian: pic.twitter.com/XeytH92gJK

— Richard Burgon MP (@RichardBurgon) January 27, 2019
And Burgon also acknowledged the brutality of Venezuelan governments prior to left-leaning ones (a fact conveniently ignored because they were supported by the West):
This point by @RichardBurgon went unnoticed but is essential: how many people now lamenting the fate of Venezuela gave a shit when it was being carved up and brutalising its own people at the behest of American business interests? pic.twitter.com/HOJPperftq

— Joshua Funnell (@SocialistSki) February 1, 2019
A welcome change to Blair's party of imperialism
Burgon's views on Venezuela will please many concerned that Labour's anti-imperialist stance may soften as it gets closer to power. It also shows the unwillingness of the new breed of Labour politicians to indulge in regime change as though it's a divine right of the West. And it's a clear renouncement of Tony Blair's criminal interventionist legacy.
Featured image by YouTube and YouTube
Support us and go ad-free
Fund our Investigations Unit
You can help us investigate corruption, expose injustice and uncover the truth.
As one of the only independent investigations units in the country, we work for you – but we need your help to keep going. We need to raise £10,000 to continue our groundbreaking investigations. Can you chip in?
Fund us