Cameron a laughing stock after branding opponents of Syrian airstrikes "terrorist sympathisers"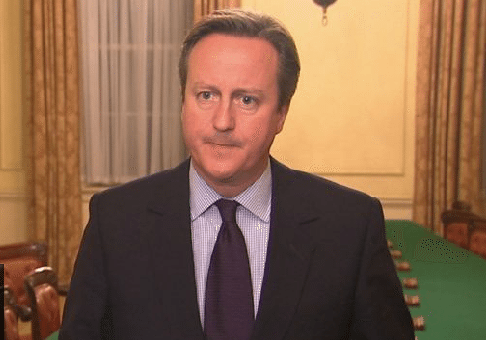 Cameron's efforts to get his way and drop more bombs on Syria are begining to look a bit desperate. He has gone beyond foot-stamping and started calling those who do not see a clear case for making war 'terrorist sympathisers'.
PM urged his MPs not to "walk through the lobbies with Jeremy Corbyn and a bunch of terrorist sympathisers"

— Laura Kuenssberg (@bbclaurak) December 1, 2015
As Twitter was quick to point out, this is a bit rich comming from someone who supports the Saudi arms trade.
David Cameron urges MPs not to vote with a "bunch of terrorist sympathisers."
Pot kettle. Kettle pot.#DontBombSyria pic.twitter.com/60PtY2IyBg

— James Melville (@JamesMelville) December 1, 2015
His comments could result in a terrible own goal.
During World War II, the allies bombed the enemy's weapons factories. We could do the same with IS but that might mean bombing ourselves.

— Angry Scotland Podcast 🎙 (@AngryScotland) November 27, 2015
One reason we are not 'terrorist sympathisers',Cameron, is that unlike you,it's us on trains and buses,sitting in cheap cafes who get bombed

— Michael Rosen (@MichaelRosenYes) December 1, 2015
Apart from the disgrace this kind of behaviour brings to his office, he will now have to deal with all the complaints made to the Speaker, John Bercow. A quick poll shows that he will lose even more public support with this shameless name-calling. He might persuade the gutter press that demonising whole sections of society as terrorists is a workable strategy, but it certainly won't wash for his colleagues in politics.
https://twitter.com/LabourEoin/status/671790108924866560
BBC research puts the number of MPs expected to vote at 640. 360 are in favour of the motion, 170 are against, and the rest are wavering or undecided.
The public know what they think of the proposed bombing and were out in Westminster in their thousands today, calling for peace.
https://twitter.com/timjohnston_89/status/671812475621347329
Terrorist sympathisers eh? There ye have it peaceful minded folks, there's what our PM thinks of us! 😳#DontBombSyria pic.twitter.com/19nCaRaU2z

— Debra (@FewArePict) December 1, 2015
This is my response to the Prime Minister calling my colleagues and I 'terrorist sympathisers'. #DontBombSyria pic.twitter.com/IRrAhZBYNK

— Dr Paul Monaghan (@_PaulMonaghan) December 1, 2015
Like a lightning-rod for indignation and fury, the Artist Taxi Driver had to pull over and get the sheer incompetence of Cameron off his chest:
Featured image via BBC screengrab
Since you're here ...
We know you don't need a lecture. You wouldn't be here if you didn't care.
Now, more than ever, we need your help to challenge the rightwing press and hold power to account. Please help us survive and thrive.
Support