The Sun mocks press watchdog with nearly invisible 'front page correction'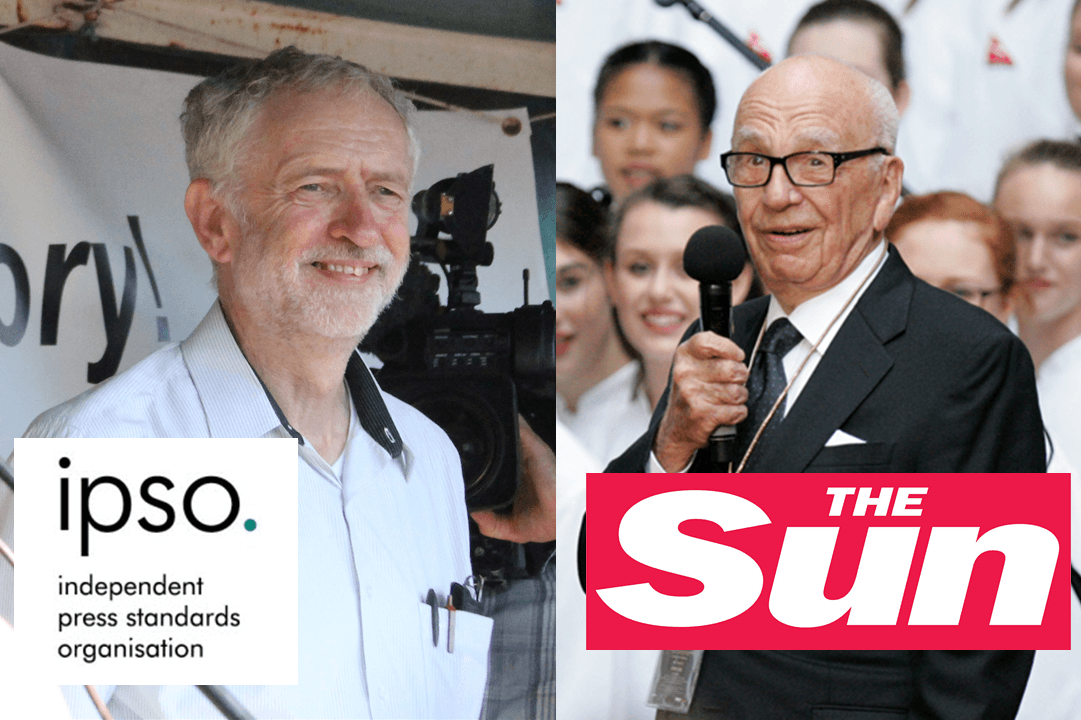 Support us and go ad-free
The Sun knows that hardly anyone will read its tiny 'front page correction' but the Independent Press Standards Organisation (Ipso) has been made to look good. So, glad tidings all round for Rupert Murdoch.
There was some excitement on Monday as it appeared that The Sun was finally being forced into line by press watchdog Ipso. A front page story from 15 September accused Labour leader Jeremy Corbyn of joining the Privy Council purely to secure state funding for his party.
The Sun forced into Corbyn front page U-turn by Ipso censure https://t.co/7iHpibKhUb @JeremyCorbyn4PM pic.twitter.com/LP3coL1zdA

— HuffPost UK Politics (@HuffPostUKPol) December 22, 2015
The front page splash provided an opportunity for The Sun to retread some tired accusations of republicanism and hypocrisy and to illustrate the whole thing with a large lampooning image of Corbyn in a jester's hat. The message could be understood from ten feet away.
Read on...
Support us and go ad-free
Rosie Brocklehurst, a former journalist and one-time Labour party press officer, felt the story was "completely spurious, nasty and wrong" and filed a complaint with Ipso. This was (eventually) upheld and The Sun was ordered to print a retraction. Because of the prominence of the original article, Ipso stated in its ruling that:
the Committee required that a reference to the adjudication be published on the front page, directing readers to the full adjudication, which should appear on page four or further forward.
So The Sun complied:
Here's how the Sun corrected its front page story about Jeremy Corbyn https://t.co/FvnoomMSbd pic.twitter.com/yKOgJSmo7M

— indy100 (@indy100) December 22, 2015
For anyone who manages to spot the tiny announcement, it points to a column about the adjudication on page 2. There is no image. There is no mention of Corbyn in the headline. The text is wordy and uninteresting, much more formal than usual Sun language. It is calculated to make exactly zero impact on the paper's readership. But it ticks the Ipso box.
There was a similar outcome when Ipso demanded a front page correction from The Express, and we may yet see the same choreography trotted out when Ipso finishes wading through the thousands of complaints about The Sun's infamous "1 in 5 Brit Muslims sympathy for jihadis" headline. Ipso is being kept busy.
The Independent and The Guardian have yet to sign up to Ipso, preferring to wait and see whether it develops into a suitably independent and effective regulator. Ipso's prime backers have been Murdoch papers The Sun and The Times, along with The Daily Mail whose editor, Paul Dacre, chairs the Ipso editors' code committee. They are desperate for Ipso to succeed, fearing that should it appear toothless, some form of parliamentary regulator might be imposed on the industry. Murdoch, always capable of playing a long game, will probably be rather pleased that The Sun has enabled Ipso to look tough, with little or no damage to the relentless anti-Corbyn message.
Over the last four decades, Murdoch's direction of The Sun's political course has mostly been steered by Trevor Kavanagh, political editor from 1983-2006 and chief leader writer until 2008. Kavanagh's appointment to the Ipso board last Friday will either cement the watchdog's position as a guardian of the newspapers' own best interests or torpedo any chance it had of feigning independence. If the papers keep slapping themselves ineffectually on the wrist, Ipso may find its moral authority withering away and the smile may begin to slide from Murdoch's face.
Featured image by the author / Eva Rinaldi/Flickr
Support us and go ad-free
Fund our Investigations Unit
You can help us investigate corruption, expose injustice and uncover the truth.
As one of the only independent investigations units in the country, we work for you – but we need your help to keep going. We need to raise £10,000 to continue our groundbreaking investigations. Can you chip in?
Fund us