Twitter erupts as IDS tries to rebrand himself as a social justice hero live on The BBC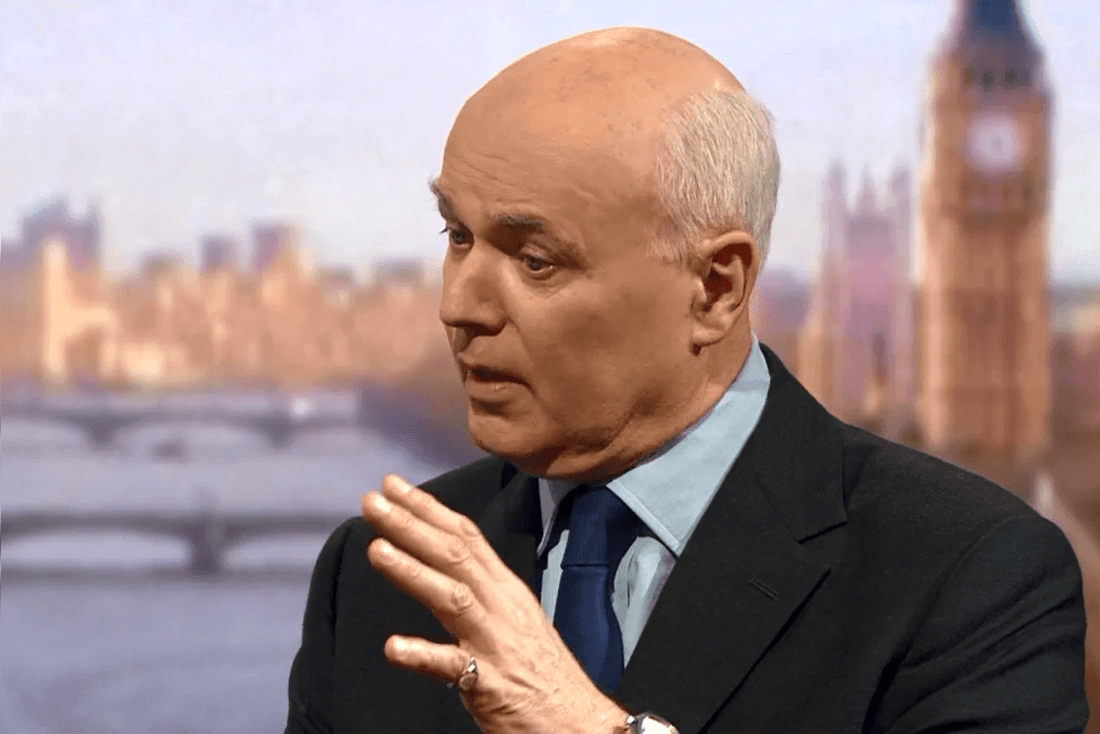 Support us and go ad-free
Iain Duncan Smith just tried to rebrand himself as a champion of fairness on The Marr Show:
I have been passionate about the issue of social justice.
But twitter isn't having it:
Fortunately nobody, on Twitter at least, is buying IDS' attempt to reinvent himself as caring #IDS #marr

— Julie Cupples (@juliecupples79) March 20, 2016
Read on...
The Conservatives claim they've created jobs, but this move from IDS has put satirical writers across Britain out of work. Masquerading under the demeanor of a man who's just undergone a profound spiritual awakening, IDS is insulting the nation's intelligence with the claim he's resigned over the devastating consequences of Tory austerity. Only some kind of record-breaking philosophical epiphany could lead to someone suddenly flipflopping on a matter they've been spearheading for six long, dark years.
In the past six years we have seen austerity cuts continue to disproportionately impact the poor and vulnerable, with terrible consequences. And tax breaks for the wealthy funnel a kilo of salt into an open wound, brazenly confirming it's all totally unnecessary. It's akin to the Conservative Bullingdon Club tradition of burning a £50 note in front of a homeless person's face. At the hand of IDS, we have austerity cuts so cruel and crass that, according to The Guardian:
More than 80 people a month are now dying after being declared 'fit for work'
The Department of Work and Pensions (DWP) itself confirmed the link between sanctions and death, yet IDS' moral compass must've been down the back of the sofa.
The website 'Callum's List' documenting the vulnerable people who have died as a result of Tory austerity parallels the Black Lives Matter movement. Except instead of a police brutality, we have government brutality. Instead of guns, the weapon is the blundering tragedy that is the Work Capability Assessment programme.
Not even widespread deaths stopped IDS pressing ahead with a £30 a-week-cut to disabled people's Employment and Support Allowance (ESA), despite vehement opposition from even the House of Lords. In fact, the condemnation that followed elicited a raging letter denouncing critics of his monstrous regime. IDS was so angry that commoners were getting in the way of his plans he really threw the toys out of the pram, leaving an angry scribbled footnote aimed at 'social media' critics.
The ESA cuts were also condemned by a coalition of 60 disability charities, many of which Conservative MPs are patrons of:
Obviously @RichmondAID will be removing @ZacGoldsmith as patron since he voted to cut disabled people's aid by £30 a week #CharityTuesday

— Tom Pride (@ThomasPride) March 15, 2016
Oh dear. Might be a bit embarrassing if people were to share this photo of @karlmccartney being hypocritical: pic.twitter.com/eB9FhbZzet

— Tom Pride (@ThomasPride) March 18, 2016
This breathtaking hypocrisy from an array of Conservative MPs, and the fact three have now been asked to stand down by their charities, is incidental to the matter at hand.
Despite vehement opposition from 60 disability charities, Tory backbenchers and the House of Lords, IDS still persevered with his callous austerity rampage – taking £30-a-week from the most vulnerable while living rent-free in his father-in-laws mansion. Now he expects us to believe he's suddenly transitioned into a champion of equality.
IDS: "I was horrified by the proposed cuts to benefits for the disabled which is why for 6 years I cut benefits for the disabled" #marr

— David Schneider (@davidschneider) March 20, 2016
So why is IDS resigning?
Evidently it is not because of some new found miracle conscience, so what are IDS' motivations? As Kerry-anne Mendoza writes:
The departure of Iain Duncan Smith on Friday has turned several long-running cold wars in UK politics red hot.
IDS' resignation is an attempt to undermine Cameron and Osborne's remain campaign. A campaign that has used shifty moves to gain an underhand advantage, like through banning civil servants from joining the Brexit movement. This has given an already rocky debate a bitter taste for the Brexit camp. If IDS is successful, the gambit could topple Cameron, paving the way for pro-Brexit Boris Johnson to take over as Prime Minister, while bagging himself a top job in the process.
This has been confirmed by a source very close to IDS – Ros Altmann, a minister in his own Department of Work and Pensions:
As far as I could tell, he appeared to spend much of the last few months plotting over Europe and against the leadership of the party and it seemed to me he had been planning to find a reason to resign for a long time.
IDS tried to convince everyone he's a champion of social justice in a haphazard attempt to cover up a political coup. Throughout his interview on The Marr Show, Twitter was not buying it in the slightest:
This #Marr interview of IDS setting himself up as champion of those in need & the disabled is absurd given all the misery he's presided over

— Chuka Umunna (@ChukaUmunna) March 20, 2016
IDS: "The important issue for me has always been helping the vulnerable in as much as I've always felt we shouldn't" #marr

— David Schneider (@davidschneider) March 20, 2016
Only 2 months ago, IDS was merrily forcing a rape victim to pay the bedroom tax on her police-installed panic room:
Remember when IDS didn't take a rape victim to court to force paying the bedroom tax on a panic room bc of his compassion?Me neither. #marr

— Abby Tomlinson (@twcuddleston) March 20, 2016
Twitter's collective jaw continued to drop at the hypocrisy:
catching up with #IDS interview on #Marr – staggering hypocrisy, selective memory and inconsistencies from IDS.

— Jona Sewell (@WanderingRev) March 20, 2016
'It is all about how we are perceived' says IDS. So when you were destroying lives but nobody noticed it was fine? #marr

— Alastair PEOPLE'S VOTE Campbell (@campbellclaret) March 20, 2016
IDS is very much on the defensive about his own resignation. Which is unusual. #marr

— Hugo Rifkind (@hugorifkind) March 20, 2016
Some criticised The BBC on Marr's submissive journalism. He casually glossed over the elephant in the room:
#Marr has barely challenged IDS over his hypocrisy and double-speak over social justice and disability rights.

— Mo Ansar (@MoAnsar) March 20, 2016
In telling the truth about his party in order to undermine David Cameron's dodgy remain campaign, IDS unfortunately let too much out the vault, in a spectacular political blunder:
IDS 'It looks like we see benefits as a pot of money to cut because they don't vote for us' There lies the real truth. #Marr

— Michael (@therightarticle) March 20, 2016
The conventional Conservative wisdom behind these unfair and arbitrary policies is naked for all to see.
In the bigger social picture, the government's constant smoke and mirrors – like this move from IDS – about its motivations and actions is deeply insidious. For example, employing rhetorical wizardry to rebrand taking public spending back to the 1930s as 'progression'.
This smoke and mirrors means that ordinary people are unaware that the reason they are failing is because of the government stripping away redistributive policies that make the country more meritocratic. Without sufficient redistribution success is preserved as a birthright; if you're not born rich you are much less likely to do well.
Donald Trump is an exemplar of this perversion:
https://www.youtube.com/watch?v=7goA_DnGIbU
He thinks a loan of a million dollars is small; again, it's beyond satire.
However, without the Conservatives being clear about the fact they are stripping away these redistributive policies, ordinary people are led to blame themselves, rather than the government. As Max Keiser said, while busting the myth of austerity with Editor-in-Chief Kerry-anne Mendoza:
What I don't think is very fair is that the government is not really communicating the truth that they are transitioning away from a welfare state, to an American-style 'winner take all' hyper capitalist state. And as a result a lot of people are committing suicide, because they are not really being- I think if people were told, more honestly, what is really going on they'd be able to adjust psychologically. But when you make a transition like this in a whipsaw fashion and you don't really communicate honestly to people. And you keep telling them that the NHS is not being privatised, you keep telling them the state's not being privatised, while you're privatising. Uhh- you've got a number of suicides now.
Suicides have gone up 22% since the Tory leadership came to power in 2010.
This underhand political gambit has ultimately backfired on IDS, even if he topples the leadership. He has publicly undermined the 6-year-strong Tory flagship policy of austerity, he wrote upon resigning:
I am unable to watch passively whilst certain policies are enacted in order to meet the fiscal self-imposed restraints that I believe are more and more perceived as distinctly political rather than in the national economic interest.
In a blunder of immense proportions, he has dropped a carpet bomb on the Conservative party as a whole, when he really needed two sniper shots. Instead of taking out Cameron and Osborne in a cynical move to topple the remain campaign, he has publicly denounced the Tory narrative that has been drilled into us since the 2008 crisis.
This could ultimately be a huge political milestone: The beginning of the end for austerity economics.
Featured image via BBC iplayer screenshot.
We know everyone is suffering under the Tories - but the Canary is a vital weapon in our fight back, and we need your support
The Canary Workers' Co-op knows life is hard. The Tories are waging a class war against us we're all having to fight. But like trade unions and community organising, truly independent working-class media is a vital weapon in our armoury.
The Canary doesn't have the budget of the corporate media. In fact, our income is over 1,000 times less than the Guardian's. What we do have is a radical agenda that disrupts power and amplifies marginalised communities. But we can only do this with our readers' support.
So please, help us continue to spread messages of resistance and hope. Even the smallest donation would mean the world to us.
Support us