How a PR company manufactured the Labour coup – Part I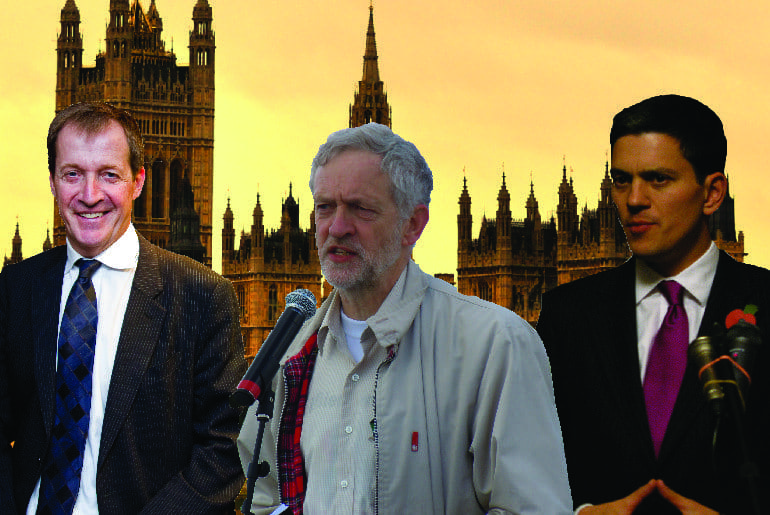 Support us and go ad-free
As the chaos surrounding Jeremy Corbyn continues at an unprecedented rate, The Canary can exclusively reveal more elements to the Labour coup that has been unfolding since the EU referendum result.
In an overarching investigation, more links have come to light between Portland Communications, its subsidiaries and parent company, members of staff both there and at the Fabian Society and the Progress wing of the party.
To recap:
Portland originally came to The Canary's attention after an incident involving abuse being thrown at Jeremy Corbyn as he supported Pride in London on 25 June.
He was heckled by an apparent Labour party activist Tom Mauchline, who jeered at him that:
it's your fault! When are you resigning? It's your fault! I had a Polish friend in tears because you couldn't get out the vote in Wales, the north and the Midlands. You need to resign. […] Take control Jeremy and resign […] stop using the gay movement as a shield to protect your weak leadership.
The video of the incident and a semi-professional looking interview with Mauchline appeared on the BBC website shortly afterwards. Suspicions were aroused as it seemed highly unusual for a member of the public to have a news item dedicated solely to their mobile phone footage.
Digging deeper, we found that Portland Communications appeared to be run by a group of individuals with historic links to the Blair/Brown era of the Labour party.
Read on...
Support us and go ad-free
Originally set up in 2001 by Tim Allan, a former adviser to Tony Blair and director of communications at BSkyB, there were originally several names that stood out including:
Steve Morris, managing partner was formerly head of communications for both Tony Blair and Gordon Brown.
Mark Flanagan, senior partner, was head of digital communications for Brown.
Justin Kerr-Stevens, partner – former communications advisor for both Blair and Brown
Rebecca Gwilliam, director – former special advisor (SpAd) for both Blair and Brown.
There was also Gregor Poynton, who describes himself as "Formerly @ScottishLabour @UKLabour @bsd […] Quite a bit of digital, politics". Poynton is head of content and brand at Portland. The Canary originally incorrectly identified him as a prospective parliamentary candidate for Labour: we later amended this to reflect that Mr Poynton (married to former Labour MP Gemma Doyle) did not stand, but was embroiled in some controversy in Falkirk after it was alleged he had paid for 11 people to join the Labour party.
Another individual that stood out was Kevin McKeever, whose Twitter header is an image of Labour pin badges. He also works for Portland as a partner and stood twice as a PPC. McKeever was noticeable because of a flurry of anti-Corbyn activity on his Twitter account, including this video from the Momentum rally on Monday:
https://twitter.com/kevinmckeever/status/747503961519816704?ref_src=twsrc%5Etfw
As The Canary commented in its article on Tuesday:
but go higher up the food chain at Portland, and the links are even stronger. Its advisory council is made up of three members: Alastair Campbell, Blair's infamous spin doctor; Jimmy Leach, Blair's former head of communications and previously executive editor at the Guardian, and Kitty Ussher, former Labour MP for Burnley, parliamentary private secretary to Margaret Hodge (and who sits on the Progress committee with her) and a writer for Peter Mandelson's "Policy Network".
Furthermore:
at the top of the Portland tree are the likes of Tony Ball, former CEO of BSkyB and Fox; George Pascoe-Watson, former political editor of the Sun; Jim Rosenberg, former head of communications for the World Bank, Lisa Shields, vice president of the Council on Foreign Relations, and Sir Stephen Wall, former EU adviser to Tony Blair.
The hierarchy at Portland combined with their historical links and current activities appeared to tie-in with the ongoing Labour coup. Sky News' Sophy Ridge had reported that:
I'm told the Labour MP coordinating and choreographing the resignations is @ConorMcGinn – significant as he's in Jeremy Corbyn's Whips Office. He's ringing shadow cabinet members and ministers, organising the timings and co-ordinating the resignations to try to cause maximum impact. This is significant because he's one of Jeremy Corbyn's Whips – tasked with ensuring party discipline.
Nafeez Ahmed, in a separate report for The Canary, noted that some of Ridge's comments had been deleted from the original web page a few hours later. They were later also deleted from the Cache on Google. He noted in his article:
The Canary's investigation quoting the Sky News report was published on Monday at 6pm. In less than twenty minutes – by 6.19pm – Sky News had scrubbed these five paragraphs entirely from its report.
Conor McGinn was appointed chair of the Young Fabians, and is still active in the society today. And of course, Margaret Hodge, who co-penned the no-confidence motion, is vice president of the society. Take into account, also, Fabian journalists like Polly Toynbee calling Corbyn "dismal, spineless and lifeless" – and you may have your "committee of war". Furthermore, former prospective parliamentary candidate and Fabian Will Straw called for Corbyn's resignation – in his position as director of "Britian Stronger in Europe".
Portland Communications come into this equation via their countless links to the Labour party and the Fabians more broadly:
this is not a string of random acts. This is a coordinated attack on Corbyn's leadership (because let's be frank, that's what it is), and it is coming from one source. The Fabian Society. A society who are funded by the likes of HSBC, Cuadrilla (who, oddly, Portland do PR work for) Barclays and Lloyds […] have mobilised their assets in both the parliamentary Labour party, in the media and in the sphere of public relations, namely via Portland Communications – to inflict as much damage as possible on Corbyn.
But the story doesn't end there. Such was the response to the original article, The Canary decided to dig deeper into the world of Portland Communications, and its links to Labour.
More questions
Portland's parent company is "Portland PR Holdings," and it is a subsidiary of a company called Omnicom, which is an international advertising and marketing holding company based in New York City. Portland Communications, along with its parent company and Omnicom Europe, are all registered at 239 Old Marylebone Road, London, NW1 5QT.
Also registered at that address are 15 other companies sharing the name "Omnicom". Furthermore, there are another forty-one companies registered at 239, Old Marylebone Road that have different names. Although they do all have the same director. One Peter Douglas Trueman.
According to the website Company Check, the combined value of these companies is £898.1 million, which would make him one of the wealthier men in the UK, to put it mildy. Oddly, despite extensive research, The Canary can find no record of Mr Trueman, except on registers of directors and companies. Nor can we find a record of one Sally-Ann Bray, who also features on the legal documents of every one of these companies.
A "Shell Company" is a non-trading company used as a vehicle for various financial manoeuvres or kept dormant for future use in some other capacity. They are often utilised in complex tax avoidance schemes, being set-up in the names of non-existent individuals to mask the identity of the real owner. Such examples are documented in the Panama Papers. The Canary will be investigating this line of enquiry further.
One, big Labour family?
To cement the notion that Portland Communications was, as The Canary described it on Tuesday "a company organised, fronted and controlled by a plethora of apparatchiks of Tony Blair and the centre-right of Labour", checks were made against all the employees registered on the Association of Professional Political Consultants (APPC) website. Their LinkedIn accounts, employment history and also what social media they engaged with and in what manner were scrutinised.
Out of 119 employees registered, two were affiliated to the Liberal Democrats, 11 had either worked for or supported the Conservatives, and 47 had either worked for or were supporters of the Labour party, including 21 who had worked for them under the Blair or Brown administrations.
Nine employees of Portland previously worked for either the BBC or ITN, and 50 appeared to have no political leanings at all – however these were mainly junior account executives or members of Portland's healthcare division.
Jobs of the 47 Labour-affiliated employees included coordinating the "Yvette for Labour" leadership campaign, working for the New Statesman, a former deputy political editor for The Mirror (who ran a front page on Tuesday calling for Corbyn to go) and numerous positions within the team of the former Scottish Labour party leader Jim Murphy.
Tim Allan, the founder of Portland Communications, tells an interesting anecdote in an article from his years working for Blair: As PR Week reported:
to give but one example: many people play football in their twenties. So did Allan. But his team was called 'Demon Eyes' and featured, among others, David Miliband and James Purnell as centre backs, Ed Balls and Allan in midfield, and Andy Burnham up front. No, Blair didn't play. But Allan does recall that he used to join in kickabouts at Labour birthday parties.
Furthermore, Kevin McKeever shared a platform at an NHS conference with one Joe McCrea, a former advisor to Blair who now runs his own PR firm. It has come to light that the website set up to campaign for Fabian Angela Eagle to become leader is, in fact, owned by Joe McCrea. Even more intriguing is that the site was created on 25 June. Saturday. Before Hilary Benn was sacked by Corbyn. More investigation will follow on this topic.
The Canary are also currently investigating who owns the domain for www.savinglabour.com – another website set up in the past few days.
The Canary stipulated in its last article that none of this could "surely be […] a coincidence". The fact that 47 former employees or supporters of the Labour party all work for a guy that used to have a regular "kick about" with Balls, Burnham and Miliband seems to rule out any coincidence.
Old friends scratching backs?
Alastair Campbell, of Portland Communications, has been a rather busy man this week. He co-hosted a Portland seminar on the aftermath of the Brexit decision, where he appeared to be quoted as saying that:


He then went on Channel Four News later that day, endorsing one David Miliband for new leader of the Labour party:
https://twitter.com/LouiseOldfield/status/747860549640265728
Believe it or not, this would actually make sense (however technically impossible it may be) – considering the links that exist between Campbell, Portland and David Miliband.
Miliband is currently heading up the International Rescue Committee (IRC) in New York. On the board of this "charitable" organisation sit many heads of big business. Including one Alan Batkin – the director of Omnicom Group. Seems strange? What is equally curious is that Miliband's head of communications, Laura Kyrke-Smith, used to be a partner for Portland Communications. She was also previously the chair of the Labour Campaign for International Development (LCID) and a speechwriter for Glenys Kinnock.
As things stand, there appear to be more questions than answers surrounding Portland Communications, the Labour party and the attempted coup against Jeremy Corbyn.
However, as the petition supporting his mandate as leader reaches nearly 250,000 signatures, one thing can be said.
Whatever the PLP may think of him, he still appears to have the backing of the majority of the membership.
Get involved
This is an ongoing investigation by The Canary, and if you have any information that you feel may be relevant, please feel free to contact us in the strictest confidence.
Featured Image via Flickr / Flickr / Flickr / Flickr
Support us and go ad-free
We know everyone is suffering under the Tories - but the Canary is a vital weapon in our fight back, and we need your support
The Canary Workers' Co-op knows life is hard. The Tories are waging a class war against us we're all having to fight. But like trade unions and community organising, truly independent working-class media is a vital weapon in our armoury.
The Canary doesn't have the budget of the corporate media. In fact, our income is over 1,000 times less than the Guardian's. What we do have is a radical agenda that disrupts power and amplifies marginalised communities. But we can only do this with our readers' support.
So please, help us continue to spread messages of resistance and hope. Even the smallest donation would mean the world to us.
Support us