Here's how Saddam Hussein's regime was born from western power games in Iraq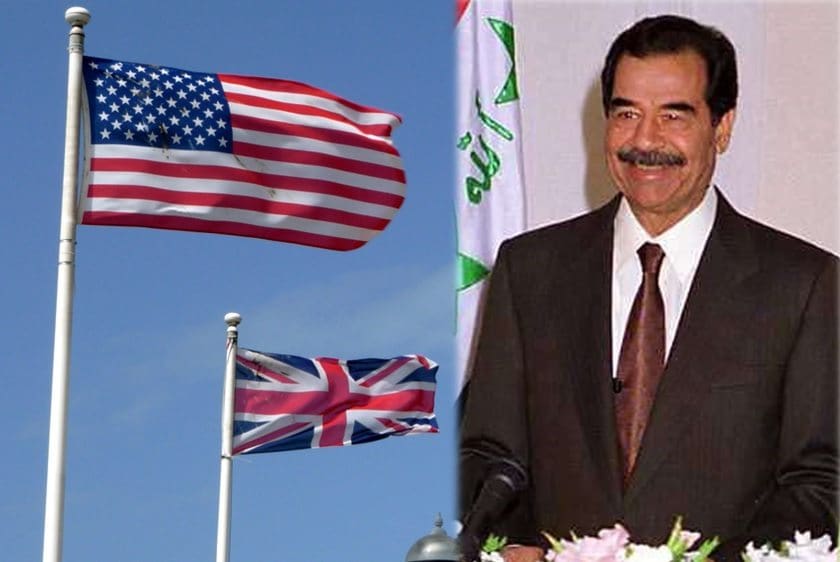 Support us and go ad-free
In the wake of the Chilcot inquiry, Tony Blair stubbornly insisted that "the world is better without Saddam Hussein" – regardless of the devastating violence which has spread out from Iraq ever since 2003.
While it's true that Hussein oversaw the murder of countless Iraqis while in power, it's also true that western governments had much more to do with putting and keeping him in power than they'd like us to remember.
Colonialism and resistance
As the Ottoman Empire fell apart at the start of the twentieth century, Britain embarked on a campaign of repression and occupation in the oil-rich area that would soon become Iraq. Oil corporations soon came to dominate politics, largely under pro-British puppet regimes, while trade unions and workers' organisations were violently suppressed and tens of thousands of dissenting civilians killed.
In 1958, a nationalist army officer named Qasim led a popular coup against the pro-British regime. He angered western superpowers by taking Iraq out of the US-initiated and anti-communist Baghdad Pact, abolishing the pro-western monarchy, and nationalising foreign oil companies. He embarked on this path even though a similar leader in Iran had been overthrown in a British-American coup just years before, in 1953.
The birth of a US-Ba'athist alliance
Watching on as a social revolution unfolded in Iraq, the USA sent 14,000 marines to Lebanon in preparation for an invasion, but they didn't strike because they knew they had very little support within Iraq itself.
Right-wing nationalists – including those of the Ba'ath party – soon became the conduit for defeating Qasim, and they immediately formed hit squads to counteract the power of left wingers in the new government. In 1959, a young Ba'athist called Saddam Hussein led a failed assassination attempt on Qasim. He was reportedly already on the CIA payroll by this point.
Due to the political unrest engulfing Iraq, Qasim sought to impose stability on the country by cracking down on dissent, and he gradually distanced himself from his former left-wing allies. This weakened Qasim's government, but he remained popular. The CIA's tactics of using the Ba'ath party to overthrow Qasim, however, would soon pay off.
Read on...
Support us and go ad-free
In a 1963 coup, Ba'athists finally came to power with US support. According to Said K. Aburish, author of A Brutal Friendship: The West and The Arab Elite, the CIA closely controlled the planning stages of this coup, and provided the Ba'athists with hit lists of suspected leftists. Aburish claims that around 5,000 of these were killed, including doctors, lawyers, teachers and professors. This was the beginning of the Ba'ath party's rise to power, and the first documented sign of their commitment to brutally repressing their opponents.
Washington immediately recognised and praised the new regime, which soon promised not to nationalise US oil interests in Iraq. Jim Critchfield, a senior intelligence official at the time, welcomed the coup as "a great victory", insisting that he "wasn't sorry to see the communists go at all". Journalist Patrick Cockburn spoke in 1997 about how the event was considered the "CIA's favourite coup".
Saddam Hussein's path to power
United Press International's Richard Sale pointed out in 2003 – quoting former US diplomats and intelligence officials – that Saddam Hussein had been "seen by US intelligence services as a bulwark of anti-communism", and thus used "as their instrument for more than 40 years".
And indeed, the west's involvement with the Iraqi Ba'ath party and Saddam Hussein were not limited to the destabilisation of the Qasim government and the coup of 1963. When the Ba'athists were expelled from government posts by rival nationalists shortly after the coup, they began to plan their way back to power. And when the Ba'athists took power definitively in 1968 in a new coup, says Aburish, there were also suspicions of CIA cooperation.
The Ba'ath regime and the USA drifted apart during the 1970s due to a number of reforms in Iraq aimed at appeasing left-wing forces – and Washington's post-Vietnam reluctance to invade other nations. But links grew stronger again at the end of the decade, when anti-government unrest in Iran and the communist Saur Revolution in Afghanistan in 1978 made the Ba'athists – who were beginning to crack down on Iraqi communists – look like the 'lesser evil' to US policy makers.
Any façade of 'progressive' rule or 'national unity' – which the dominant Ba'athists had sought to maintain since the 1968 coup – soon faded away when Saddam Hussein replaced the previous president and Ba'ath party leader in 1979. He began to privatise nationalised industries, and removed his critics from any positions of power. Western governments now appeared to have their old ally back.
Western support for Saddam Hussein in the Iran-Iraq war
In 1980, Hussein ordered the invasion of Iran, officially as a result of border disputes but in reality as an attempt to stop Iran's 1979 revolution from inspiring Iraq's majority Shia population. From early on, the USA gave intelligence and military support to the Ba'athists (even though it also secretly sent arms to Iran).
France, Britain, and other nations also supported Hussein's war efforts – with the aim of holding back the advancing forces of a confident Iranian government opposed to western influence in the Middle East. This was in spite of Iraq's use of chemical weapons against Iranian troops.
Western powers even continued to support the Iraqi regime after the 1988 chemical weapon attack on the largely-Kurdish town of Halabja, which killed at least 5,000 civilians and came as part of a Ba'athist assault on Kurdish communities (referred to as the Anfal campaign) which involved mass executions, disappearances and the murder of up to 180,000 Iraqi Kurds between 1987-1989. In fact, France even continued to supply Saddam Hussein's regime with arms even up until the US-led invasion of 2003.
Thanks to the support of western powers, over a million people were killed in the Iran-Iraq war, and both countries were left deeply scarred.
From friend to foe
US and British support for Saddam Hussein's regime only waned when Iraq invaded the oil-rich western ally of Kuwait in 1990. In 'Operation Desert Storm', a US-led coalition launched a massive attack on Iraq and its forces in Kuwait – killing around 100,000 Iraqis in what journalist John Pilger would later call a "one-sided bloodfest".
But even after this war, western governments still seemed reluctant about wanting Saddam Hussein to go. When popular rebellions spread through Iraq in the aftermath of the conflict, they stood by and watched as the Ba'athist regime brutally suppressed dissenters. In 1991, during a largely Shia rebellion against the Ba'athist regime, tens and thousands of people (mostly civilians) were thought to have been killed. But the often overzealous military superpowers responsible for Operation Desert Storm were nowhere to be seen.
Economic sanctions were soon imposed on Iraq, but over the next decade they would affect citizens much more than the Ba'athist government. There was a chronic lack of food and medicine which, according to the UN, had killed 1.2 million people (including 750,000 children under the age of five) by 1997. Seeking to counter the impact of sanctions on ordinary people, the UN introduced an 'Oil-for-Food' programme in 1995. But three years later, Programme Co-ordinator Denis Halliday resigned, insisting that sanctioning was a bankrupt concept which damaged innocent people. Halliday's successor, Hans von Sponeck, quit his post in 2000, arguing that sanctions had created "a true human tragedy".
Writer and activist Arundhati Roy has called the 2003 invasion of Iraq "perhaps the most cowardly war ever fought in history". And indeed, by 2003, the country and its people had already been devastated and humiliated by decades of war and sanctions – encouraged or inflicted by western governments. All of this on top of the fact that Saddam Hussein, the man in charge during this period, would probably never have risen to the position of power he had without the backing of the west.
Let's remember that the next time someone talks about how the world is a better place without Saddam Hussein.
Get involved!
See more on Iraq, the Chilcot inquiry and the invasion of Iraq.
Support The Canary so we can keep holding the powerful to account.
Featured image via Christine Matthews and WikiCommons
Support us and go ad-free
We know everyone is suffering under the Tories - but the Canary is a vital weapon in our fight back, and we need your support
The Canary Workers' Co-op knows life is hard. The Tories are waging a class war against us we're all having to fight. But like trade unions and community organising, truly independent working-class media is a vital weapon in our armoury.
The Canary doesn't have the budget of the corporate media. In fact, our income is over 1,000 times less than the Guardian's. What we do have is a radical agenda that disrupts power and amplifies marginalised communities. But we can only do this with our readers' support.
So please, help us continue to spread messages of resistance and hope. Even the smallest donation would mean the world to us.
Support us