The immigration debate is so toxic, this six-year-old girl just got deported and no one cares [OPINION]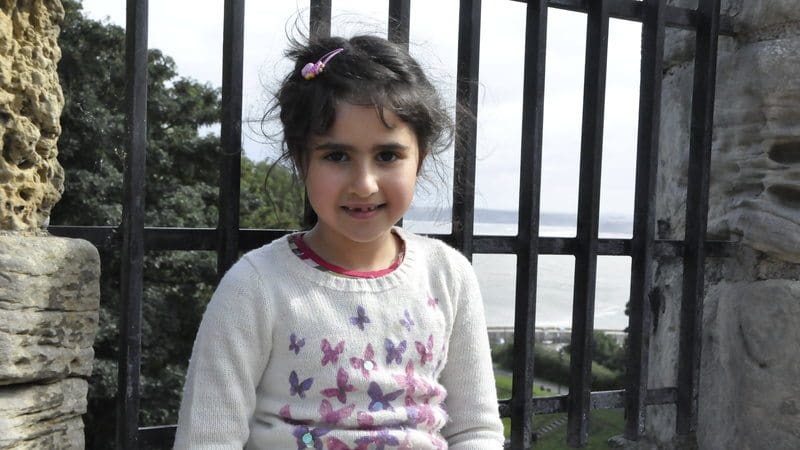 Support us and go ad-free
On Tuesday 27 September, a six-year-old girl, her mother, and her father were taken from their home in Sheffield and forcibly put on a plane to Poland. The little girl, who had spent over half her life in the UK, making friends and attending school here, is being sent to a country where she doesn't know anyone and doesn't speak the language. But the case of six-year-old Mariam highlights how toxic the debate around 'foreigners' and immigration has become in the UK.
Effectively stateless
I wrote about the plight of the Al-Dallal family from Iraq on 1 September. They had their claim for asylum rejected after a judicial review, despite living in the UK since 2013. Originally from Iraq, the Al-Dallals lived in Poland when the father was the cultural attaché to the Iraqi embassy there. But once his contract ended, they were left effectively stateless.
The family cannot return to Iraq because of Al-Dallal's political past. As a former diplomat, an attempt on his life was made after he exposed corruption. He was shot several times, suffered abdominal injuries, and needed five operations. He and his family then moved to Poland in 2009, where he worked in the Iraqi embassy. But Al-Dallal said that, even there, they faced threats from Iraqi Intelligence Services, and people who wanted him and his family dead:
[We] will be not safe in Poland. They will follow me and they will kill me and they will kill my family as well. There are many doctors and professors killed in Iraq.
Furthermore, Poland is no 'safe haven' for Muslim asylum seekers. The language of leading politicians, saying that refugees will spread disease, has been criticised for being Nazi in nature. In a 2014 survey, 34% of people said that no Muslims at all should be allowed to come to Poland.
But this seemingly mattered not to the UK government. Interventions from charities where Mariam's father volunteered and from the Al-Dallals' local MP, Gill Furniss, fell on deaf ears, and the family was deported ten days earlier than the deadline that had previously been set.
What possibly sticks in the throat most is that, in the case of suspected terrorist Abu Hamza al-Masri, it took eight years to deport him, while in the case of a six-year-old girl and her family, they were signed off, packed up, and put on a plane in just forty days. But with all political parties still intent of appearing 'tough' on immigration, the fact that a child's life isn't considered is of no surprise.
Read on...
I predict a riot
Take Labour MP Rachel Reeves. On 27 September, she said at a fringe event of the Labour conference that, with Brexit:
the other reason we have got to get this right is because there are bubbling tensions in this country that I just think could explode. You had those riots in 2011, the riots didn't happen in Leeds and in my constituency, but if riots started again in Leeds and bits of my constituency – it's like a tinder box. The trouble is I'm just not surprised and if we don't get this right in terms of this response… these sort of things are just going to get worse.
Quite how the 2011 media-dubbed 'English Riots' were related to immigration, I'm unsure. But in her speech, Reeves was calling for controls on immigration. And she quite rightly said that people had "legitimate concerns" over immigration. But her solution is not the right answer.
What few politicians are willing to do is actually cut the spin on immigration, and get to the truth – that we need immigration, and to say we don't (or can't cope with it) is an outright lie.
When you tell a lie often enough…
I wrote an article in 2015 detailing why every argument against immigration is demonstrably false and founded in nonsense. For example, people claim 'We're full!' – even though only 9.5% of land is actually built on for 'urban' purposes. Some also claim that we'd have to build on 'our' countryside to accommodate people – although it's not 'ours' (in reality, it's owned by a group of 36,000 super-rich landowners).
Or how about the idea that immigrants are 'scroungers' – even though migration statistics show that 75% of people come here for work or to study? What's more, while around 15% of UK-born nationals claim some form of benefits, this figure is only 6% for people not born in the UK.
But there are two huge whoppers that politicians tell us about immigration.
If you tell a lie about a lie often enough…
The first is that 'we' can't afford it. As the Office for Budget Responsibility (OBR) warned in March, if we cut immigration, either taxes would have to be raised or more cuts to public services would have to be made to compensate. As the OBR forecasts, higher immigration is actually good for public finances. And with the amount lost in tax avoidance or evasion sat at around £120bn a year (more than the entire NHS budget), we could afford immigration if every rich person and corporation simply paid their way.
The second is 'they're taking our jobs'. What immigration actually does is to stop us all working longer. In 2015, the Tories quietly published a report which stated that, by 2022, the size of the UK population aged 16-50 would be down 700,000 on 2014 figures. The gist of the report being that the government could get us all working longer, as we will need to make up the shortfall in younger workers.
Couple this with talk of the state pension age being 70 by 2040, and the term 'work 'til you drop' suddenly gets real. Factor in that it costs a company £30,000 to hire a new employee, and maybe getting the same people to do the same jobs for longer starts to make sense. If you're a rich boss, obviously.
Cynical manipulation of immigration
People are worried about immigration. But most people are not racist or xenophobic. What they are is concerned about their own families and the lives they lead. When they see the NHS struggling to cope, people going to food banks, families unable to get decent accommodation, or public services being cut, their natural reaction is to think 'there's not enough to go round as it is'. More people in the country means less for everyone else. That's not racist. That's common sense.
But what cynical, manipulative politicians like Reeves and her ilk play into is the myth that we're stuck like this. All they offer is a solution to the wrong problem. They cement the belief that we 'can't cope' with more immigration, therefore we have to 'control' it. This is, in layman's terms, bullsh*t.
It's all about the money
As I wrote last year:
The real basis for the argument against immigration that is being peddled by the establishment is a very simple one – greed. It is in the interests of the rich and powerful in this country to limit the in-flow of people, as ultimately it makes them wealthier. Less people, producing the same output for longer in a country is a win-win for those in power. They get to sit on more of their land indefinitely; they get to reduce the amount of public spending on services; they get to increase their profits, and they, ultimately, keep on getting richer.
And, of course, the other thing we all do when we work for longer is pay more into our near-obligatory private pension funds. While those funds' bosses and shareholders invest or sell on your money over and over again, getting richer off the interest on it in the process.
But the biggest sting in the tail comes with UK public debt. The £28,000 that each of us owes, that the government borrows on our behalf. Because around 25% of our £1.7tn debt is owed to pension funds. So essentially, you pay into your private pension fund, and it then lends you your own money back, in the form of public debt.
We are being sold a lie over immigration, just so rich people can keep getting richer. It really is that simple.
A little girl, caught up in politicians' games
All of this is of no consequence to little Mariam Al-Dallal, though. She is somewhere in Poland, scared and upset, right now. But it is the toxification of the immigration debate, and the years of propaganda and lies, that has got her there.
The atmosphere surrounding 'foreigners' in the UK has now become so polluted that Arkadiusz Jozwik was allegedly murdered just for speaking Polish. Hate crime increased by a staggering 525% in the wake of the EU referendum vote. And the debate around immigration is no longer over the pros and cons, but over 'control'. It is this 'othering' of immigrants which means that the government can happily deport a six-year-old girl, without bothering to consider the impact it will have on the rest of her life.
Mariam said of the UK before she was deported:
My friends are here. My school is here. I know English really well. This is my country now. It's safe for me. There's no people killing each other. No fighting. It's safe here.
Tragically, few people seemed to care. So like the thousands of other children caught up, for whatever reason, in the merry-go-round of immigration and asylum laws, her future now looks bleak. But it's imperative that the 'left' now takes the lead on the immigration debate, before the disgraceful nature of the conversation becomes even worse. Because it is a disgrace, and I, currently, feel ashamed and saddened to live in a country that has come to this.
Featured image via Learn for Life Enterprise
We know everyone is suffering under the Tories - but the Canary is a vital weapon in our fight back, and we need your support
The Canary Workers' Co-op knows life is hard. The Tories are waging a class war against us we're all having to fight. But like trade unions and community organising, truly independent working-class media is a vital weapon in our armoury.
The Canary doesn't have the budget of the corporate media. In fact, our income is over 1,000 times less than the Guardian's. What we do have is a radical agenda that disrupts power and amplifies marginalised communities. But we can only do this with our readers' support.
So please, help us continue to spread messages of resistance and hope. Even the smallest donation would mean the world to us.
Support us