The attitude of opposition MPs to human rights abuses shows how broken politics is [OPINION]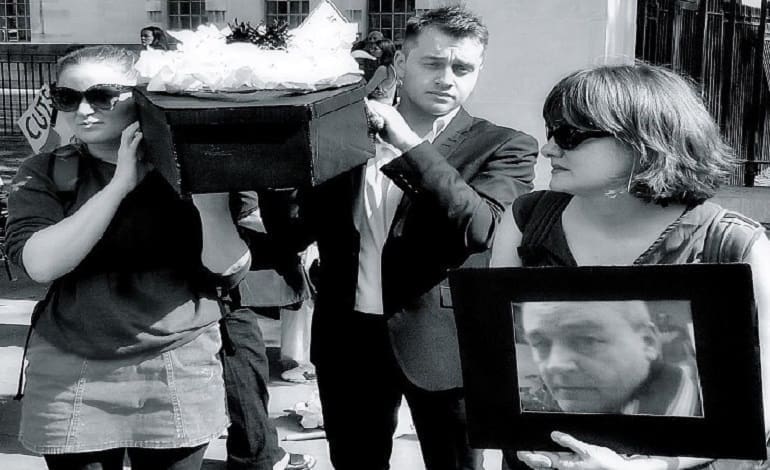 Support us and go ad-free
A meeting took place in parliament on Tuesday 24 January to discuss how politicians can deal with a crisis currently engulfing the UK. MPs from all parties were present, along with campaigners and journalists. But instead of showing a united front against systematic abuses that are literally killing people, the meeting just demonstrated how our politicians are failing to do enough.
"Grave" and "systematic" human rights violations
In November 2016, the UN published a report that concluded the UK government had committed "grave" and "systematic" violations of sick and disabled people's human rights. If you haven't seen or heard of the UN report, you can read my overview of it here. But it concluded that over half a million sick and disabled people may have had their human rights abused by the government.
The UN set out 11 recommendations that the government must consider. But at the time, Work and Pensions Secretary Damian Green said the report was "patronising and offensive" and that Britain was "a world leader in disability rights and equality". And so, the government chose to ignore the report.
In response, Inclusion London organised a cross-party meeting to discuss how to get the government to act on the UN report. And also discuss the government's 'Improving Lives: The Work, Health and Disability' Green Paper [pdf], which MPs and campaigners have serious concerns about. Present were:
Heidi Allen, Conservative MP for South Cambridgeshire.
Debbie Abrahams, Labour MP for Oldham East and Saddleworth.
Baroness Brinton, President of the Liberal Democrats.
Corri Wilson, SNP MP for Ayr, Carrick and Cumnock.
Jonathan Bartley, Green Party co-leader.
Baroness Deech, crossbench peer.
A humbling story
Also present were representatives from campaign groups, disability organisations, and people who gave evidence to the UN. One of those was Nichole Drury, daughter of Moira Drury. She spoke honestly and movingly about her late mother's treatment at the hands of the Department for Work and Pensions (DWP). Moira died after the DWP stopped her Employment and Support Allowance (ESA) for seven months, even though she was chronically ill. Nichole said:
In 2008, Mum needed social security, after she lost her job as a hospital receptionist due to her deteriorating health… In 2015, my Mum was punished by the [DWP] after being too ill to attend a Work Capability Assessment [WCA]. [At the time] Mum was bed-bound due to winter flu and a vomiting bug.
Moira contacted the DWP twice to ask for her WCA to be rescheduled because she was so ill. Contemporary DWP records show that Moira had:
Read on...
Support us and go ad-free
Poor mobility.
Difficulty rising.
Suffered two strokes.
Epilepsy.
Depression.
Asthma.
Chronic and debilitating pain.
Fatigue.
Breathlessness.
Balance problems.
Diabetes.
Absences and blackouts.
Bladder and bowel failure.
Drowsiness.
Cognitive issues.
An inability to walk.
Fit for work
But none of this was seemingly enough for the DWP. It stopped her ESA payments and declared her 'fit for work'. Moira sent the DWP a medical certificate, showing how unwell she was. But the department ignored it. It said she had to move onto jobseeker's allowance, a benefit Nichole says "she could not have possibly met" the conditions for:
Despite records showing she spoke to 10 advisers over the next five months, not one of these advisers told my Mum she still had the right to appeal [the loss of her ESA]. This would have meant receiving [ESA] payments until a tribunal hearing date. I have a recording of a call my Mum made in April [to the DWP] saying she is 'desperate', 'running out of food'…
In June 2015, Moira was diagnosed with lung cancer. And despite the DWP receiving medical records showing this, it still did not reinstate her ESA. But eventually the DWP changed its mind. Nichole said:
On the 20 October 2015, the DWP conducted another review… The decision maker wrote 'I am [revising] the decision… and an appeal will not be required'. Mum's social security payments were reinstated, and the payments backdated.

But unfortunately, it was too late for Mum. Because she had died.
Watch Nichole's full testimony:
It may be plausible to think that these politicians would recoil in collective disgust at Nichole's heartbreaking testimony about her mother. And that the UN, the world's most esteemed organisation, would label the UK as a "grave" and "systematic" violator of sick and disabled people's human rights. But there was nothing collective about the hand-wringing and cross-party sniping of these politicians' conduct.
Political differences
A case in point was an exchange between Baroness Deech and Labour's Debbie Abrahams. As Chair of the meeting, it should have been the former's duty to facilitate as much agreement as possible. But she took aim at Abrahams at one point, repeatedly accusing Labour of "sit[ing] on their hands and abstain[ing]" over legislation she was trying to get amended in the House of Lords. How productive.
And when the representative from the UK Office for Disability Issues, Stephanie Harvey, finally got up to speak, Deech said:
Could you just speak for five minutes please? As the politicians have to get off to vote.
The rush our elected representatives were in to go and vote will be of little comfort to the 500,000 people that have had their human rights violated. As will the poor turnout and support from across the political spectrum.
Sniping and swiping
There was also sniping from Brinton of the Lib Dems, preoccupied with defending her party's role in the coalition government's austerity programme through repeated attacks from the Green Party's Bartley. Without a hint of any irony, as we all sat in a room with gold plated picture frames adorning the walls, Brinton saw fit to stick up for her party's historical decision to support public sector cuts. Meanwhile, Deech repeatedly swiped at the Tories. And Allen spent most of Bartley's speech either fiddling with her phone or fidgeting uncomfortably.
To be fair to the assembled politicians, they did all attempt mildly commendable textbook platitudes and words of adjective-laced comfort. Allen even went as far as saying "I cannot personally do anything to undo where we got things wrong in the past, apart from apologise". Many feel it's a bit late for a 'sorry' from the Tories.
Disappointment
I really wanted to be able to sit and write that the event was a roaring success. That I and other disability campaigners left feeling positive about the future. But they, and I, didn't. This is no reflection on Inclusion London, who organised the event. Nor on my close friends at Disabled People Against Cuts (DPAC) and Black Triangle, who came out to support it. And it is no reflection either on the heartbreaking testimony from Nichole Drury.
I also feel it important to mention that Shadow Chancellor John McDonnell sponsored the use of the room. His support for DPAC has always been unfaltering. And it would be unfair to level any criticism at Bartley, who does seem to "get it". He told me after the event:
These issues are too important to be sacrificed on the altar of tribal politics. Disabled people are dying and those who know we urgently need a change of course must work together to bring about the change we need as a matter of priority.
Empty words
Bottom line: the entire political class seem to be all talk and no action, when we need urgency. I put my hand up to ask a question towards the end of the meeting, but time ran out. If Deech had given me a chance to speak, I would have said:
The Canary reported last week on the death of Lawrence Bond, who died from a heart attack after leaving Kentish Town Jobcentre. The DWP had declared him 'fit for work', and despite two appeals was denied his benefits. Do the assembled politicians actually understand the gravity of the situation they are dealing with? Because while you're debating, wringing your hands and disagreeing, people are literally dying due to government policies.
I can guess the answer I would have received. Something along the lines of "We understand, and we are working closely with our fellow politicians in government to attempt to reach a collective agreement on… blah, blah, blah". Sadly, I can sniff out bullsh*t when I hear it at twenty paces. And the words coming out of the majority of the politicians' mouths on 24 January absolutely reeked of it.
MPs do not understand the gravity of the situation. Or if they do, they either don't care or believe they are doing enough. If they really understood, they would realise hundreds of thousands of sick and disabled people in this country are at breaking point. I see it in the eyes of campaigners I know. I hear it in the voices of disabled people I speak to. And I feel it when I hear the desperation of people I love and care about.
Reduced to statistics 
I also know that the drip, drip, drip of toxic rhetoric, neoliberal values and damaging policies by politicians has engineered the public to largely turn a blind eye. Successive governments have created a society so obsessed with 'self', that it forgot about each other. But if you don't believe me, then the statistics most of the media reduce disabled people to speak volumes.
Research found that the DWP fit-to-work tests for sick and disabled people have coincided with 590 "additional" suicides, 279,000 cases of mental illness, and 725,000 more prescriptions for antidepressants. And research by the mental health charity ReThink found that a staggering 21% of GPs have patients who had experienced suicidal thoughts due to the stress of these tests. And nearly 90 people a month die, after the DWP declares them fit for work.
The politicians' response
The Canary approached all the politicians who were present at the meeting on 24 January for comment.
Deech said:
This is a misconceived report of a serious meeting, at which the presence and engagement of politicians from across the parties was significant. A clear and strong message was sent to the government about the needs of disabled and elderly people (indeed the tweets from the meeting demonstrated that contemporaneously). It would be a pity to dilute that message by irresponsible so-called journalism.
Allen, in reply to Deech's comments, said:
I agree wholeheartedly!
Abrahams said:
This was an important meeting and debate during which I was asked a specific question hence the use of my phone for a short time for research.
A spokeswoman for Wilson said:
Corri is happy to just stick to what she said in her speech at the event. We don't feel your description accurately portrays Corri's participation at the event so unless you do have any specific examples or comments that you would like us to respond to we do not feel that Corri should be described in this way.
The Canary had received no response from Brinton at the time of publication.
It's not just me…
It's probably important to add that I have been on the sharp end of welfare policy and the DWP. As I spent many years on Employment and Support Allowance (ESA), in the Support Group. And I'm not the only person who attended the meeting on 24 January and felt let down by the politicians. Linda Burnip, co-founder of DPAC told me:
It is time for politicians of all parties to put aside their political differences and unite to demand that the government ends their sustained attacks against disabled people. It must put in place the 11 recommendations made by the UN as a priority.
John McArdle, co-founder of disability rights campaign group Black Triangle, gave evidence at the meeting. He told me:
This briefing session for MPs turned out to be nothing less less than an echo chamber at the black heart of so-called 'British Democracy'. Because the only MPs who turned up were those who were invited to speak alongside us on the panel. And even they saw fit to argue and bicker among themselves. I travelled hundreds of miles to be there yet MPs who live and work there could not be bothered to turn up to hear our voices.

Parliamentarians sent all disabled people one message: we don't matter and they're too busy to prioritise our lives in among all the other 'affairs of state'.

There is a time and a place for everything. And the de facto boycott of yesterday's briefing amounted to a huge 'F*ck You' by MPs of all parties to all of us who are sick and/or disabled and to all those who have already perished and died, and their suffering families, as a direct result of Conservative government policies. Words fail me.
Disabled people. Fighting by themselves. As always
So I'm sorry Conservatives, Labour, Liberal Democrats, and 'Peers'. Your words and shallow promises mean very little to me. They just make me feel angry and exasperated. If you really cared, you would do everything you possibly could to put political differences aside and hold the government to account over its disgusting treatment of sick and disabled people. And I saw no evidence on 24 January of that happening any time soon.
But never mind. As always, those at the sharp end of the government's attempt to seemingly either eradicate those at the bottom of society, or beat them into submission, will have to fight for themselves. Because currently, I see no one else willing to do it.
Get Involved
– Support Boycott Workfare, campaigning tirelessly on stopping people working for free.
– Support Disabled People Against Cuts (DPAC).
– Follow Black Triangle and the Mental Health Resistance Network on Facebook.
Featured image via The Canary
Support us and go ad-free
We know everyone is suffering under the Tories - but the Canary is a vital weapon in our fight back, and we need your support
The Canary Workers' Co-op knows life is hard. The Tories are waging a class war against us we're all having to fight. But like trade unions and community organising, truly independent working-class media is a vital weapon in our armoury.
The Canary doesn't have the budget of the corporate media. In fact, our income is over 1,000 times less than the Guardian's. What we do have is a radical agenda that disrupts power and amplifies marginalised communities. But we can only do this with our readers' support.
So please, help us continue to spread messages of resistance and hope. Even the smallest donation would mean the world to us.
Support us