Labour centrists aren't splitting over antisemitism, they're splitting over socialism. Everything else is PR.
Support us and go ad-free
It's beginning to feel like Labour centrists start each day by spinning a 'Wheel of Smear' in Chuka Umunna's wine cellar. During the last three years, they've accused Jeremy Corbyn of just about everything, including the hysterically false allegations he was a Czech spy. But Labour centrists know they aren't splitting over any of these issues, really. They're splitting over socialism. Specifically, the very real chance of Britain's first socialist government in half a century. Everything else is PR.
Smear vs reality
From the screaming editorials of the establishment media, you might think Jeremy Corbyn had been a disaster for the Labour Party. But the evidence says otherwise. By every measure other than approval from Britain's billionaire press barons, he's transformed the party for the better.
First, Corbyn's flagship policies have caught the public imagination. From scrapping university tuition fees to renationalising the railways and booting private finance out of public services, the Labour Party's brand of democratic socialism is appealing to voters who are tired of more austerity gruel.
Second, party membership. In 1997, as Tony Blair entered Number 10, party membership hit a peak of 405,000. But by late 2007, it had plummeted to just 176,891, the lowest in Labour Party history. And the 2005 general election left the party £24.5m in debt and being forced to vacate its Westminster HQ due to an inability to cover the rent. It took Labour a decade to pay it off.
But a membership surge under Jeremy Corbyn meant that by the end of 2017, the party was out-earning the Conservatives (and every other party). Labour earned 10 times what the Conservative party raised through membership (wealthy Tory donors continue to prop up the party). All while fighting a surprise general election.
In 2017, 10 parties reported income or expenditure of more than £250,000 compared to 12 in 2016. In total, these 10 parties reported £125,332,064 income and £122,193,805 expenditure.

Read on...

Full details of the financial accounts published today are here:https://t.co/lOBptCxudj pic.twitter.com/S9g5rjpm1p

— Electoral Commission (@ElectoralCommUK) August 22, 2018
By early 2018, Labour had attracted well over half a million members and this number continues to rise. The Labour Party now has more members than all other Westminster parties combined, and is the largest party in Western Europe.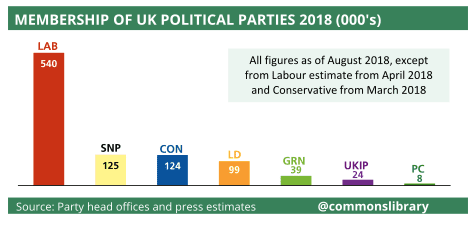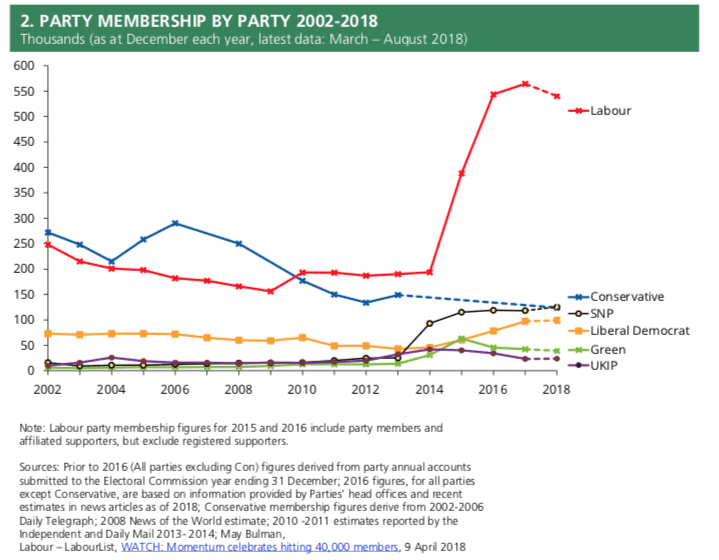 +
And that's before we get to the 40,000-strong Momentum. The grassroots pro-Corbyn movement now has a larger membership than the Green Party, despite existing only a few years.
Centrists may argue that votes, not party membership, win elections. That's true. But membership helps, as centrists found out to their complete surprise in the 2017 general election. Corbyn's Labour ended the Conservatives' majority government, securing a higher vote share than any Labour leader since Tony Blair's 2001 landslide. This after every media pundit predicted a historic landslide win for Theresa May.
And it's important to remember that Tony Blair, as a friendly neoliberal, had the entire establishment media behind him. Corbyn did it in the face of repeated coups and relentless character assassination from within and without the party.
Channel 4 News veteran Jon Snow captured the mood of the establishment media that day:
Yet after this fleeting moment of self-reflection, it was back to business-as-usual Corbyn-bashing within the fortnight.
Britain's media problem
So why the universally hostile media coverage? The answer is simple. Corbyn's critics are a tiny minority of obscenely powerful members of the media-political class. They are using their networks, platforms and positions to turn their minority concerns into the daily news cycle. In short, it is a stunning abuse of power.
The pundits who spent the last decade bemoaning austerity – The James O'Briens, the Polly Toynbees, the Nick Cohens – seem to prefer it over socialism. Buy why? Because the media-political class has become so excruciatingly narrow as to have hit echo chamber status.
Britain's media ownership is end stage monopoly. By 2015, just three companies controlled 71% of British newspaper circulation. This figure is also worse today, since Trinity Mirror Group (rebranded as Reach) now owns most of Northern & Shell's assets (such titles as the Express and the Daily Star).
But it's not just media ownership that has become concentrated. In 1986, 49% of our top journalists were privately educated – compared to just 7% of the wider population. 30 years (and all that New Labour) later, the figure is 54%. It's not just a bad thing that's improving. It's a bad thing that's getting worse. Ethnic minority, disabled and women journalists are also seriously under-represented. This isn't news. Everyone knows it. And mainstream media types bemoan the status quo while taking zero action to effect change.
This is why on austerity, foreign policy, Brexit, Corbyn, or economics, it hardly matters whether you pick up the FT or the Guardian. You'll get the same views, with more or less hand-wringing. It's created a herd mentality.
So how did the herd respond when Corbyn announced his plans to democratise the media? They compared it to literal fascism. This from The Times sums up the hysteria of plans to break up the billionaire press baron monopoly:

And of course, the sons and daughters of the media-political class are now falling over each other to deny they had a single advantage.
The attack dog in action
Politicians should be held to account by the media. We serve as a watchdog, the fourth estate. But as a 2016 London School of Economics (LSE) study concluded, when it comes to Corbyn, the establishment media isn't being a watchdog, but an "attack dog".
We might expect this of the odious right-wing tabloid press. But perhaps the most consistent and stinging attacks on Corbyn have come from the BBC and the Guardian. There is an overlapping interest between disgruntled Blairites in the Labour Party, and paternalistic liberals or right-wing hacks in the press. Add to that the forces determined to maintain UK support for the arms industry and Israel and that's an impressive network of enemies. Powerful, connected, and shameless. And to their complete fury, they are somehow losing. Even after a summer of smear unprecedented in UK political history, Labour pushed into a four point lead in a recent Survation poll.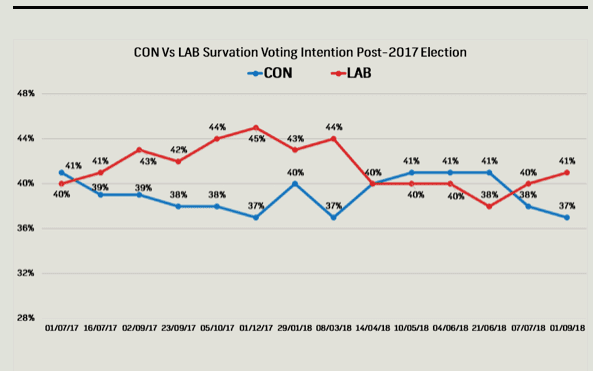 Silencing the echo chamber
Since Corbyn became leader, the establishment media have pilloried the left as an echo chamber. Never mind that Labour is the largest political movement in the country, the largest party in Western Europe, gaining 40% of the vote in the last election and positive polling and policy reception. No one on the Westminster press pack could understand what was happening, so they told us all that it wasn't. They told us we were fantasists and cultists. But the 2017 general election showed us whose version of reality was truest.
In reality, they're the echo chamber. A tiny network of obscenely privileged and powerful media-political types bunkered within 50 square miles of each other, calling the rest of us mad, bad and delusional. Just think about the privilege it takes to hold that view.
For three years, they have amplified the daily smears of Labour splitters to suit their own ends. They were hoping to find the magic 'wedge issue' that would split the membership and topple Corbyn. Europe, Syria, terrorism, none of them worked. For months now, pro-Israel groups have united with Labour centrists to conflate anti-Apartheid views with antisemitism. White, middle class pundits have denounced Jewish Corbyn supporters as "useful Jewish idiots" for voting Labour. Former chief rabbi Jonathan Sacks went so far as to accuse Jeremy Corbyn of being the new Enoch Powell. He seemingly forgot the Battle of Wood Green, where Corbyn joined with Jews and anti-fascists in the street to fight literal Nazis. As countless Jewish activists and academics have stated more eloquently than I ever will, this has done nothing to help fight the scourge of antisemitism. If anything, it's hindered it.
The fight continues
All of this will continue, permanently. Not because of any single issue, but because these privileged and powerful groups do not want a socialist in Downing Street. There is no compromise, no magic bullet, no arrangement of words or deeds that would placate them. Nothing short of capitulation to the neoliberal order will satisfy them. So it's time to stop trying to persuade them, and to stop hoping our good faith in 'liberal' pundits and outlets will be repaid. Everything the left has achieved in the last three years, it has done in spite of these groups. We should continue to build our own platforms, networks and institutions. We can build a better, fairer, more diverse media and politics. Then simply allow these relics of a sorry past to become obsolete, consigned to the dustbin of history.
Get Involved!
– Check out the work of the Media Reform Coalition
– Support independent media, with your social media shares and your subscription fee if you can afford it.
– Join a political movement that inspires you. Get involved.
Featured image via YouTube screengrab/Wikipedia/YouTube screengrab
We know everyone is suffering under the Tories - but the Canary is a vital weapon in our fight back, and we need your support
The Canary Workers' Co-op knows life is hard. The Tories are waging a class war against us we're all having to fight. But like trade unions and community organising, truly independent working-class media is a vital weapon in our armoury.
The Canary doesn't have the budget of the corporate media. In fact, our income is over 1,000 times less than the Guardian's. What we do have is a radical agenda that disrupts power and amplifies marginalised communities. But we can only do this with our readers' support.
So please, help us continue to spread messages of resistance and hope. Even the smallest donation would mean the world to us.
Support us