The week in satire Vol. #85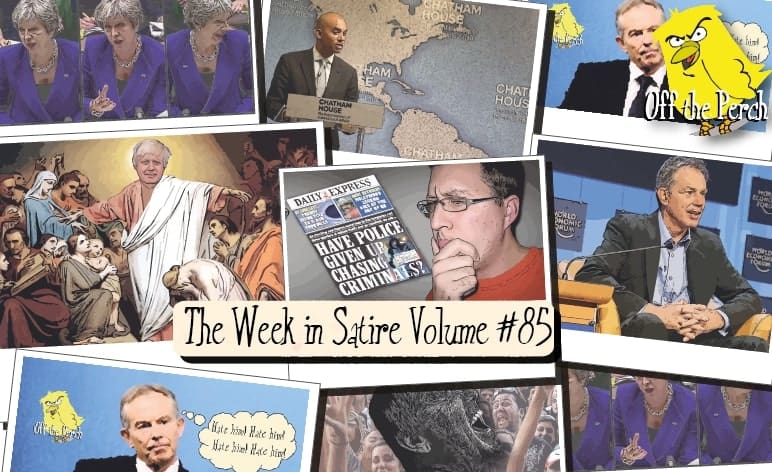 Support us and go ad-free
And what a week it was!
A week in which the government returned from its summer break! A week in which political satirists were glad to have something to satirise again! And a week in which ordinary people despaired that the Tories were back in business!
But what else happened?
Let's look back and see:
The summer holidays are nearly over, and Boris Johnson has resurrected himself. He's no longer just the idiot who landed us in this mess; he's now the messiah who will save us from it.
That's the charitable description of him, anyway. Someone else described him as:
Read on...
Like a dog returning to eat its own vomit.
Challenge
The PM's Chequers plan has been shot down by the EU and everyone else who's read it. This is perfect for Johnson, as it means he doesn't need a counter-plan of his own; he can just point at May's and come out with long-winded gibberish like:
What fearful cobblers has this limpest of PMs lain before us now? Be this Britain's future? When I voted for Brexit, I voted for innovative jams, Punch & Judy puppet shows, and me as prime minister!

The tragedy of Brexit isn't that Theresa May has failed; the tragedy is it took her this long to cock it up badly enough for me to challenge her!
Rapture 
We asked a theologian to explain the similarities and differences between Jesus and Johnson:
The similarity is that both of them relied on magic, and both refused to reveal their plan upfront. Jesus fucked off after executing his plan too, which is probably what Johnson will do after he wrecks the country.

The difference, obviously, is that Jesus wasn't a cunt.
Nine places were up for grabs on Labour's NEC. After a vote from members, nine left-wing candidates were voted in.
This has elicited much complaining from the losers, who point out democracy isn't very fair if you:
Are incredibly unpopular.
Don't have any ideas.
Routinely refer to the people voting for you as 'cultists' and 'twats'.
Cry me a river
One of the losers had this to say:
The left-wing candidates may have beaten me in this election, but they'll never win in an election. Voters don't want left-wing politics – they want whatever I vaguely hint at standing for. I'm going to keep seeking election until people realise they want to elect me!
Another said:
This democratisation of the Labour Party is abhorrent. I spent years kissing Tony Blair's arse to get where I am, and now they're saying I have to please voters instead. I'm sorry, but that's simply too many arses to kiss!
When it was explained that voters could be easily pleased with things like policies that appeal to them, they replied:
Can we not just be given a voting handicap so we have a shot at getting in? You claim to want fairness after all. Expecting us to win on merit is prejudice!
For the many
Democratising the Labour Party is the most important thing Corbyn is overseeing. Not because it will keep him in power, but because it will stop future politicians from handshaking their way to the top.
The fact that Britain's most useless politicians are ardently against it is a sure sign that it's needed.
It's easy to grow jaded with a job when you've been doing it for too long. Theresa May had grown jaded with Prime Minister's Questions, but now she's returned with a renewed vigour for treating us all like arseholes.
ANSWER THE FUCKING QUESTION
When May first became PM, she avoided answering questions with vim and delight. Jeremy Corbyn would ask her something, and she'd say:
Let me be clear –
and then proceed to not answer the question. By June this year, she was clearly exhausted. When asked something, she'd say:
Let me be clear –
and then proceed to not answer the question. Which was almost identical to before, but she sounded a bit more tired.
She's back
On Wednesday 5 September, Corbyn asked May a series of questions. The first inquired how many companies had to leave the UK before she got a Brexit plan together, to which May replied:
Sorry, what was that? I couldn't hear the question over the sound of your beard!
He also asked if the NHS would be prepared for no-deal Brexit. May responded:
It's funny you should mention doctors, because I know someone who needs a beard-ectomy!
Corbyn finally asked what was wrong with May that she was like this, at which the PM shouted:
Beard! Beard! He has a beard!
Twenty first century politics
Some commentators felt that May put in a strong performance. These people are paid to think things like that, for some reason.
Welcome back to the new season of British politics.
In future, society will hopefully be a Star Trek style utopia, where the only crime is spandex uniforms. Society right now isn't becoming more even, though; it's becoming less even. As such, crime is rising.
Rather than managing police numbers in line with the crime explosion they've ignited, the Tories have opted to cut police numbers.
And now – somehow – the tabloids who supported this are shocked to discover that CUTTING POLICE FUNDING MEANS CUTTING POLICE POLICING.
Bile 
The Express has previously encouraged police cuts – claiming that the force was squandering their budget on outreach programmes like:
Rainbow flag donkey rides for disabled human traffickers.
Due to this lack of funding – and the increase in poverty-driven felonies – police are less able to combat crime than ever. When this was pointed out to the editor of the Express, he raged:
So they're blackmailing us for handouts like the hard-left, anarcho-pigs they are! Well, I'm afraid we don't give in to terrorists! If anything, we should give them less money!
Monkey see 
As our unpopular government has little option but to do whatever the tabloids say, Theresa May has adopted this position. In fact, she's taken it further. From now on, police officers will be charged to pursue criminals at a rate of £150 per arrest.
As you can imagine, our lazy boys in blue are refusing to cough up. But you know who to blame when crime increases. Whoever the tabloids tell you to.
After a lifetime of diplomacy and respectfully keeping his opinions to himself, Tony Blair has finally spoken his mind. In uncharacteristically colourful terms, he made it crystal clear that he's no fan of current Labour leader Jeremy Corbyn.
Arsehole
"He's a massive arsehole", Blair told Off The Perch, as we scuttled alongside him through the arrivals lounge at Gatwick. "Just look what he's done to the party. It's now full of students and techno DJs. Nurses and binmen are going to constituency meetings and suggesting policy ideas for conference. It's certainly not the party I joined. We were all lawyers."
If that veggie prat has his way, it's going to be really hard for people who invested in PFIs to keep the repayments rolling in. I don't know what's going to happen to some of our great outsourcing companies. And the fucking hippy will probably try to get BAE Systems making windmills instead of Eurofighters.

The only chance we've got to save all that is to get the party back in the hands of people who know what they're doing. Right now it's no place for genuinely popular politicians like Liz Kendall or Wes Streeting. Take John Mann for example – constantly making good, constructive, points but the membership treat him like an idiot. We could drop David Miliband back into a safe seat and the poor guy would probably get deselected by some crowd of Trots led by Owen Jones.

Hate him. I fucking hate him. He's so bastard popular, with his Glastonbury and his Seven Nation fucking Army chant. And I just know he's going to get in and make a bollocks of everything I did. I shitting… I hate… I…
Tired and emotional
At this point, Blair's entourage commandeered a side room and led him in for a lie-down. After the door had closed, a member of the security team told us: "It's distressing, obviously, to see him in this condition. You can put in your piece that he's 'tired and emotional' after a draining trip to Italy. Mr Blair tried to be all chummy and keep up but those far-right boys can really put it away. Might be best if you leave out some of the Corbyn stuff though cos Mr Blair likes to try and look statesmanlike. It's good for business. Yeah, don't print that either."
Oggi al Viminale con l'ex premier britannico Tony Blair per parlare di immigrazione, Brexit e politiche energetiche. Ho proposto una conferenza su sviluppo e investimenti per l'Africa, incontro cordiale e positivo, abbiamo reciprocamente apprezzato l'approccio concreto. pic.twitter.com/dJNvHZvJK2

— Matteo Salvini (@matteosalvinimi) September 4, 2018
Tony Blair is one of the most unpopular people in Britain. A recent study showed he's so repellent that when he stood on the street offering free cooked lobster, 99% of those he approached threw a shoe at him. Despite funding the study himself, Blair has downplayed its findings.
The former PM is putting his unpopularity to good use, at least. Mainly, by encouraging people to stand against socialism – a move which is predictably pushing people towards it.
Old Tony, no danger
In between media appearances, Blair has been going door-to-door – warning people of the dangers of fairness. Off The Perch followed him for the day. He told one person:
These socialists think the NHS shouldn't be privatised at all. That means your dying loved ones won't generate profit for anyone. For anyone!
He told somebody else:
I was criticised for building on Thatcher's policies, but deregulated banking was a massive success. You know – right up until the financial crash, that is.
And another:
These Corbynites say they want kinder politics, but one of them called me Tony 'war anus' Blair on Twitter.
Before finally saying:
It's easy being opposed to things, but it's harder saying what you'd do differently. Well yes, they may have produced a detailed manifesto, but was it costed?

Okay, so it may have been costed, but was it laminated? Well, there we go. My 'Keep Everything the Same' manifesto was laminated, and it also used several expensive fonts.
If the footwear fits
Everyone Blair spoke to threw a shoe at him. So thank you, Tony Blair. Thank you for your continued assistance in pushing Britain towards a socialist government.
After openly declaring war on the membership in 2015, Labour right-wingers are finally raising the white flag. Speaking before a packed audience of five people, Chuka Umunna said:
It's over. There's only so many times you can be told you don't have a solution to the crisis of capitalism before you begin to suspect that just calling people 'trash' isn't cutting it.
Strategy
The dissenters in the Labour Party are very good at 'crybully' tactics. This involves:
Calling ordinary Labour members 'Trots, rabble, dogs', etc.
Pointing out the predictable online response as an example of why Labour members are all scumbags.
Rinse and repeat.
They like to keep politics on this level, because the alternative is to discuss policy ideas, and THEY DON'T HAVE ANY.
Ineffectual
Although the crybully tactics did prevent any focus on their lack of policies, they never actually worked. In fact, one analyst found that every time someone like Chris Leslie referred to an ordinary person as a 'hard-left, Trotskyist infiltrator', thousands of people googled 'communism'. What they found was:
Despite its disastrous application under several dictators, communism will be needed to some degree after automation leads to mass unemployment.
Neither Corbyn nor the majority of members, is proposing communism.
MPs like Chris Leslie are idiots.
Oh dear
The pleading is coming now because the proposed new centrist party looks dead in the water. It's also looking like the deselection of MPs is a real possibility. Politicians shouldn't be worried about deselection, though. Unless they've spent the last few years slandering the ordinary members who'll have the power to deselect them. Those MPs should be very worried indeed.
Get Involved!
– For more satirical news, you can also follow Off The Perch on Facebook and Twitter.
– Join The Canary, so we can keep holding the powerful to account.
Featured image via Waiting for the Word – Flickr / Think London – Wikimedia / Moses – Wikimedia / pixabay / YouTube / Ben W – Flickr / Flickr – Chatham House / World Economic Forum – Wikimedia / Chatham House – Flickr  [IMAGE WAS ALTERED]
We know everyone is suffering under the Tories - but the Canary is a vital weapon in our fight back, and we need your support
The Canary Workers' Co-op knows life is hard. The Tories are waging a class war against us we're all having to fight. But like trade unions and community organising, truly independent working-class media is a vital weapon in our armoury.
The Canary doesn't have the budget of the corporate media. In fact, our income is over 1,000 times less than the Guardian's. What we do have is a radical agenda that disrupts power and amplifies marginalised communities. But we can only do this with our readers' support.
So please, help us continue to spread messages of resistance and hope. Even the smallest donation would mean the world to us.
Support us