The week in satire Vol. #87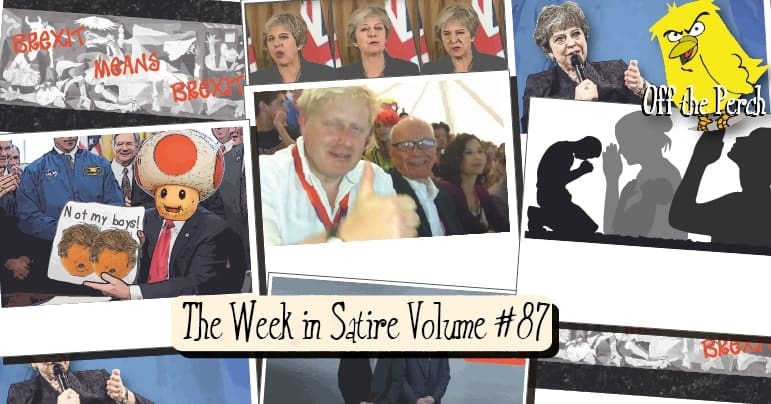 Support us and go ad-free
And what a week it was!
A week in which Theresa May had a car crash in Salzburg! A week in which the tabloids said this car crash was her greatest moment yet! And a week in which more people realised the tabloids' ultimate aim is car crash Britain!
But what else happened?
Let's look back and see:
After two years of dealing with Brexit, Theresa May finally cobbled together a Brexit plan. It may not be good; it may not be deliverable, and it may have divided her party, but it is – in the broadest sense of the word – a 'plan'.
The alternative to the Chequers proposal is a 'no-deal Brexit'. This is like trying to buy some jeans, failing to haggle a good price, and then storming out without the trousers you were wearing when you walked in.
Read on...
Oh – but actually – that isn't the only alternative. The other option is to CALL A GENERAL ELECTION NOW, YOU COWARDS!
Shitting it
There are a few reasons why the Tories don't want to call an election:
They'll lose.
They'll possibly face an investigation into stuff like those 120,000 austerity deaths they perpetrated.
They might even be driven underground to live in the sewers like mutants.
Coincidentally, these are also the reasons why everyone else should want an election.
Tough choice
Of course, it's prudent to ask if Labour will do any better at Brexit. The obvious answer is 'yes' – they couldn't do any worse – because the party's leadership isn't driven by an ideological bloodlust to crush the marginalised.
That isn't to say a Labour Brexit will be good, mind. It isn't even to say it will be acceptable, or not somewhat horrendous.
But, it's like the old saying goes:
Brexit is shite.
Speaking about May's Chequers plan, Boris Johnson has claimed that:
for the first time since 1066, our leaders were deliberately acquiescing in foreign rule.
Overlooking the glaring historical inaccuracies, there's an even bigger problem here. Namely that our leaders – Johnson included – have been acquiescing to Rupert Murdoch for decades.
History bites
Johnson was forgetting the UK has acquiesced to foreign rule by several foreign powers since 1066. These powers have included:
The Ronald McDonalds.
Starbucks.
The British are such good acquiescers that many of us are currently courting Donald Trump for a trade deal – a man who promised to crush anyone with whom he conducts trade.
Bewaredoch
Despite stiff competition from Adam Sandler, the most malign foreign influence on the UK in recent years has been Rupert Murdoch. In the past few decades he's:
Made Tony Blair get a tattoo on his lower back that reads 'Rupy's Boy'.
Threatened to destroy Gordon Brown's career unless he made this face in interviews.
Told David Cameron a vote on EU membership 'couldn't go wrong'.
Let Theresa May just get on with it and carry on humiliating herself on a weekly basis.
As spineless as those leaders were, they look like political giraffes in comparison to the slug that is Boris Johnson. In other words, it's unlikely he'll stand up to Britain's actual threats.
In our reality, President Donald Trump has been accused by the porn actor Stormy Daniels of having:
a dick like the mushroom character in Mario Kart.
Meanwhile, over in Super Mario World, President Toad has faced a similar accusation. Namely that his ballbag looks like a couple of Trumps from the Mario-universe video game Super Collusion Bros.
Egg on his face
President Toad allegedly had an affair with Birdo – the wife of Yoshi:
Toad denied the allegation, but he was also recorded saying:
You ever been with a broad who can regurgitate eggs at will? It's a wild scene, man.
Birdo has since gone on to claim that President Toad's:
ballbag looks like a couple of shrivelled oranges with gelled rat fur glued on them – like that Trump guy from Super Idiot Kart.
Undeserved?
Of course, having a somewhat misshapen penis might be the most human thing about Trump. Ridiculing him may seem deserved as he's a truly atrocious human, but let's not forget who the real victims are in this story: people who play as Toad in Super Mario Kart.
Oh, and everyone who'll perish in the nuclear war Trump starts to deflect attention, obviously.
Dominic 'Raab C Brexit' has sent a letter to Keir Starmer asking to see Labour's Brexit plan:
#Brexit Latest: Dominic Raab writes to shadow Brexit Secretary Keir Starmer seeking to clarify/embarrass Labour over its confusing party position: pic.twitter.com/D9x0pL6Cjt

— Vincent McAviney (@VinnyMcAv) September 19, 2018
As you can imagine, Starmer told Raab to:
Do your own homework, Dominic! I mean it! I'll tell Miss!
Woof woof
Although the Tories definitely did their Brexit assignment, the detailed plan they produced was eaten by the dog. As Theresa May explained to Michel Barnier:
Let me be clear, my cabinet and I stayed up all night hammering out this plan. I don't mean to furrow my own wheat, but the end results were banging. We came up with solutions to problems that no one had even dreamed of. We even worked out a remedy to the Irish border that didn't involve magic.
When asked if she could write these ideas out again, May said:
We just need another decade to put it all together, sir.
The shifty PM then took an illicit bite of the sausage roll she had hidden in her blazer sleeve.
Percentages
It's worth pointing out the preposterousness of the Conservative Party – which is in government – criticising Labour – which isn't in government and doesn't have access to the UK's army of civil servants – for not having a 100% fleshed-out Brexit strategy.
Especially as the Tories' Brexit plan is so poorly fleshed-out it makes Jack Skellington look like Jack Black.
When Theresa May first announced her Chequers plan, the Brexiteers said they hated it. EU ministers said they wouldn't accept it, and her supporters just kind of shrugged and said:
Oh, go on then.
Now, in a surprise no one could see coming, the EU has said it won't accept it. As such, the Chequers plan isn't worth the paper it's written on – a point May tried to counter by finding some more expensive paper.
Predictably, her actions have only served to make a priceless piece of art worthless.
Guernica
Guernica was painted by Pablo Picasso in response to the Nazi bombing of a Basque town in the Spanish Civil War. May heard it was on display in a Salzburg art gallery and saw her chance. One onlooker said:
She just ran up to it with a permanent marker. Security tried to stop her, but she had these weird dance move no one could wrap their head around. I'm not sure if it was agility on her part or embarrassment on the guards', but she sidled past them like a mechanical crab.
When she got to the painting she shouted, 'Call my plan valueless, will you!?' She then wrote the entire Chequers proposal on it.

It read 'BREXIT MEANS BREXIT'.
Spoiled goods
Art historians have said Guernica is now "worthless". Although it would be quite easy to remove the graffiti, one expert said:
Even if it was removed, we'd still know it had been tainted by this dog's dinner of a strategy.
May has described the response as a "negotiating tactic". It's unclear how she knows what a "negotiating tactic" looks like, as she's never used one herself.
After two long years of "Brexit means Brexit", Theresa May has had to present her plan to the EU. As said plan was already known to be unworkable, it was ridiculed. In response, May demanded the EU come up with something better.
Speech in full
There were several highlights to May's speech, including:
We will not accept a hard border in Ireland! We also won't accept losing all the benefits of having no border! You've had two years to invent magic and reconcile these demands; where's my unicorn!?
May also said:
I've worked 48 hours a day on Brexit for two years, and you have the gall to tell me my plan reads like 'the incoherent scribblings of a feverish gibbon'!?
This statement was somewhat undermined by the fact she'd just returned from an eight-week holiday. It was also pointed out that most of the work she's done on Brexit involved sitting beneath her desk and rocking back and forth.
Respect
May also claimed:
No one told me this plan wouldn't work! I mean – people kept saying I was a 'no-nothing clown with an arse-headed strategy' – but people are always saying that! How am I supposed to know when to listen!?
At several points in the speech, May demanded:
You must show me respect! Do you know how much courage it takes to get up every day and systematically humiliate yourself like this!? I'm the most hard-working laughing-stock in the world!
No one could argue with this. Not that she deserved respect, as obviously she doesn't. Just that she's weirdly committed to disgracing herself.
All's well 
The speech ended with May saying:
If you won't accept this plan we've spent two years cobbling together, then you must invest time and resources proposing something better! Something that satisfies all of our conflicting demands! Something that – if anything – gives us a better deal than before!
May then held both fists up and growled:
Or else!
The tabloids, which are run by the most idiotic people in Britain, went wild:
Totally normal, functional print media pic.twitter.com/kFzHrKzcU2

— Abi (@AbiWilks) September 21, 2018
Top Tories preparing for another snap election
Word on the street is the Tories are preparing for another snap election. And how are they preparing, you ask? In the only way that makes sense at this point: by dropping to their knees and praying to God.
Problems
There are several things a political party can do to prepare for an election:
Develop a manifesto with broad appeal that won't drive countless people to an early death.
Point to its previous successes in government – e.g. policies that helped people rather than driving them to an early death.
Coach its would-be PM into appearing human and not like some sort of lizard-robot cyborg.
For obvious reasons, the Tories can't do any of these things. Instead, they'll be:
Coming up with more slogans (e.g. 'Strongerer and Stablerer' or 'Brexit Means I'm Loving It').
Writing a manifesto that doesn't directly state they'll drive countless people to an early death, but certainly leaves that option open for the future.
Trying to think of a Corbyn smear they haven't used yet (e.g. 'Jeremy Corbyn's beard used to be in Al-Qaeda'. Oh no, wait, they've used that).
Forsaken 
Although God doesn't normally reply to people's prayers, he has issued a statement to the Tory Party. It reads:
Dear fuckfaces,

When I said be nice to the poor, I wasn't joking. I also wasn't messing around when I said 'an eye for an eye', so expect some serious comeuppance when you get up here. I'm a complicated guy.

Love, God.
The Tories have since distanced themselves from the almighty. Or distanced themselves further, anyway. They'd already gone into a coalition with Satan some time ago.
Get Involved!
– For more satirical news, you can also follow Off The Perch on Facebook and Twitter.
– Join The Canary, so we can keep holding the powerful to account.
Featured image via Kuhlman/MSC – Wikimedia / Pixnio / screengrab / pxhere / The White House – Wikimedia / JD Hancock – Flickr / DonkeyHotey – flickr / Chris McAndrew – Wikimedia / Chris McAndrew – Wikimedia / Wikimedia / SFTextures – Free Copy / YouTube / YouTube /  [IMAGE WAS ALTERED]
In-story image via Chibi22 – Deviant Art
We know everyone is suffering under the Tories - but the Canary is a vital weapon in our fight back, and we need your support
The Canary Workers' Co-op knows life is hard. The Tories are waging a class war against us we're all having to fight. But like trade unions and community organising, truly independent working-class media is a vital weapon in our armoury.
The Canary doesn't have the budget of the corporate media. In fact, our income is over 1,000 times less than the Guardian's. What we do have is a radical agenda that disrupts power and amplifies marginalised communities. But we can only do this with our readers' support.
So please, help us continue to spread messages of resistance and hope. Even the smallest donation would mean the world to us.
Support us