The week in satire Vol. #90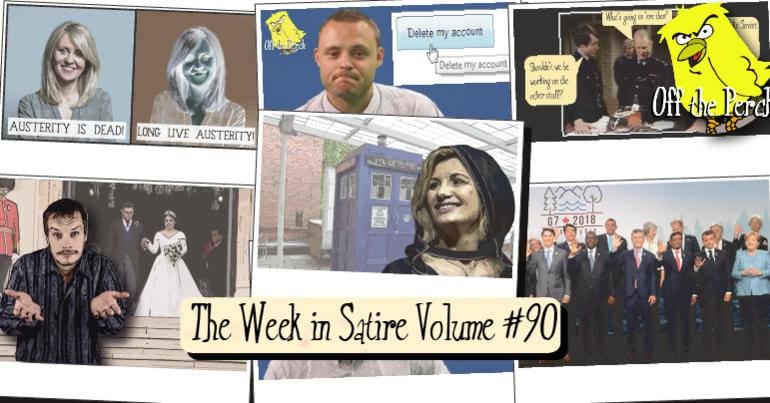 Support us and go ad-free
And what a week it was!
A week in which we were warned the climate is – to put it mildly – fucked! A week in which the government responded by pushing for more fracking! And a week in which the people who opposed fracking remained imprisoned!
But what else happened?
Let's look back and see:
When the Tories announced they were going to end austerity, the media said:
Yeah, wicked!

Read on...

Support us and go ad-free
When they said they were going to end it again (and again), the media said:
Yeah, wicked!
To which the Tories replied:
Seriously? You're still buying this?
Prompting the response:
Yeah, wicked!
As a result, proving that austerity isn't ending has been left to an unlikely hero – the Doctor.
Timey wimey
The Doctor returned from the future with news that the Tories don't end austerity. In fact, they actually end up implementing something called 'super-austerity' and powering the country with human beings on treadmills.
The journalists at the Doctor's press briefing asked questions like:
But what about May and Johnson? Who gets off the best quip at next year's Conference?
And:
These treadmills – do they have soft handgrips for the comfort of those using them?
And:
Super austerity, eh? Sounds pretty super to me – am I right?
The undying Time Lord warned that our mortal journalists were focusing on the trivialities rather than the broader picture. The response was:
DOES MAY DO ANOTHER LITTLE DANCE? OMG I LOVE IT.
Present
The message from the past and present is that the Tories will not end austerity. The media must maintain balance, though. That means giving as much weight to the lying government as to the millions of people who are affected by the lie.
by James Wright
Conservative MP Ben Bradley has become the first politician to undertake the government's new social media strategy, by deleting his Twitter account. And Labour is no doubt taken aback by a Conservative digital manoeuvre that may actually prove effective.
'Things can only get worse'
Tony Blair's campaign song Things can only get better inspired the Conservatives. Their 'things can only get worse' campaign operates under the basic premise that when Conservative representatives post on social media, things just get worse.
Bradley, the first to test the waters, is a case in point. The MP for Mansfield appears to hold the record for the most retweeted post of any Conservative MP. The thing is, it's a tweet apologising to Jeremy Corbyn:
In one fell swoop, Bradley rubbished a right-wing press smear on the Labour leader and upheld his integrity.
Right before Bradley deleted Twitter, he asked people on social media if they could make him a campaign video for free. But again, it didn't go quite the way he wanted:
Ben Bradley MP wanted a 'slick and engaging' promotional film made for him free of charge. So I made one. @TheRedRoar @forexposure_txt @OwenJones84 #SocialistSunday #ToryChaos pic.twitter.com/O1vTK7W8Sz

— Ewan Michael Riley (@ewanmriley) October 7, 2018
Sources say Conservative HQ had the posts in mind when selecting Bradley to begin the new 'things can only get worse' strategy.
Empirical evidence
But the empirical evidence that Conservatives posting stuff is detrimental to their cause spans far:
The Tory conference backdrop is effectively a blue screen… When will they ever learn?

Looking forward to a few days of video making fun… pic.twitter.com/41JK2StPAn

— EL4C (@EL4JC) September 30, 2018
Then there are the Tory politicians who simply expose their own horrendous perspectives. On Facebook, Conservative MP Bob Blackman shared an article claiming raping white girls is part of Muslim culture.
Another comes from a Tory MP with objectively silly hair, Michael Fabricant, who posted an image of a pig mounting Muslim mayor Sadiq Khan:
The now deleted tweet by @mike_fabricant is gratuitously racist and the Tories have to suspend him now pic.twitter.com/pfIfmQqY1o

— Owen Jones? (@OwenJones84) July 12, 2018
It's okay, though, because Fabricant assured everyone his tweet was an "accident". Reminds me of the time I 'mistakenly' tweeted that Fabricant is a raving buffoon unfit for office.
Like Bradley before him, home secretary Sajid Javid has used social media to uphold Corbyn's credentials. That's after Javid posted nonsense suggesting Corbyn promoted holocaust denial.
Corbyn is not a holocaust denier. I am happy to make that clear. My comment referred to @Muhammad_S_85 buying into Corbyn's position on anti-Semitism pic.twitter.com/ROCuCcfmXq

— Sajid Javid (@sajidjavid) July 20, 2018
All this suggests that the new Conservative strategy to simply delete the accounts of serving MPs may prove very effective. Watch out, Labour.
The good news is that austerity is over. The bad news is the DWP is using Universal Credit to make people poorer. That doesn't mean austerity isn't over, though. It just means the Tories are enforcing poverty for fun now.
Downing Street, Oct 8: "…No family receives less money than they do today."

Esther McVey, Oct 11: "Some people will be worse off."https://t.co/gGfjT4AKk3

— Dan Bloom (@danbloom1) October 11, 2018
The truth is over
People are obviously confused about this turn of events. Theresa May reiterated:
The important thing is austerity is over.
People asked how austerity can be 'over' if the government is still going after the most vulnerable:
We're not doing an austerity on these people; we're just systematically making them poorer to create a permanent underclass.
When it was pointed out this sounded a lot like austerity, May screamed:
I AM THE DANCING QUEEN! OFTEN UNTRUE, ONLY SIXTY TWO!
She then danced out of the room to rapturous applause.
It ain't over till it's over
The Tories have a real problem on their hands. On the one hand, they want to say austerity is over. On the other, they have no intention of stopping it because they love making people miserable.
The problem isn't their own squeamishness with untruths though; the issue is people keep noticing the lie.
by John Ranson
Pretty much everyone knows that the 2016 EU referendum was bent as a nine-bob note. But of course, part of living in the home of democracy, justice, cricket etc is a belief in due process. This means that, much as we might like to put Nigel Farage, Arron Banks and their somehow-even-slimier minions in the stocks, we can't do so unless they're found guilty of something. We can't even fling veg at Michael Gove or Boris Johnson, or Gisela Stuart or Kate Hoey. Unbelievably, chaining up David Cameron and George Osborne and then wiping them with ham would also be unlawful, in the absence of a legally watertight ruling that they deliberately bollocksed the country for a dare.
But now, Off The Perch understands there's something of a speed bump on the road towards justice. A 'sleeping policeman', if you will.
The word on the inside
Terry Chestnuts (not his real name) works in the valeting team at the Met's vehicle depot. He told us:
The patrol cars often call in after some drunk's lost his breakfast in the back seat. While I'm hoovering out the footwell, the officers sit in the front shouting about all sorts. Chances are, I've got a better idea of what's going on in the Met than the commissioner has.
Chestnuts explained that London's coppers are all talking about the investigation into Leave.EU and Vote Leave:
So of course this should have been top priority. Get the best brains on it. Fraud squad, that sort of thing. But that lot charge top coin. And with all the cuts, the Met can only afford to use its top people for the most important stuff, like investigating people who investigate the police. So the Leave job has gone down the food chain. It turns out the TV Theft Unit has been sitting on its arse doing nothing for five years. No one nicks tellies anymore cos it's easier to wait for Black Friday and get one for twenty quid. But the unit's a hangover from the days when running down an alley carrying thirty kilos of cathode ray tube was a good way to impress your mates.
Might just work
Ken Chisel from the Institute of Criticism was surprisingly positive about the TV Theft Unit's role in the probe:
Who could be better for the job than a bunch of old Gene Hunt-alikes who are used to dealing with shady back-alley characters who'd happily steal your TV from your back window and then sell it to you at your front door? If anyone's going to get the measure of the Leave mob, it's them. There is, though, a concern that handing the case to such an obsolete and underfunded team could be a way of kicking the thing into the long grass.
On 12 October, princess… err… Whatsername? Got married to… err… Chappy Chapman? Guy Manface? Swain Bloke-Feller?
As a result of this royal wedding, there was a great deal of not-arsedness in the kingdom of Great Britain.
Royal shindig
We spoke to one man in the street who said:
…
He just kind of shrugged and walked off, basically. Another man, however, said this:
Sorry, I'm trying to shrug, but you can't tell because I've just had an operation on my shoulder.
After a lot more shrugging from men and women, we found someone who said:
I saw a bit of the wedding, yeah. It was funny, because pretty much everyone there was on my list of people I'll eat first when society collapses.
Several more people expressed a desire to eat the royals (or the vapid, celebrity sycophants who hang around them). One woman also said this:
With austerity going on and the climate collapsing, I looked at the royal wedding – and how much it must have cost – and I thought to myself: that money would have been better spent launching these twerps into space.
Wishing for princess Thingummy and Manuel Fellowspouse to be deported was a minority view, however. Most people just really, really weren't arsed.
Unseen
Look, no one is saying that forgettable nobodies shouldn't fall in love and get married. We're not even saying their weddings shouldn't cost millions of pounds and feature the most tepid of celebrities. We're just saying fuck off with making us pay for that shit.
Saudi Arabia is accused of murdering a Washington Post journalist (it's also killed a lot of other people in that war it's doing in Yemen). As a result, the West has finally stood up and said:
We vow to carry on selling arms to Saudi (but in a slightly less polite fashion than before).
That'll show 'em.
Hospitality
The countries who sell arms to Saudi Arabia laid out how the country will be punished:
When Saudi comes to pick up its weapons, we will no longer roll out the red carpet. The carpet we'll use instead will be a very dark shade of orange. Some people think it's light red, but we've had Dulux confirm otherwise.
Justin Trudeau confirmed that Canada will still be selling arms to Saudi Arabia, but that:
The munitions Canada supplies will be decorated with rainbow flags and messages like 'Womens' Rights are Cool!' That way the marginalised Yemenis murdered with our weapons will know we're on their side.
Theresa May got tough:
Murdering and dismembering journalists goes against Conservative values. Unfortunately, so does turning down money, so we're in a bit of a bind.
And Donald Trump said:
I wasn't blown away by the live-action Aladdin trailer either, but the people of Agrabah need missiles.
Unity
It's very important that Western leaders send Saudi Arabia a message. Unfortunately, the message they're sending is:
There is no circumstance in which we will stop selling you weapons.
Get Involved!
– For more satirical news, you can also follow Off The Perch on Facebook and Twitter.
– Join The Canary, so we can keep holding the powerful to account.
Featured image via Babbel1996 – Wikimedia / Gage Skidmore – Wikimedia / Core Politics/ YouTube / Chris McAndrew – Wikimedia / YouTube / YouTube / Public Domain Pictures / Casa Rosada – Wikimedia (IMAGES WERE ALTERED)
Support us and go ad-free
We know everyone is suffering under the Tories - but the Canary is a vital weapon in our fight back, and we need your support
The Canary Workers' Co-op knows life is hard. The Tories are waging a class war against us we're all having to fight. But like trade unions and community organising, truly independent working-class media is a vital weapon in our armoury.
The Canary doesn't have the budget of the corporate media. In fact, our income is over 1,000 times less than the Guardian's. What we do have is a radical agenda that disrupts power and amplifies marginalised communities. But we can only do this with our readers' support.
So please, help us continue to spread messages of resistance and hope. Even the smallest donation would mean the world to us.
Support us