Edward Snowden puts in plain terms the terror of what really just happened to Julian Assange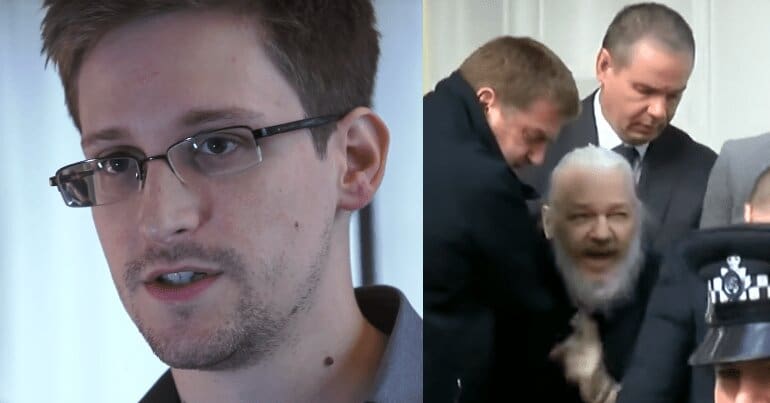 On 11 April, whistleblower Edward Snowden put in plain terms the terror of what Julian Assange's arrest really means. Former CIA employee Snowden rose to international prominence in 2013 after leaking documents showing that US and UK governments were indiscriminately spying on their citizens.
"A dark moment for press freedom"
Snowden wrote:
Images of Ecuador's ambassador inviting the UK's secret police into the embassy to drag a publisher of–like it or not–award-winning journalism out of the building are going to end up in the history books. Assange's critics may cheer, but this is a dark moment for press freedom. https://t.co/ys1AIdh2FP

Continue reading below...

— Edward Snowden (@Snowden) April 11, 2019
Snowden points out that the WikiLeaks team has won many awards for its reporting. These include:
The Economist New Media Award (2008)
The Amnesty New Media Award (2009)
The Sam Adams Award for Integrity (2010)
The National Union of Journalists Journalist of the Year (Hrafnsson) (2011)
The Sydney Peace Foundation Gold Medal (2011)
The Walkley Award for Most Outstanding Contribution to Journalism (2011)
The Voltaire Award for Free Speech (2011)
The International Piero Passetti Journalism Prize of the National Union of Italian Journalists (2011)
The Privacy International Hero of Privacy (2012)
The Global Exchange Human Rights People's Choice Award (2013)
The Brazilian Press Association Human Rights Award (2013)
The Kazakhstan Union of Journalists Top Prize (2014)
The arrest
Aside from a breach of bail (see a timeline of his case here), Assange's arrest concerns an extradition request from the US. The now unsealed indictment alleges that Assange is guilty of 'conspiring to commit computer intrusion'. It claims that Assange helped whistleblower Chelsea Manning crack passwords in order to make it more difficult to identify her as the source of the Iraq and Afghanistan war logs.
The Iraq war logs showed that US and UK officials lied about having no official statistics on deaths. The leaks identified over 66,000 civilian deaths from 2004 to the end of 2009. They also revealed that the US military indiscriminately gunned down over a dozen people in Baghdad, including two Reuters media staff.
The Afghanistan war documents, meanwhile, showed that the US-led coalition forces killed hundreds of civilians. They then attempted to conceal their conduct. The documents also revealed the US-led coalition's widespread use of death squads and drones to kill suspects without trial.
'Unlawfully detained'
In response to Assange's situation, the former WikiLeaks editor has many international organisations defending his human rights. Recently, the UN's Working Group on Arbitrary Detention reiterated a ruling it made in 2015. It concluded that the UK government was 'arbitrarily detaining' Assange and demanded that the authorities allow him to leave. The Conservative administration tried to appeal the UN ruling but failed, and has since then ignored it.
WikiLeaks is an independent media organisation that specialises in publishing information from whistleblowers that it deems to be in the public interest. The publisher has also released documents on governments across the world, including the US, Iran, Kenya, and China, as well as on the UK far right.
In short, Snowden is spot on that this is fundamentally about press freedom. Washington is trying to crush a dissident journalist for revealing its crimes. This is an attack on the world's right to knowledge; and we must resist it as such.
Featured image via the Guardian/ YouTube and CBS This Morning/ YouTube
Since you're here ...
We know you don't need a lecture. You wouldn't be here if you didn't care.
Now, more than ever, we need your help to challenge the rightwing press and hold power to account. Please help us survive and thrive.
Support