'War on terror' in Yemen has literally quadrupled al-Qaeda terror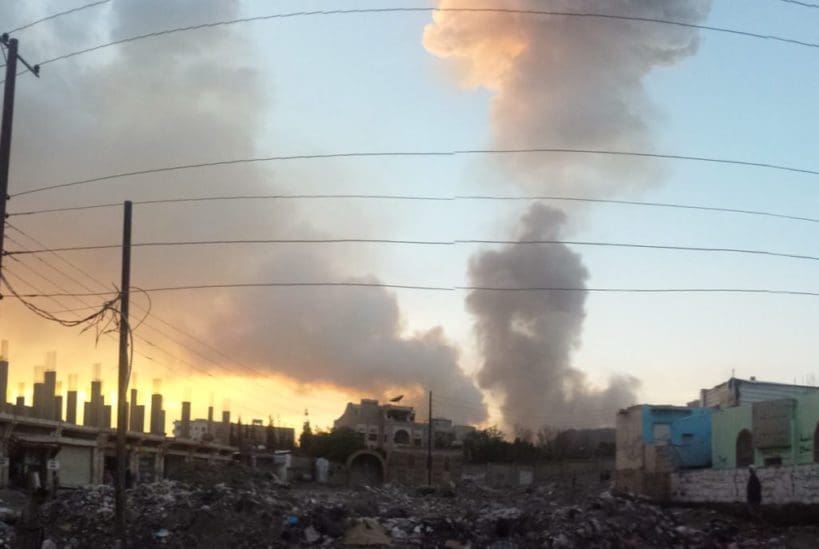 The State Department's new Country Reports on Terrorism 2015 reveals that al-Qaeda has quadrupled its presence in Yemen due to Saudi Arabia's brutal military intervention.
Other sources, including a senior Dutch foreign ministry official, say that al-Qaeda is being directly supported by the Western-backed Saudis.
The latest Country Reports, released on 2nd June, estimates the number of al-Qaeda in the Arabian Peninsula (AQAP) fighters at around 4,000. This is four times the "approximately one thousand" members estimated in 2014.
In 2010, the State Department estimated the size of AQAP to be "several hundred." So al-Qaeda's presence in Yemen has increased exponentially over the last half decade of conflict.
AQAP claimed responsibility for the Charlie Hebdo terrorist attack in Paris in January 2015, where 12 people were massacred.
Growth spurt
The Soufan Group – a private US intelligence firm made-up of former senior officials from the FBI, CIA, UN, MI6, and EU – concludes that this steroid-like growth spurt is a direct result of the Saudi war:
The quadrupling of the estimated size of AQAP is a direct result of the years of political vacuums and military campaigns that have brought ruin to Yemen… The complete collapse of the central government and ongoing military campaigns have resulted in a humanitarian catastrophe in Yemen.
A January study published by West Point Military Academy's Combating Terrorism Centre, found that al-Qaeda has consistently benefited from Saudi airstrikes.
"As Saudi air strikes target Houthi fighters and military units loyal to former President Salih, AQAP can move into the newly cleared territory," wrote study author Gregory Johnsen – a former Yemen conflict assessment official for USAID, now an academic at Princeton University:

Prior to the Saudi-led bombing campaign, AQAP appeared to be in trouble. This is no longer the case. The group is acquiring more territory and, once again, is growing.
Bankrolling Saudi aggression
The US and UK governments have bankrolled Saudi Arabia's war in Yemen with extensive military supplies. This includes cluster munitions dropped on civilian neighbourhoods.
Despite official denials, the role of American and British military advisors in Saudi Arabia's command and control centre illustrates the extent of complicity.
In March, the UN confirmed that some 3,218 Yemeni civilians had been killed, mostly due to the coalition bombing campaign. Over a million civilians have been displaced from their homes, and over half the country is on the brink of famine.
Western ally, Saudi Arabia, is arming al-Qaeda – sources
Although Saudi Arabia and its allies claim AQAP's destruction is a key goal, sources say that the Saudis have selectively sponsored al-Qaeda in Yemen to establish a friendly puppet regime.
Earlier this year, I reported that a senior Western government official had confirmed Saudi Arabia's supply of weapons to al-Qaeda. Joke Buringa, a senior Yemen advisor at the Netherlands Ministry of Foreign Affairs, said:
Saudi Arabia has been delivering arms to al-Qaeda, which is expanding its sphere of influence.
Buringa is the highest ranking Western official to confirm a direct military supply line between the Saudis and al-Qaeda in Yemen.
The relationship is well-described by Pulitizer Prize-winning journalist David Ottaway, formerly of the Washington Post, in a recent briefing for the Wilson Center:
An integral part of the Saudi-devised strategy to roll back the Houthis has been to work with whatever Yemeni tribes or organizations are opposed to the Houthi takeover of the country. Both al-Qaeda and the Muslim Brotherhood fit that bill right now.
Ottaway reported that in 2015, al-Qaeda militants had "fought alongside Saudi-backed tribal militia and even some special forces sent by the United Arab Emirates" against Houthi tribes in Aden.
During the failed June 2015 UN peace talks in Geneva, the Saudi-backed delegation included an al-Qaeda recruiter and financier, Abdel-Wahab Humayqani. The US Treasury Department had branded Humayqani "a Specially Designated Global Terrorist in 2013." The State Department "objected to his presence but did not press the issue."
The Saudi strategy to defeat the Iran-allied Houthis has also relied on "winning the support of the Marib tribes" controlled by Yemen's al-Islah Party. Al-Islah is the political arm of the Muslim Brotherhood in Yemen.
On 29th May, the UAE Arabic-language newspaper Emarat al-Youn reported on al-Qaeda documents captured by Saudi-backed Yemeni forces in Mukalla. The files were acquired after the coalition re-took the city from AQAP. According to Emarat al-Youn, the records revealed that the Saudi-backed Islah party had established ties with both AQAP and the 'Islamic State' (Isis) in Yemen.
By supporting Saudi Arabia's war, the West is aiding and abetting the resurgence of al-Qaeda in Yemen.
Remember that next time al-Qaeda terrorists strike Western homelands.
Featured Image via 'ibrahim Qasim'/'Flickr'
Fund our Investigations Unit
You can help us investigate corruption, expose injustice and uncover the truth.
As one of the only independent investigations units in the country, we work for you – but we need your help to keep going. We need to raise £10,000 to continue our groundbreaking investigations. Can you chip in?
Fund us