US strikes in Syria send a strong message to China. Beijing receives it loud and clear.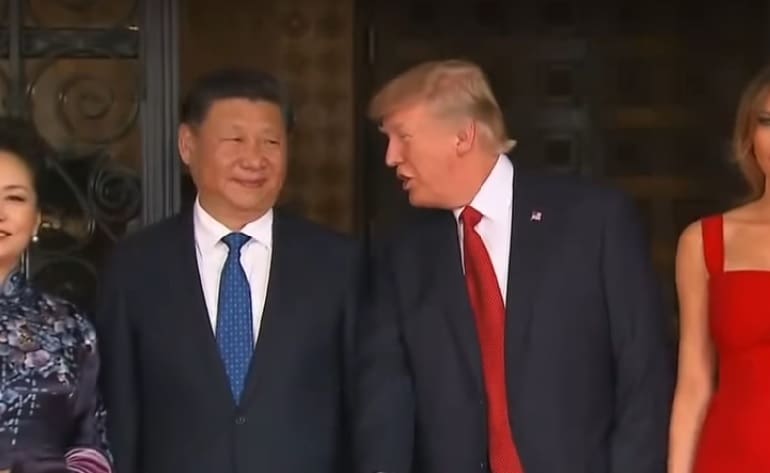 The US attack on the Assad regime in Syria on 6 April sent a strong message to China. And experts say Beijing received it loud and clear.
A state visit overshadowed
Chinese President Xi Jinping was visiting the US when the Trump Administration decided to attack the Syrian government. In fact, Trump and Xi were reportedly having dinner when the missiles were launched.
And according to Bonnie Glaser, an expert in Chinese foreign policy:
The fact that [Trump] did this while Xi Jinping is in Mar-a-Lago is quite telling. None of this is planned, in my view. But I do think it necessarily sends a signal to Xi Jinping that this is a president that means business. That he is not going to sit around and spend an enormous amount of time weighing through things. He is just going act…
This is particularly important considering that, only days before the attack, Trump suggested he was prepared to "solve North Korea" unilaterally; and that he would be happy to bypass North Korea's Chinese allies in the process. An apparent threat of escalation that experts claimed could lead to Korean War levels of violence breaking out in China's backyard.
Political power games
The New York Times reported that:
Beijing has long been fairly confident that the United States would not risk an attack on North Korea, a much more dangerous target than Syria because of its nuclear arsenal and its capacity to hit Japan and South Korea, two American allies, Chinese analysts said.
Australian military analyst Alan Dupont, however, said of Trump's decision to launch an attack on Syria during his meeting with Xi Jinping:
Xi can't fail to be impressed by Trump's resolve… Xi will have to reassess what the Trump presidency means for Chinese interests in East Asia, particularly North Korea and the South China Sea.
And Douglas H. Paal, vice president for studies at the Carnegie Endowment for International Peace, insisted:
I suspect Xi will treat Trump's threat against North Korea as more serious than before this [attack on Syria]
US-Chinese tensions
As The Canary previously reported, the Trump Administration has turned its foreign policy gun towards China, along with countries like Iran and North Korea. There are currently more than 400 US military bases surrounding China. And behind the scenes, there is a battle going on between the US and China for oil, gas, and other raw materials in Africa and the Middle East. Military exercises from the US, Australia and Japan, meanwhile, are largely responsible for China building airstrips on disputed islands in the South China Sea.
And although all of this was already going on before Trump, his administration has been ramping up tensions; being consistently adversarial towards China. His strongman antics, however, might not work on the Chinese government.
The Chinese response
China's Foreign Ministry diplomatically asserted on 7 April that it was "imperative to prevent the further deterioration of the situation" in Syria.
At the same time, some argued that the US attack was unlikely to have a big impact on the Chinese government. Jin Qiangyi, director of the Center for North and South Korea Studies at Yanbian University, said:
The North's nuclear capacity has reached such a level that any unilateral action from the U.S. would be extremely difficult…
Others suggested that the Chinese government could use the US attack on Syria as a propaganda tool against Trump if his administration doesn't treat China with respect. Renmin University professor Shi Yinhong, for example, insisted:
Trump is frustrated with his own critics… This airstrike was a defensive measure to deal with criticism against him. The message from Xi to the Chinese public could be: 'This is Trump, you know he is not so good for China.'
No matter how China responds to the Trump Administration attack on Syria, however, the knee-jerk US reaction was clearly far from the diplomatic tactics we might hope to see from an international superpower. And with souring relations with Russia in the wake of the US attack, it looks increasingly like it was a bad move on a number of fronts.
Get Involved!
– See more Canary articles on North Korea and China.
– Join or support the Stop the War Coalition.
– Show your support for Veterans for Peace, who are fighting for peaceful solutions to the world's problems.
– Support The Canary if you appreciate the work we do.
– For more Global articles, follow us on Facebook and Twitter.
Featured image via ABC News/YouTube
Fund our Investigations Unit
You can help us investigate corruption, expose injustice and uncover the truth.
As one of the only independent investigations units in the country, we work for you – but we need your help to keep going. We need to raise £10,000 to continue our groundbreaking investigations. Can you chip in?
Fund us