Austerity policies set to cause recession and higher unemployment after right-wing shift in Ecuador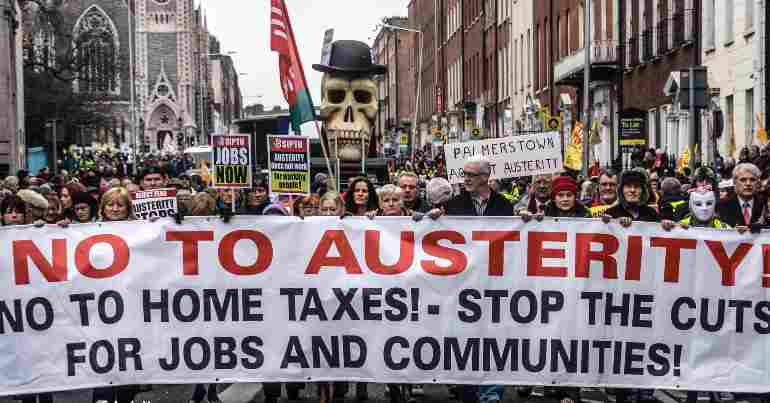 Support us and go ad-free
After defeating a right-wing challenger in 2017 to succeed supposed ally Rafael Correa, Ecuadorian president Lenín Moreno lurched strongly to the right once in office. This year, for example, he has handed Ecuadorian citizen Julian Assange to British authorities and supported Washington's coup attempt in Venezuela.
Domestically, meanwhile, he oversaw a shocking economic reversal in March. Where his predecessor had opposed submission to Washington's neoliberal international institutions, Moreno entered into an agreement with the International Monetary Fund (IMF) – an organization notorious for its coercive imposition of austerity measures in exchange for loans across the globe. Now, a leading research institute in Washington has exposed the likely brutal realities of this deal.
Standard neoliberal dogma
On 15 July, the Center for Economic and Policy Research (CEPR) released a report. This showed findings that the IMF austerity program in Ecuador may well end in economic recession and increased unemployment. The program will try to create a fiscal surplus by slashing wages, laying off around 140,000 public-sector workers, reducing utilities subsidies, raising fees for public services, and implementing changes to the Value Added Tax (VAT) – including upping rates and cutting exemptions.
Other measures include extending workers' probationary periods, reducing severance payments for terminated employees, and promoting a more casualized labor market. And in archetypal neoliberal fashion, the program will privatize "airlines, utilities and other publicly owned enterprises" while offering generous benefits to the financial sector. The latter would include lifting interest rate ceilings, implementing UK-style central bank independence, outlawing the central bank from financing the public sector, and deregulating the country's capital account.
Trampling over Correa's 'citizens' revolution'
One of the report's authors, CEPR co-director Mark Weisbrot, said that the plan will undo many of the social gains of Correa's 'citizens' revolution' that he characterized as a 'second independence movement' to free the country from US imperialism and neoliberal dominance. "The IMF's program for Ecuador calls for undoing a whole range of policies that have been quite successful in recent years in spurring economic growth, lowering unemployment, reducing inequality, and bringing down poverty," Weisbrot said.
Amazingly, even the IMF itself expects the program to lead to recession and unemployment. And unsurprisingly, it also expects "social and political opposition" to the proposals. Civil society groups have already filed lawsuits alleging that the program violates Ecuador's constitution (which was adopted during Correa's presidency following a constituent assembly and is considered one of his great achievements).
Hitting poor people the hardest
Another of the report's authors, Andrés Arauz, said that it will be the least well off people whom the program will affect the most. "Unfortunately, austerity hits hardest on working people and the poor. It is likely to worsen Ecuador's economic downturn and make employment and living standards much more precarious for many Ecuadorians," he said.
Read on...
Support us and go ad-free
This latest report explodes any lingering doubt about Moreno's flagrant betrayal of Correa's legacy.
Featured image via William Murphy/Flickr
Support us and go ad-free
Fund our Investigations Unit
You can help us investigate corruption, expose injustice and uncover the truth.
As one of the only independent investigations units in the country, we work for you – but we need your help to keep going. We need to raise £10,000 to continue our groundbreaking investigations. Can you chip in?
Fund us