The 3 big changes Scottish Labour need to make at #Scotlab15 (Tweets)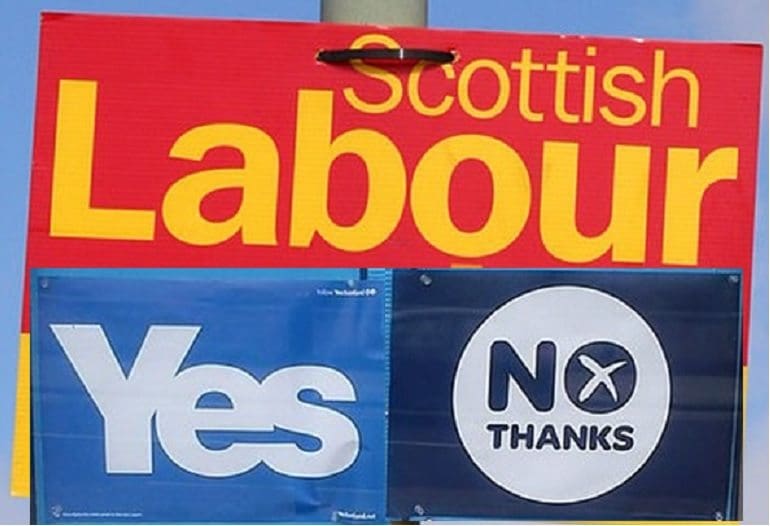 Support us and go ad-free
It could well be make or break time for Scottish Labour. If the party hopes to challenge the triumphant SNP in any serious way, it desperately needs to make a clear break from the past. Therefore, it must show it understands the prevailing political mood at this weekend's conference by presenting a viable progressive alternative. And there are at least three ways for them to do this.
In the context of Conservative austerity measures, Labour needs to recognise that Scots want their progressive voice to be heard – not to be told constantly that they need to compromise. Labour must understand and respond to the hunger for autonomy, the hunger for peace, and the hunger for social justice.
The truth, however, is that Scottish Labour is currently in a very deep hole. And unless it makes significant changes, those who see its legacy as toxic will continue to make the following comments:
Absolute horsemanure from the party that brought you tuition fees in the first place. https://t.co/AuRnwQfKlN

— PoliticsScot (@PoliticsScot) October 29, 2015
Read on...
@scottishlabour lol, you lot of failures never learn do you … but hey, keep digging that hole then start filling it in behind you.

— Acksendar (@Acksendarconnol) October 22, 2015
Scottish Labour's leader Kezia Dugdale is still new, but this weekend's conference has the potential to put her on the map. She could mark a continuation of the old strategy, and scare progressive citizens away from the party once and for all. Or alternatively, she could make bold steps to seize former Labour supporters back from the nationalists.
If Dugdale truly wants to beat the SNP, though, the three stances explained below must be adopted.
1) Standing firmly and fairly on Trident
Labour's new leader in Scotland Kezia Dugdale may have a lot in common with Jeremy Corbyn, but she also backs the renewal of Trident and suggested at the start of August that a Corbyn leadership would leave Labour "carping on the sidelines" for years. Nonetheless, she has opened up the debate on the UK's WMD, insisting that:
Whatever the party votes for… will be the position the Scottish Labour Party takes
And this issue is important, meaning Scottish Labour desperately needs to address the comments of the SNP's Bill Kidd, who has said Labour is:
all over the place on key issues such as Trident
For Kidd, the apparent ambivalence of the Labour party to the spending of £100bn pounds on WMDs during a period of government austerity was simply "ludicrous" – a claim backed up by military officials who claimed:
the money used for Trident would be better spent on maintaining the army and on more conventional technology
The SNP stresses that Labour voted against an anti-trident motion in the Scottish Parliament in August 2014. SNP leader Nicola Sturgeon has insisted that one of Labour's biggest problems was that it had ignored the political mood in Scotland, becoming "arrogant, lazy and complacent". Scottish CND co-ordinator John Ainslie, for instance, has said that opposition to nuclear weapons is "a clear moral issue" which had been backed by many Scots before the Scottish independence referendum and the general election. And according to Sturgeon, Labour's lack of commitment to an anti-nuclear stance under Corbyn has gifted her own party with continuing popularity.
It's not that Corbyn didn't try. He sought a vote on Trident back in September, and met insurmountable opposition from those at the party conference. According to The Morning Star, this was a setback that would be exploited by the SNP.
However, Corbyn had made his own position very clear. And while the elites of Scottish Labour may fear a Trident vote could dominate their own conference, the fact is that the issue needs to be tackled as a response to the nationalists and as a break from the interventionist Blairite era.
For Corbyn's former campaign manager in Scotland, Neil Findlay, the scrapping of Trident is something that Scottish Labour can and should support. But the party must assure replacement jobs for the 4,000 civilian workers at the Faslane submarine base on the River Clyde, as GMB Scotland has warned that, if the WMD were not renewed, these employees could:
either become unemployed or… have to settle for low-paid jobs and zero-hours contracts
Fortunately for Scottish Labour, Neil Findlay and other anti-Trident members have emphasised the need to provide an alternative source of employment. The SNP's argument of it being morally right to scrap Trident, Findlay asserts, was doing nothing to comfort the workers who would lose out as a result. To attract the support of Unite and other unions, then, campaigners in Scottish Labour sought to insert a clause in the anti-Trident motion to address concerns about job losses by arguing for the establishment of "Defence Diversification Agencies".
If Scottish Labour voted to scrap Trident, Scottish Left Review co-editor Bob Thomson thinks it could boost Corbyn's leadership in Westminster and see the UK Labour party follow suit. At the very least, it would represent a significant challenge to the SNP's courting of left-wing voters in Scotland.
2) Owning Scottish autonomy
There is no doubt that voters in Scotland want their anti-Tory voice to be heard, and that the SNP have recently told people exactly what they've wanted to hear. Scottish Labour, meanwhile, have not. They've been severely out of touch, and that is why they have just one MP in the House of Commons.
To prove that Labour is going to change in Scotland, Dugdale and Corbyn have signed a statement of intent regarding greater autonomy from the UK party. In turn, this strengthens the former's insistence on the need for Scottish Labour to have "complete control over policymaking, candidate selection and membership". In short, Dugdale has said:
as the country becomes more devolved so too the Labour Party has to change
This assertion gains even more significance when we consider that, under the leadership of Johann Lamont, the Westminster party had sought, without consulting with Lamont, to replace the general secretary of the Scottish party. At the same time, Lamont had wanted to condemn the bedroom tax but had been "prevented from doing so for a year while Ed Miliband decided what to do", according to The Herald. Essentially, the paper asserts, Dugdale has to assert her autonomy from the UK party if she is to stand any chance of building credibility with potential or former Labour voters.
For UK Labour members like MP Stella Creasy, party autonomy is simply a no-brainer:
great to see @kdugdalemsp addressing need to make labour more federal & give Scottish Labour autonomy members want! https://t.co/wQlt8JhLU0

— stellacreasy (@stellacreasy) October 25, 2015
Shetland Labour party secretary Gordon Thomson, however, raises some doubts. Even though "a more robust and credible movement" was necessary in Scotland, he says, there would need to be some sort of unity with the UK party in order to avoid the "political suicide" of holding completely different stances.
Nonetheless, it remains very clear that many former Labour voters in Scotland are simply sick of having to put up with the policies of Labour's largely English elites. Therefore, Dugdale has made an important move. But she needs to stay true to her promise of more community and grassroots-based campaigning if the party is truly going to bounce back from this year's SNP wipe-out.
In other words, Dugdale must now use Scottish Labour's newfound autonomy to her advantage. She must prove that the party will listen to Scots before making policy decisions.
3) Outflanking the SNP from the left
For The Scotsman, the victory of Jeremy Corbyn last month offered "a faint glimmer of hope" for Scottish Labour, as it would make it very difficult for the SNP to attack the party from the left. This, the paper said, would create a big problem for the nationalists.
The fact is that the SNP is a party of the political centre, trying to be all things to all people. Liberal Democrat Willie Rennie, for example, speaks about how Nicola Sturgeon ignored a number of things in her conference speech earlier in the month, such as:
Class sizes up, a crisis in GP numbers, college places slashed, climate change targets missed, 1,000 fewer hospital beds, [and] under-funding in mental healthcare
And the SNP has already had eight years in charge of the Scottish Parliament, so it should find it difficult to blame its failures (like the lack of financial support and the debt burden of university students) on other parties.
However, the policies of the Tory regime in Westminster have provided a perfect scapegoat in the last five years. The spineless Labour opposition, meanwhile, has left many Scots believing that the SNP, with its progressive rhetoric, is the party that best stands up for the interests of Scottish workers.
Without a convincing left-wing voice in Scotland, says author Owen Jones, Scots will run out of patience with Tory rule and opt to leave the United Kingdom. And that, asserts The Sunday Herald's Iain Macwhirter, is why the "radical convictions" of Jeremy Corbyn must be echoed in the Scottish Labour party conference.
The SNP government in Scotland, he stresses, has been "pursued by sleaze headlines" and has had "an indifferent record on key issues like education". And with many yes voters from last year's independence referendum actually being "natural Corbynites" who helped to pack out his public meetings during the leadership campaign, Labour should have been able to expose the nationalists' "skin-deep leftism". But because the Labour party is not yet in line with Corbyn's own convictions, the SNP remains unchallenged.
Labour could easily present a real challenge to nationalist domination in Scotland, says Neil Findlay, but it must first offer "a programme of radical change" which can "outflank the SNP from the left". The ruling party, he insists:
is a nationalist party that is at the same time populist. It seeks links with the trade union movement — but also with big business. Its economic policy documents show it to be essentially neoliberal.
The attempts to attract both right-wing and left-wing voters, however, make the SNP just as vulnerable as New Labour made itself. Therefore, Findlay says, while bureaucratic or organisational changes in Scottish Labour are necessary, "the most pressing response required is a political one". That, he stresses, is why:
anyone who thinks that we can take on the SNP from any other position than firmly to their left needs to re-enter this world from cloud cuckoo land.
And this clear plan to defeat the SNP is why Findlay, whose "democratic socialist credentials" have been praised by Unite on numerous occasions, must be heard within the Scottish Labour party.
Conclusion
In summary, Scottish Labour has a choice to make. It can prove that the victory of Jeremy Corbyn genuinely has brought progressive politics back to the Labour party by becoming a strong left-wing opponent for the SNP. Or it can confine itself to irrelevance and oblivion. By the end of this weekend, the choice Kezia Dugdale and her colleagues have made should be a lot clearer.
Coverage of the Scottish Labour party conference can be seen here
Featured images via Pasicles and Donald Macleod
We know everyone is suffering under the Tories - but the Canary is a vital weapon in our fight back, and we need your support
The Canary Workers' Co-op knows life is hard. The Tories are waging a class war against us we're all having to fight. But like trade unions and community organising, truly independent working-class media is a vital weapon in our armoury.
The Canary doesn't have the budget of the corporate media. In fact, our income is over 1,000 times less than the Guardian's. What we do have is a radical agenda that disrupts power and amplifies marginalised communities. But we can only do this with our readers' support.
So please, help us continue to spread messages of resistance and hope. Even the smallest donation would mean the world to us.
Support us