The Metro has found a way to blame Corbyn for Cameron's war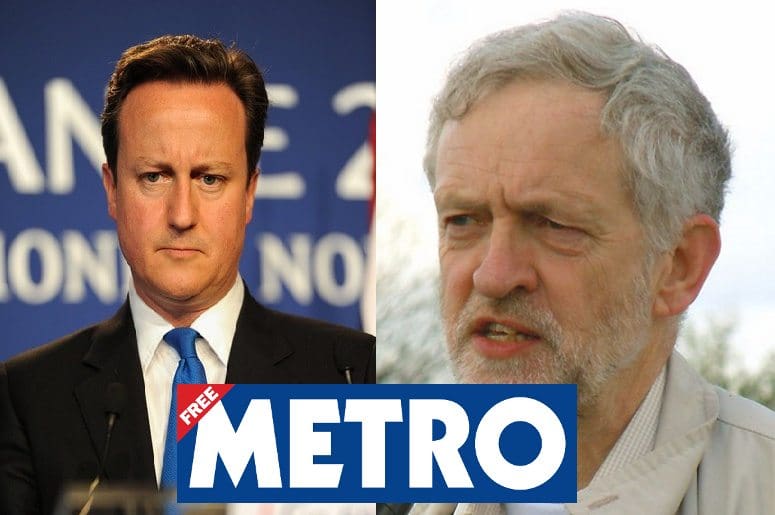 The front page of the Metro has ludicrously blamed Jeremy Corbyn for putting the UK on "the brink of war," even though he is against British intervention and it is David Cameron who wants to see Syria bombed.
The Metro claimed that because Corbyn gave Labour MPs a free vote, he was to blame for Britain being involved in another Middle Eastern conflict. This is despite the fact that he has been an ardent campaigner against military intervention for his entire political career.
It is Cameron who has put the vote before parliament for the UK to bomb Syria. Cameron, not Corbyn, has put the UK on the brink of another war without any coherent plan. And most mainstream media outlets have rallied behind Cameron's lust for war.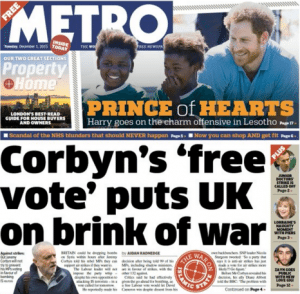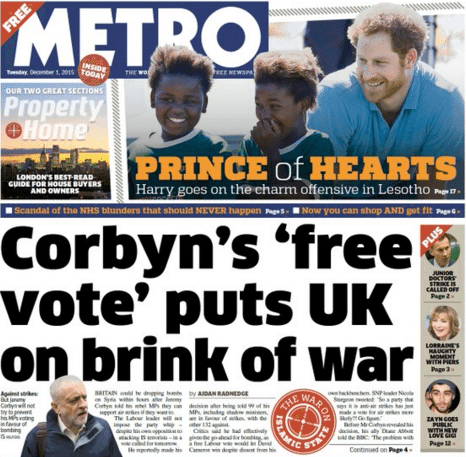 The Times has called for the UK to stamp its authority on Syria in order to avoid being bit-part players. The crux of their argument isn't that we should help Syrians, it is that we should try and gain influence. This is reminiscent of colonial arguments. The Times said:
France and Russia are now leading the world's response in a de facto alliance that ignores recent history and threatens to make bit players of Britain and the United States.

It is not too late for the US and Britain to join France in imposing a western stamp on the Syrian endgame, and it is essential that they do so. But time is running out.
The Daily Telegraph suggested Cameron should ignore MPs and go ahead with intervention without their support. They argued that because Isis (Daesh) had murdered a "British subject", Cameron "should not stay his hand for fear of parliamentary defeat. Instead, he should exercise his clear constitutional right to order action without consulting Parliament."
The Sun argued:
Britain must defend itself. That is what our forces are for. As David Cameron rightly says, we cannot stand by and hope others fix this for us.

The argument for war against IS is clearer than it was for ousting al-Qaeda from Afghanistan in 2001 —and infinitely stronger than the case for invading Iraq, which we now know was false.
The Sun advocated war in Iraq. In fact, the owner of The Sun, Rupert Murdoch, pressured Tony Blair to invade Iraq, according to Blair's spin doctor Alistair Campbell. Murdoch employed 175 editors; all 175 supported the invasion of Iraq.
The Daily Express has argued that it would be "only right" to intervene in Syria.
These papers fail to understand that more Britons will be killed by Daesh if our troops are in direct conflict with Daesh in Syria. And, as Caroline Lucas contended, by being drawn into this conflict we "will feed their narrative." They succeed in recruiting people by claiming that it is Islam vs. Western crusaders – the more innocent lives lost to Western bombs, the more Daesh is able to recruit victims' friends and relatives.
Western intervention in the Middle East in Afghanistan, Iraq and Libya has created chaos – the perfect conditions in which radicals can thrive. Although Daesh did not exist prior to the invasion of Iraq, it now exists in all of those countries.
Mainstream media outlets have bombarded the British public with reasons to support the war and, despite all the failures of the past, lessons have not been learnt. They continue to spread their pro-war message in overly simplistic terms: "we, the good guys, bomb them, the bad guys, and then leave." But as we have seen over the last decade the cycle of violence doesn't end there.
The media must take a large portion of the blame for framing war in such simplistic terms and expecting bombs to solve complex crises. The Metro's front page shows just how desperate and twisted their arguments have become.
Fund our Investigations Unit
You can help us investigate corruption, expose injustice and uncover the truth.
As one of the only independent investigations units in the country, we work for you – but we need your help to keep going. We need to raise £10,000 to continue our groundbreaking investigations. Can you chip in?
Fund us