Osborne under fire after his 'off-the-record' meetings with Rupert Murdoch get exposed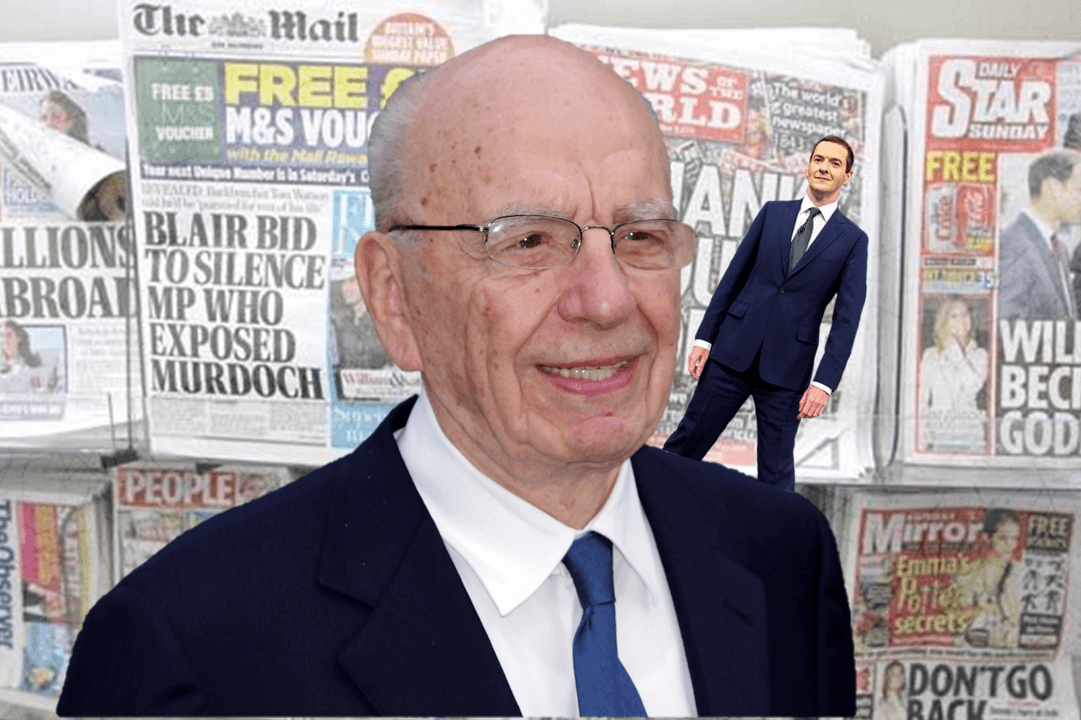 George Osborne is coming under pressure to explain the 'secrecy' surrounding his meetings with media bosses including Rupert Murdoch.
As revealed in a rather quiet news release, slipped out just before Christmas, Chancellor of the Exchequer, George Osborne, has enjoyed extensive contact with the people who control the UK's media. The concentration of meetings around the time that Jeremy Corbyn was becoming leader of the Labour Party, and the proliferation of anti-Corbyn hatchet jobs that have followed, suggests that the subject of Osborne's cosy chats may not have been limited to the ins and outs of financial policy. The Sun, The Telegraph (and again) and the BBC, to mention just three organisations, have laid into Corbyn and Labour with a ferocity only matched by their regularity.
Fortunately, meetings undertaken by government ministers are recorded meticulously, and minutes kept of every little detail, both for reference and for transparency.
Except in this case, when they weren't.
Meetings between Osborne and Rupert Murdoch (billionaire owner of The Sun, The Times and numerous other media entities), Aidan Barclay (who runs The Telegraph on behalf of his father and uncle, the billionaire Barclay brothers) and Evgeny Lebedev (billionaire owner of The Independent and The London Evening Standard) were all held off-the-record. Shadow Culture Secretary, Maria Eagle, has lambasted the Chancellor for failing to ensure that his dealings with media moguls were adequately recorded:
The chancellor must now come clean and explain what he has been keeping from the British public behind closed doors.
Treasury officials insist that none of the meetings in question met the criteria for compulsory note-taking. These would include: anything being discussed that leads to a policy decision, discussions requiring follow-up action, or where any view is expressed that could be in any way useful to someone not present.
It's no great surprise that senior politicians have meetings with senior media figures, and it isn't even that bizarre for them to meet socially. What is vital for the functioning of any kind of democracy, however, is that these relationships do not, as a result of their secrecy, lead to private abuses of power. Although, that horse may have already bolted.
We have to be sure that a social call is a social call, while a meeting to discuss issues that may significantly affect the landscape of public debate is properly documented, and open to scrutiny. When such distinctions become blurred and conversations are held in the shadows, our politicians, and our media, become tainted with suspicion and our democracy is diminished.
Get Involved!
Never Buy The Sun – is a song by Billy Bragg and a maxim by which many people live. Other newspapers are available to boycott.
The Canary is one of a number of grass roots news organisations free from the influence of billionaires and yet to receive a calling card from George Osborne. Please support us.
Encourage your MP to call for greater transparency in ministers' activities.
Featured image via Times of Malta / Wikimedia / Imgur
Fund our Investigations Unit
You can help us investigate corruption, expose injustice and uncover the truth.
As one of the only independent investigations units in the country, we work for you – but we need your help to keep going. We need to raise £10,000 to continue our groundbreaking investigations. Can you chip in?
Fund us