HSBC scammed £1billion from British high-street shoppers, the media blackout continues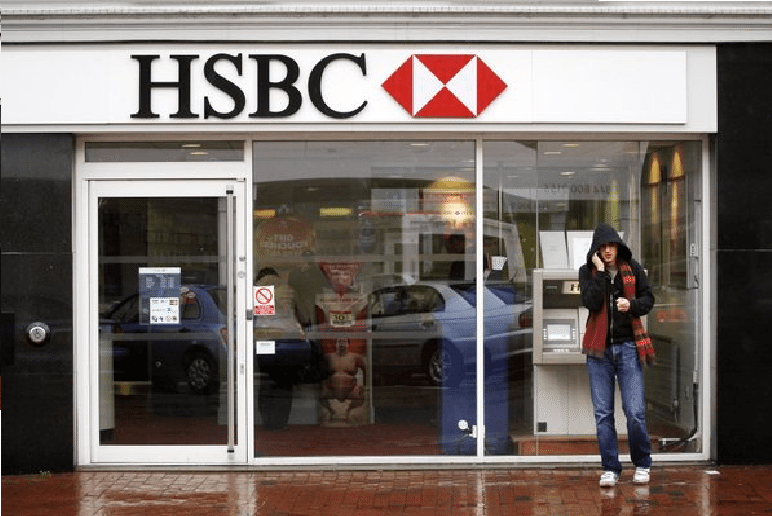 Support us and go ad-free
The deafening media silence on HSBC applying over £1bn of illegal charges to 500-600,000 British shoppers perseveres.
Working as a debt recovery specialist for HSBC, whistle-blower Nicholas Wilson was ordered to illegally overcharge British shoppers in arrears on store cards at the respected high-profile retailer John Lewis, which also owns the supermarket Waitrose.
Wilson refuses to be silenced, and has campaigned relentlessly since he told the bank 12 years ago what they were doing was illegal. His efforts have yielded no mainstream media coverage, and only independent journalists free from HSBC's widespread influence – such as Dr. Nafeez Ahmed and those at Real Media – have reported on the story.
Just how deep does this rabbit hole go?

In 2003, HSBC acquired HFC, a bank rife with corruption.
Notorious for predatory sub-prime lending in America, HFC brought its business to the UK in the 1970s. Here, it engaged in fraudulent schemes to overcharge consumers through the store accounts of household names like Dixons, Currys, PC World, and B&Q.
When HSBC made the acquisition, they took over the store accounts of John Lewis and extended the culture of corruption accordingly, applying the illegal charges to John Lewis customers.
Read on...
Enter Nicholas Wilson.
Wilson was head of debt recovery at Weightmans solicitors and had worked with John Lewis for over 20 years. When HSBC took over, they began adding so-called "collection charges" of 16.4% to the store card debt of British shoppers and sub-prime borrowers, amounting to anywhere between £500-£5,000 each. These charges were illegal, and Wilson loudly condemned them as such. Yet he was routinely ignored by those at his firm.
Fed up with being expected to sit down and stomach the parasitical racketeering, Wilson blew the whistle by reporting the crimes to the Law Society in 2006, which led to his immediate dismissal. The Law Society eventually agreed that the additional charges were illegal but took no action, claiming that "only happened in a small number of cases". Meanwhile, an estimated £44m in illegal charges had been added in only the year of Wilson's complaint.
Wilson then submitted a freedom of information request to the Ministry of Justice (MoJ) to obtain records of the charges, with the intent of compiling as much evidence as possible. But the MoJ invoked a dubious loophole to sidestep giving him the information.
Finally, in 2010, the Office of Fair Trading (OFT) ordered HSBC/HFC to either stop the illegal charges or change the terms and conditions to transparently include them:
HSBC complied, but still nothing has been done since to recover over £1bn which they had already stolen from 500-600,000 British shoppers.
As a result, Wilson complained to the Financial Services Authority in 2012, which did nothing whatsoever. Fast forward to 2014 and the successor body, the Financial Conduct Authority (FCA), responded to a freedom of information request made by Wilson to explain their inaction.
This response has left the whole operation naked.
Financial journalist Ian Fraser exposed that the FCA is colluding with HSBC to cover up the fraud. A campaigner for financial justice, Joel Benjamin, had written to HSBC itself asking why it had not acted on Wilson's allegations. A comparison of the two revealed that the main body of the response Benjamin received was identical to the response Wilson got from the FCA.
This heavily suggests that the FCA simply emailed HSBC asking them how they should respond, and then just copy and pasted HSBC's reply into their own.
The entrenched corruption here howls the following question: how many other fraudulent schemes have big banks undertaken against the public with the aid of the financial authorities supposed to be regulating them?
The media censorship
The systematic media censorship of the outrageous HSBC fraud is perhaps what is most shocking. The list of media outlets that have investigated and then dropped the case includes BBC Newsnight, BBC Panorama, BBC Moneybox, BBC Radio 5 Live, the Guardian, the Sunday Times, and Private Eye.
The Telegraph
Last year, the then chief political commentator of the Telegraph – Peter Oborne – resigned because the outlet was censoring negative stories about HSBC. The advertising power the bank has is very worrying. Oborne said:
The coverage of HSBC in Britain's Telegraph is a fraud on its readers.
The BBC
Many would think our public service broadcaster would be quick to report an issue that is so clearly in the public interest. This may be the case if the head of the BBC Trust – Rona Fairhead – was not placed there to cover it up, alleges Wilson.
Fairhead has sat on the board of HSBC directors for a very long time. She enjoys an annual salary of £500,000 and owns about £436,000 in shares.
As I reported previously, Fairhead has entrenched ties to the Tory government. In fact, she and Osborne are old friends. Fairhead worked for the Conservative government as a cabinet office member, until being appointed by the previous Conservative culture secretary – Sajid Javid – as the new head of the BBC Trust. She is still business ambassador for David Cameron.
Her appointment did not coincide with proper procedure, and many questioned whether she was right for the role. What it did coincide with was a string of interconnected visits from the BBC, HSBC, the Houses of Parliament, and the Financial Conduct Authority (FCA) to Wilson's website where he details the scam and the FCA's involvement in covering it up.
Wilson said:
Since Fairhead's appointment the BBC do not report damaging HSBC stories not already in the public domain and censor any stories they do report.
The function of a public broadcasting service is to circumvent this type of private interest, not sustain it.
The Guardian
It is a widespread misconception that the Guardian has a different funding mechanism from other outlets, which maintains its editorial integrity. Since 2008, the Guardian has been owned by a profit-making company. The outlet in fact receives the most in HSBC advertising revenue, even more than the Telegraph. HSBC revenue played a major role in the recent growth of Guardian US.
Widespread exposure of the HSBC fraud could result in the bank losing its license, and the Guardian losing an integral part of its growth.
In a Canary exclusive, Mr Wilson answered a few of our questions
What part of the investigation are you focusing on currently?
As the FCA has agreed to reopen its investigation my focus is primarily on the corruption of Cameron, the BBC and the unlawful appointment of Fairhead. Although I don't hold out much hope of the FCA investigation now as they have just appointed a John Lewis director to their own board of directors! So it is important to keep the matter in the public arena to shame them if they still do decide to take no action.
What would it take for the mainstream media to report the story?
I think the story will only come out through the back door, by my constant drawing attention to BBC lack of HSBC reporting and Cameron's persistent attempts to keep it covered up. But it will come out.
What can the readers do to support you, or is there any direct action they can take?
I will shortly have to crowdfund again to keep my home, although I have just applied for a job so am awaiting the outcome of that before I go begging again. If any readers have been affected they can contact me through my website and I will help them get their money back.
How can we free the media?
What a question! I don't think you can so long as HSBC holds them to account with huge advertising revenue and directors in charge of the BBC etc. I think it's the job of the ever more vocal and effective independent media to bring this to the public.
Which ethical bank would you recommend to our readers?
Whenever asked this I always direct people to Move Your Money, they do excellent work in evaluating and comparing banks.
What measures would prevent banks exploiting the public in the future?
This is a big worry because this government seems determined to undermine banking regulation, at the behest of the banks. My own view is that there should be one nationalised, not-for-profit bank that doesn't speculate and is safe for anyone to use and is severely regulated. People who want to risk casino banks can then choose to do so if they like.
Spread the word
Mr Wilson has endured a lot of personal grief over the last 12 years while campaigning for the exposure of this outrageous banking scandal. The media, meanwhile, have systemically failed to do their job in reporting this fraud to the public.
The problem is, banks like HSBC are 'too big to fail'. They are so ingrained in the current global financial system, that the repercussions of their collapse would be felt across the globe. The seeming omnipotence of banks like HSBC is because of the current global financial system. Too much wealth and power is in the hands of a few individuals. If this fraud was exposed then HSBC could lose their banking licence, resulting in worldwide economic destabalisation, so there are institutional reasons for officials to keep us in the dark.
This creates a global landscape where there is one rule for ordinary people and one rule for the banks. For "the largest drug-and-terrorism money-laundering case ever", HSBC was merely fined $1.9bn. This amounts to "about five weeks profit". If you or I were found to be aiding terrorism and drug dealers, we'd be locked up for years, if not decades.
Our unconditional reliance upon banks like HSBC to maintain the global financial markets means they can hold us to ransom. They can carry out fraud on customers with near impunity from governments. It is a striking example of the problem of such concentrated private wealth and influence. There needs to be systemic change so these banks can be held to account.
However, this story will eventually gain widespread public exposure, and authorities will be under immense pressure to serve justice. Customers may well tolerate distant money laundering, but finding out HSBC scammed them out of money on the high street may provoke a resounding animosity that would be difficult for the bank to recover from.
Get involved!
Share this story to help expose HSBC.
You heard Mr Wilson, visit Move Your Money and kick 'em in the fiscals!
Donate to Mr Wilson's crowdfunding page to allow him to continue the investigation.
Featured image via Twitter.
We know everyone is suffering under the Tories - but the Canary is a vital weapon in our fight back, and we need your support
The Canary Workers' Co-op knows life is hard. The Tories are waging a class war against us we're all having to fight. But like trade unions and community organising, truly independent working-class media is a vital weapon in our armoury.
The Canary doesn't have the budget of the corporate media. In fact, our income is over 1,000 times less than the Guardian's. What we do have is a radical agenda that disrupts power and amplifies marginalised communities. But we can only do this with our readers' support.
So please, help us continue to spread messages of resistance and hope. Even the smallest donation would mean the world to us.
Support us