EXCLUSIVE: This is what NATO's second biggest army is doing to its own citizens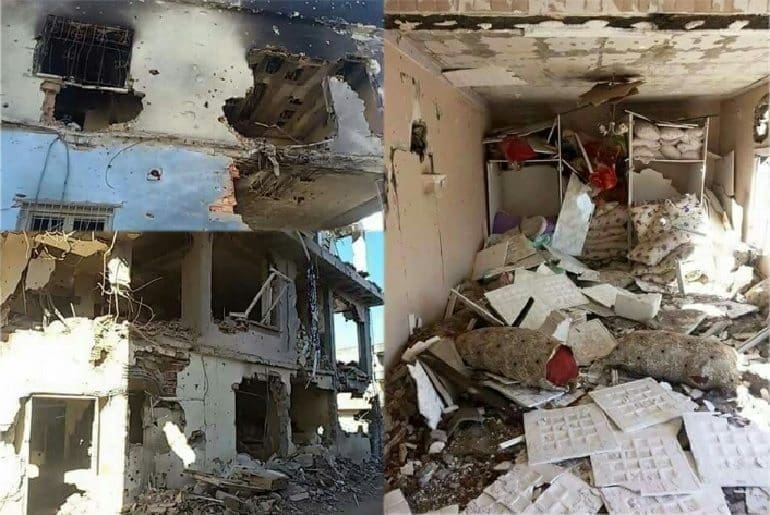 Support us and go ad-free
Imagine calling for democracy and being arrested, tortured or killed as a result. This has been the reality in Turkey for at least seven months. But NATO has not criticised its member's behaviour, and the current Turkish regime has exploited that silence. The Canary spoke to civilians affected by Turkey's escalating civil war, hoping to put a spotlight on this desperate situation. Here is their story.
What is happening?
The south-eastern Turkish town of Cizre has a predominantly Kurdish population. It is one of the many Kurdish communities that has been the focus of a government crackdown on dissidents following the ruling AKP's electoral losses in June 2015. The town's co-mayor, Leyla İmret, was elected by an overwhelming majority in 2014 on a platform of democratic autonomy for Kurdish communities. The regime removed her from her post in September 2015.
Our main contact from Cizre wishes to remain anonymous – as do her family members – because the government has been killing civilians and claiming they were terrorists. She says:
We are under pressure and cannot talk. I am not a terrorist and I do not support any terror, but we are being labelled as supporters of terrorism.
This is a completely legitimate concern, as politicians, academics, peace activists, journalists, human rights lawyers, and even footballers have been either killed, threatened, or arrested on trumped up terrorism charges aimed at suppressing all dissent.
Our contact, who is in her 30s, has escaped the horrors that have hit her town in recent months. But many of her relatives and neighbours have not. Many people in Cizre are poor, she says. And for that reason, they have stayed in the town despite over two months of 24-hour curfews imposed by the Turkish army. She describes how most locals couldn't afford to leave, even if they wanted to, and how her own uncles and cousins were among those who have remained in Cizre.
Read on...
Civil war, arbitrary assassinations and ethnic cleansing in Erdoğan's Turkey
President Erdoğan's fight to increase his own powers has been at the heart of the current conflict and has been responsible for the breakdown of peace negotiations with the left-wing Kurdistan Workers' Party (PKK). After the June 2015 elections, he effectively threw a tantrum because the HDP – a party advocating for a peace deal and Kurdish rights – experienced significant electoral gains. He launched a new war against the PKK and cracked down on all his opponents. The new tactic of warmongering allowed Erdoğan to win votes from Turkish nationalists in the November rerun of the elections, and gave him licence to continue his offensive against Kurdish communities.
Our contact speaks of the desperate situation in Cizre today:
There is a civil war in Cizre and other Kurdish regions in Turkey. During the curfews, everyone living in the region is helpless. People have been forced to leave the region, and most of them had to flee with white flags. Many were killed when they wanted to leave.
According to one UN definition, this situation amounts to ethnic cleansing, as it represents the "the planned deliberate removal from a specific territory [of] persons of a particular ethnic group, by force or intimidation".
Our contact speaks of "more than 250 people" who have been killed by the Turkish army in Cizre. Many civilian deaths have already been extensively documented, with some being trapped in basements where they would later be burned alive. Although the AKP regime refuses to admit to killing civilians, it is difficult to prove how many of the dead were members of the YDG-H – a group which has been resisting Erdoğan's crackdown and is considered to be the youth wing of the PKK.
The reason we don't know exactly who were civilians and who weren't is that Erdoğan's regime has arbitrarily assassinated them all without trial. Defending international legal principles, our contact insists:
if they were a threat to anyone, they could have been arrested… even if they are militants, they deserve a trial.
She speaks about how both university students (who came to Cizre to help its inhabitants) and injured people who have asked for medical help have been killed and declared to have been terrorists. She also speaks of how journalists have been trapped in basements besieged by the Turkish army.
Meanwhile, the psychological effects of the war are increasing every day. She says:
We are all traumatised because of the deaths and tortures. Dead bodies are tortured and their pictures are available on Twitter. Families are tormented with the tortured dead bodies of their sons or daughters.
The silence of western governments amounts to complicity
Our contact says:
The situation in Turkey for Kurds is getting worse every day… But there is no international awareness.
In particular, she mentions German Chancellor Angela Merkel, who visited Turkey just as dozens were being killed in a basement in Cizre but made no comment about the event. She blames this silence on the EU's desperation regarding the flow of refugees into Europe:
Turkey has gained power because of the refugee crisis from Syria. This power makes the EU silent, and it kills our people.
She also speaks of how the European Court of Human Rights has rejected Kurdish appeals for the Turkish state to lift its curfews so that wounded people trapped in basements could be rescued and dead bodies left in the streets for days could be buried.
NATO, meanwhile, has done nothing to push Turkey back into peace talks with the PKK – which has been one of the most effective forces in the fight against Daesh and has consistently sought peace in recent years. In short, the silence of Turkey's international allies suggests that political interests take priority over human rights.
The Erdoğan regime has destroyed hopes of democratic change
Before the June 2015 elections, our contact says she was hopeful about the possibilities of democratic change:
That was the first time a political party defending Kurdish rights [the HDP] had ever been supported by many different kinds of people. That was the first time I felt that Turks understood and supported Kurds. I thought change was possible.
Since the government's violent crackdown, however, she says:
I cannot recover from what I have experienced in the last months. I experienced the state's war on Cizre during the 1990s, when I witnessed the death of a close relative. But this time, videos and pictures are everywhere. In the 1990s, there was no social media and the media was controlled by the government, so we believed Turkish people could not see what we were suffering. Now, they can learn about what is happening but they have preferred to believe the government instead. There are many ways that we can prove what has happened. Psychologically, I do not feel any attachment to Turks anymore.
Regarding a return to peace, she insists:
Kurdish politicians are open to negotiations and want to start peace talks again, but Erdoğan is the only person who decides about any issue in Turkey. And he will not support Kurdish people again because he did not receive the support of Kurdish people in the last elections.
Kurdish independence is not a possibility, she says, but the very least that could happen would be the creation of a reformed constitution, which would protect the rights of ethnic minorities in Turkey:
Regional bodies could be strengthened, and Kurdish autonomy within Turkey could be a solution. I want justice and freedom of expression for Kurds and for all people. If Turkey wants Kurds to stay within the boundaries of Turkey, they should stop all discrimination and human rights violations. If we could live in Turkey as equal citizens, I would not ask for any freedom or autonomy. As a Kurd, I only want a solution. A peaceful solution so that no one else is hurt again.
She also asked her cousins, also from Cizre, for their opinions.
'I do not have any hopes' – Cousin One
Cousin One is in his 30s. He has now left Cizre and is not planning to return. His house has been burned and partially destroyed. He does not want his children to experience conflicts again.
He says that he was hopeful after the HDP did so well in the June 2015 elections. But thanks to the ruling AKP's violent response to HDP gains, that hope soon faded away. Now, he asserts:
Everything has changed in a bad way. I do not trust anyone anymore. I do not have any hopes.
In particular, he laments how the world just stood by and watched as over 200 people were killed in Cizre. And the only way he believes the war can end is if Kurdish citizens promise to support Erdoğan's party so he can consolidate and increase his own power.
'Autonomy is a permanent solution' – Cousin Two
In her 20s, Cousin Two has always lived in Cizre. She fled recently to Istanbul.
After the June 2015 elections, she says:
I believed there would be peace… we were sure that everything would be better.
But she soon realised that peace had been conditional on the ruling AKP doing well in the elections:
There was already a peace process, but they stopped it. After the election, we discovered that peace depended on their interests… I do not have hope now, as they are not sincere.
She feels that Erdoğan is prepared to do anything to keep power:
Erdogan is prepared to cause massacres to have more power. There is no government, there is only Erdogan. He is the only person who can decide. But I do not think he wants a peaceful solution for Kurds.
The only path to peace, she suggests, is for the Turkish regime to change tack and give Kurdish communities autonomy:
Autonomy seems to give us the rights we demand. Autonomy is a permanent solution for a long lasting problem in the region. If the government thought about people and not about itself, it would let Kurds have more rights, and the problem would be solved.
There can be no peace while Erdoğan remains in power – Cousin Three
Cousin Three is in his late 20s. He says he was also hopeful about change after the June 2015 elections, even though he knew the process would be difficult.
About hopes for a peace agreement, he says this can only happen through unity between progressive Turks and Kurds:
I do not think there can be peace with Erdoğan, because he is power-hungry and he uses his party like a puppet. They destroyed a big chance of bringing peace to the region. Peace is now only possible if all Turks and Kurds resist the conflict together.
On the question of autonomy for Kurdish communities, he has no doubts:
For Kurds and for all the other people living in the Middle East, autonomy is the best solution.
We must not remain silent
This war is not only killing civilians. It is also killing democracy and hopes for a better future in Kurdish communities. If we feel any solidarity with what people are going through at the moment in Turkey, we must speak out. And we must join the demonstration planned for 6 March.
In the meantime, we are likely to see many more images like these, showing what NATO weapons are doing to towns like Cizre: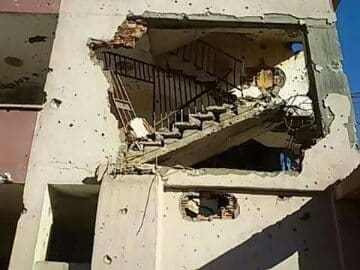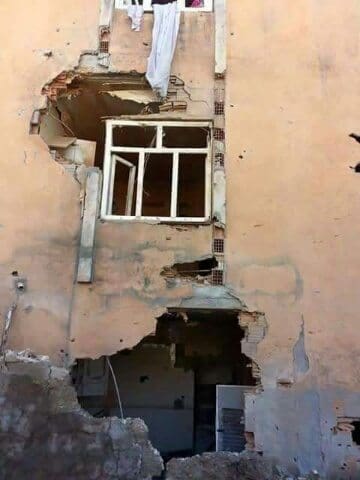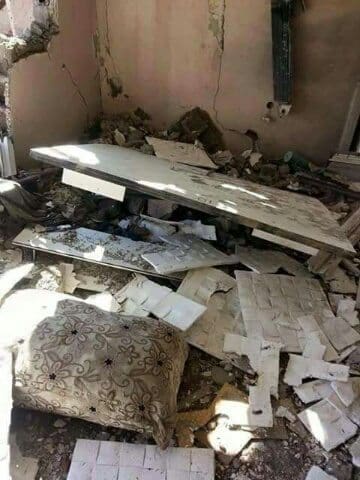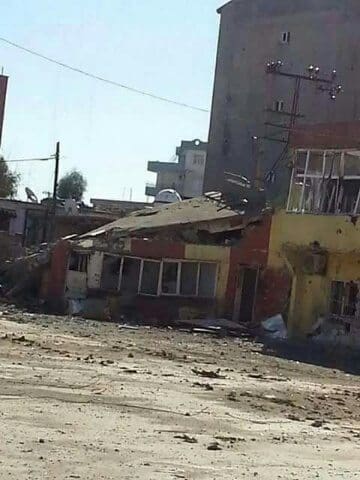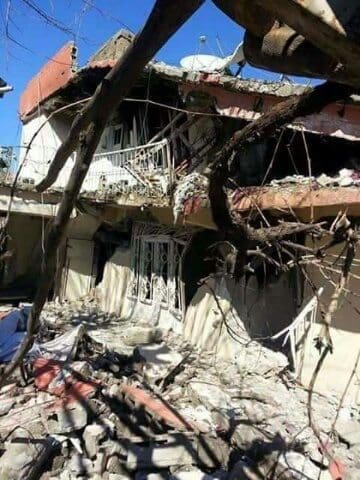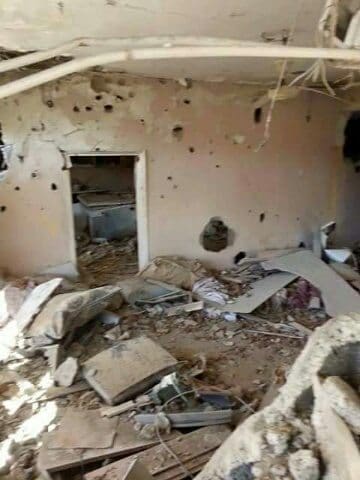 Get involved!
Featured images via İhsan Kaçar
We know everyone is suffering under the Tories - but the Canary is a vital weapon in our fight back, and we need your support
The Canary Workers' Co-op knows life is hard. The Tories are waging a class war against us we're all having to fight. But like trade unions and community organising, truly independent working-class media is a vital weapon in our armoury.
The Canary doesn't have the budget of the corporate media. In fact, our income is over 1,000 times less than the Guardian's. What we do have is a radical agenda that disrupts power and amplifies marginalised communities. But we can only do this with our readers' support.
So please, help us continue to spread messages of resistance and hope. Even the smallest donation would mean the world to us.
Support us