Osborne is confronted over driving people to suicide, his response is despicable (VIDEO)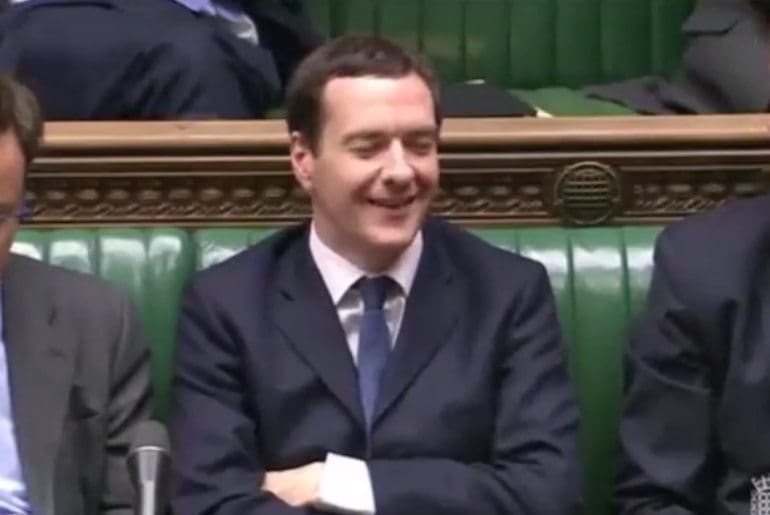 On Tuesday, Angela Eagle MP confronted George Osborne with the truth about his policies. They have driven people to suicide, she said, forced them to go to food banks, and caused homelessness and hate crimes to soar. The Chancellor's reaction? He laughed.
In a blistering attack on George Osborne's economic competence, Shadow Secretary for Business, Innovation and Skills Angela Eagle told the House of Commons that the Chancellor had delivered a "catastrophic" budget that was "an economic failure, a moral failure and a political failure".
She went on to confront him with some home truths about the impacts of his policies on millions of people in Britain since he became Chancellor in 2010:
Over 1 million people have been forced to go to foodbanks. Over 1 milllion benefit claimants have been sanctioned, often for utterly trivial reasons. Dying people have been found fit to work. One woman in a coma was found fit to work. People have committed suicide. Homelessness has soared. The bedroom tax has caused untold misery.

And the Chancellor has talked about workers and shirkers, stigmatising all benefit claimants including those with disabilities. This has led to a discernible increase in hate crimes against them.
Have a look at Osborne's response:
Just a short while after being caught gawping and giggling at his friend's phone when he was asked to apologise to disabled people, he laughs at the plight of people driven to homelessness or suicide through his cuts.
The laugh was probably meant to convey the sense that Angela Eagle's accusations are ridiculous, even though each one is verifiable. But what it actually conveys is the arrogance of an ultra-privileged man who has no regard at all for the people bearing the brunt of his cuts.
This son of a baronet has orchestrated a massive transfer of wealth from the majority to his own class, a tiny super-rich elite. The result, as Angela Eagle highlighted, has been very real suffering for millions of people. George Osborne doesn't care at all. After all, as Iain Duncan Smith has highlighted, the people suffering most probably don't vote Conservative.
Get involved!
– Support Disabled People Against the Cuts, find out about their events and actions or donate and support their work.
– Join the Health, Homes and Jobs march against austerity on 16th April.
– Find a local group and get involved in your area.
Featured image via imajasa claimant/YouTube.
Since you're here ...
We know you don't need a lecture. You wouldn't be here if you didn't care.
Now, more than ever, we need your help to challenge the rightwing press and hold power to account. Please help us survive and thrive.
Support