This company's latest method to stop people from overspending is shocking. Literally.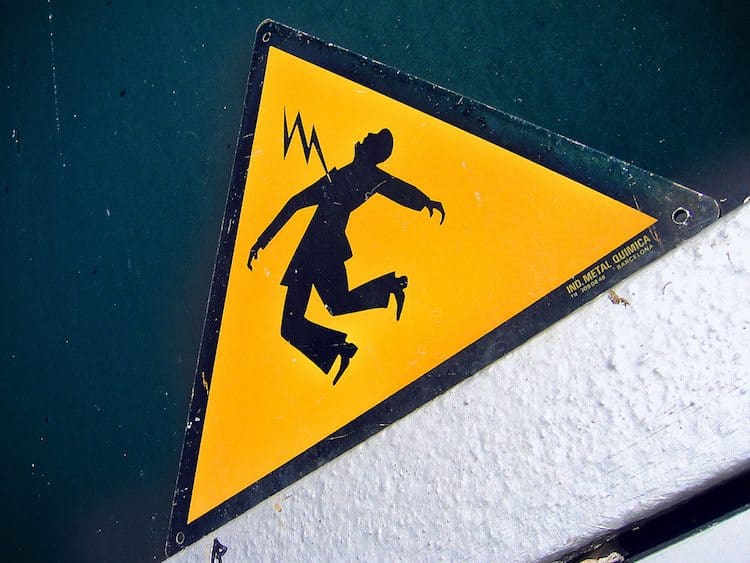 Technology firm Intelligent Environments has added an economic function to the Internet of Things: a wristband that gives an electric shock to consumers when they 'overspend'.
The Internet of Things is a concept by which people can use all manner of devices in conjunction with the internet to fully integrate their lives with technology. The Pavlok wristband was developed over a year ago by Intelligent Environments with the aim of helping people to break bad habits, using a 255-volt shock to produce a Pavlovian response.
Software for the item has now been developed that allows one to set an agreed lower bank account limit which will generate an electric shock when reached. So far, the BBC reports, no banks have signed up to the procedure.
The company reassures customers that the shock is completely safe, however an unpleasant experience and thus fit for purpose.
The company's CEO David Webber has said that the function facilitates 'consumer choice':
Continue reading below...
This is about reacting to changes in your financial well-being. Willpower is great if you've got it – not everybody has.
But the risks aren't simply health ones. Professor Alan Woodward, an expert on cybersecurity at Surrey University, has warned about the weakening of security that comes from arbitrarily linking abstract items. The BBC quotes him as saying:
Having a convoluted interaction between systems is almost inevitably going to lead to unintended security flaws. I know this type of technology is developed with the best of intentions but the road to hell is paved with them. Just because you can connect devices en masse doesn't necessarily mean you should.
Though Webber says they are not designed for control, this doesn't mean they couldn't be developed for such ends. For example, these devices could be added to electronic ankle tags used to monitor criminals serving a sentence in the community. Using GPS, it could shock them if they stepped outside their curfew, and given that private companies have just recently been given far more authority over the prison system, the details of this use would not be up for public debate or scrutiny.
Further, this attitude towards customer responsibility seems a little cruelly paternalistic. The focus on individualism dressed up as 'consumer choice' promotes a culture of punitive measures rather than true responsibility. Rather than making an effort to more widely educate the public on the subject of economics, budgeting and financial responsibility, this idea treats the public as naughty school children who require corporal punishment to learn 'proper' behaviour.
Perhaps the software would be more suited to being a regulatory function for the casino banking industry? It could be developed as an instrument for the public good if connected to risk management, for example. A short sharp shock for investors, traders and fund managers when taking too big a risk with the public's money might prevent any serious volatility of global financial markets. However they would inevitably invent another financial instrument with which to bypass it.
It is the individually visceral and masochistic nature of the Pavlok wristband rather than the novelty of it which makes it noteworthy.
The development is not in itself groundbreaking – the Internet of Things functions similarly with the regulation of the thresholds of one's home thermostat, for example. Similar features are being widely incorporated into consumer technology, and many hail it as an exciting progression in our everyday lives. But the nature of this particular development has a strange Orwellian air to it, and we are foolish is we accept such quick-fix technology as simply and solely 'progressive'.
Get involved!
See a demonstration of the wristband.
Read more about the Internet of Things
Image via Tomás Fano
Since you're here ...
We know you don't need a lecture. You wouldn't be here if you didn't care.
Now, more than ever, we need your help to challenge the rightwing press and hold power to account. Please help us survive and thrive.
Support