Here's what you can do to support Palestinians resisting apartheid, ethnic cleansing and settler-colonialism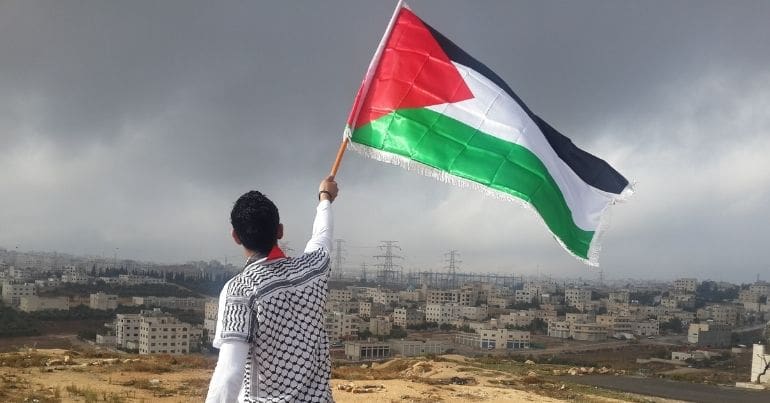 Support us and go ad-free
The Israeli government continues to commit human rights violations and war crimes against Palestinians. Since 10 May, the Israeli army has launched a number of deadly airstrikes on Gaza.
And since then we've seen Israeli military forces brutalising Palestinians protesting ethnic cleansing, and resisting forced expulsion from their homes. We've also seen Israeli police attacking worshippers. And in keeping with the apartheid regime, Israeli officials have refused to vaccinate a majority of Palestinians.
The UK government is supporting these human rights violations through arms sales, and failing to denounce the actions of the Israeli state. So it's time to take action. Here are just some of the ways we can support Palestinians resisting brutality, settler-colonialism and ethnic cleansing at the hands of the Israeli state.
Palestine solidarity protests
The Palestine Solidarity Campaign is leading a national day of action on 15 May. The group has organised solidarity protests to take place in cities across the UK, including London, Manchester, Brighton and Cardiff:
🚨JUST ANNOUNCED🚨

We will be marching to the Israeli Embassy on Saturday 15th May to demand an end to Israel's grave violations of human rights and international law.

Read on...

Support us and go ad-free

None of us are free until all of us are free #FreePalestine 🇵🇸✊

JOIN US: https://t.co/dFoaHdLOkC pic.twitter.com/M5SB8ymZLB

— PSC (@PSCupdates) May 11, 2021
Speech at the huge demonstration in #Manchester in solidarity with protests in #Jerusalem and with the #Palestinian village Sheikh Jarrah.

More protests coming including at Platt Fields Park in Rusholme for Nakba Day Saturday 12pm. In Manchester#SaveSheikhJarrah pic.twitter.com/o8Bp6v55TH

— ManchesterPSC (@ManchesterPSC) May 9, 2021
🔴🔴 Public Callout! 🔴🔴

🇵🇸 We call on you again, to remember the #Nakba, "the catastrophe" that befell Palestinians 73 years ago and which Israel is still inflicting on a daily basis.

🇵🇸 12 noon Saturday 15th May
The Clocktower #Brighton

🇵🇸 #StandForPalestine #Nakba73 pic.twitter.com/MIszXq52bo

— Brighton PSC (@BrightonPSC) May 12, 2021
This Sat 15th May is #NakbaDay 🇵🇸 Come & show your support for #Palestine – rally at 12pm Queen St #Cardiff Cofiwch Balesteina! Rali Sad 15 o Fai 12yp #Caerdydd Dewch yn llu! #SavePalestine #PalestineWillBeFree #Cymru yn cefnogi Palesteina ❤ pic.twitter.com/HgHtREkUOt

— Cardiff PSC (@CardiffPSC) May 12, 2021
Organisations to support and donate to
Islamic Relief is carrying out an urgent appeal to support their work providing medical supplies to those injured in Israeli airstrikes on Gaza:
#PALESTINE is once again facing a dangerous escalation in violence, with hundreds injured in clashes. Israeli airstrikes on #Gaza last night reportedly killed at least 30 people, including nine children.

Help provide urgent medical supplies. Donate Now: https://t.co/7zxn9fQW0W pic.twitter.com/AMuiPxZ5tt

— Islamic Relief UK (@IslamicReliefUK) May 12, 2021
Friends of Al Aqsa is a UK-based campaign group working to defend the human rights of Palestinians:
‼️This was how Gaza had to welcome #Eid yesterday.

83 Palestinian civilians have been reported to be killed in #Gaza, including 17 children , with another 487 injured.

#GazaUnderAttack #IsraeliTerrorism pic.twitter.com/JTnX09gecQ

— Friends of Al Aqsa (@FriendsofAlAqsa) May 13, 2021
The Palestine Children's Relief Fund works to provide humanitarian care for sick and wounded children in the area:
Thank you for supporting our Ramadan campaign to help us provide humanitarian care for sick and wounded children throughout the Middle East.
We wish you and your family a safe and happy Eid holiday.✌️☪️
عيد سعيد، كل عام وأنتم بألف خير#PCRFRamadan pic.twitter.com/jS5NiJ3o5b

— The PCRF (@ThePCRF) May 12, 2021
Al-Haq works to defend Palestinian human rights:
Al-Haq requested the immediate intervention of the UN Special Procedures to protect Palestinians from Israel's ongoing repression and excessive use of force against Palestinians in #Jerusalem and indiscriminate targeting of Palestinians in the #GazaStrip. https://t.co/wjBk7BVHV2

— Al-Haq الحق (@alhaq_org) May 12, 2021
Addameer Prisoner Support and Human Rights Association is calling on the international community to take immediate action in solidarity with oppressed Palestinians:
Words of condemnation aren't enough. By failing to take immediate and direct actions to halt Israel's oppression of Palestinians, not only will the international legal order be assaulted, but Palestinians will continue to face systematic and intensified attacks.#SaveSheikhJarrah pic.twitter.com/N77Jh6dskw

— Addameer –الضمير (@Addameer) May 11, 2021
Medical Aid for Palestinians works to support Palestinians living under Israeli occupation, and those who are living as refugees:
Our teams in #Gaza and the #WestBank are working with partners to ensure that #Palestinians get the medical aid they need during this critical time. Please consider supporting us here: https://t.co/UHZnhQy5x6 pic.twitter.com/nPXLTkRb7Q

— Medical Aid for Palestinians (@MedicalAidPal) May 12, 2021
Boycott, divestment and sanctions
Calling on the international community to boycott companies that are complicit in Israeli settler-colonialism and ethnic cleansing, the Palestinian BDS National Committee said:
Boycott Israeli apartheid. Pass it on.

— BDS movement (@BDSmovement) May 13, 2021
Ayesha Siddiqi added:
if you don't know how to begin supporting Palestinians, i think the Boycott, Divest, Sanctions movement is a good place to start. and since pro Palestine views have long been censored, being vocal and unequivocal about your support is meaningful

— Ayesha A. Siddiqi (@AyeshaASiddiqi) May 10, 2021
Sharjeel Usmani shared:
Here is the list of brands you can boycott to support the Palestinian cause. Most commonly used among them in India are @HP (laptops, computing devices) & @PUMA (clothing & footwear/sports). Please, please follow @BDSmovement for more information. https://t.co/FNmp7vtiye

— Sharjeel Usmani (@SharjeelUsmani) May 11, 2021
Another Twitter user added:
3/
– Ahava cosmetics: Another well-known export from Israel.
– Sabra hummus: They are part of a joint venture between PepsiCo and the Strauss group, an Israeli company which financially supports the IDF.

The BDS movement has called for a consumer boycott of all these companies.

— 𝕹🐉 (@nnnourrrrrr) May 11, 2021
Expanding in the list of companies, another user shared:
Coca Cola, Starbucks, Nestle, Unilever, Ben + Jerry's, McDonald's, Universal Studios, Apple, Amazon the list is NEVER-ENDING but pls just boycott what you can, it's impossible to do all as almost all companies are connected to Israel in one way or another – full list on BDS site https://t.co/9xxUZpFn03

— 💛 aisha 💛 (@_aishasayeed) May 11, 2021
Calling on student campaigners to urge universities to withdraw investments from the Israeli state, NUS UK president Larissa Kennedy shared:
Student movement family,

One of the most crucial ways we can demetaphorise decolonisation is organising to divest‼️

We stand on the shoulders of students who fought to divest from corporations complicit in apartheid in South Africa✊🏾

Check your uni here + organise💪🏾
⬇️⬇️⬇️ https://t.co/QBZDEUk8bp

— Larissa Kennedy #StudentsDeserveBetter ✊🏾 (@Larissa_Ken) May 12, 2021
And MP Bell Ribeiro-Addy called on the UK to impose sanctions on Israel:
Israel's threat to send ground troops to invade Gaza will seriously inflame an already volatile situation.

The UK must do everything in its power to prevent this from happening and secure a ceasefire, including suspending arms exports and imposing sanctions #GazaUnderAttack

— Bell Ribeiro-Addy MP (@BellRibeiroAddy) May 13, 2021
Let's Talk Palestine has developed a number of resources that campaigners can use to pressure governments to stop supporting the maintenance of the Israeli apartheid state.
Amplify Palestinian voices
Palestinians sharing news from Sheikh Jarrah and other occupied areas have said that their social media accounts are being censored. It's vital we amplify the voices of Palestinian activists, journalists and residents on the ground. In the words of Mohammed El-Kurd, a writer based in occupied Jerusalem:
I will say this: we, Palestinians in occupied and colonized Jerusalem living under Zionist rule, are the sole accurate, rational, and trustworthy source to report and analyze what is happening to us on our own land.

— mohammed el-kurd (@m7mdkurd) May 10, 2021
Journalist Aya Isleeme shares regular updates from the ground:
Now bombing next to my house.#Gaza_under_attack pic.twitter.com/GLXFAE4xbR

— Aya Isleem 🇵🇸 #Gaza (@AyaIsleemEn) May 13, 2021
As does writer Mariam Barghouti:
A testimony from a man arrested by Israeli forces:

They treated us with savagery, DIDNT even give us food and told us to ' go break fast in Gaza , u terrorists' everyone I saw was so brutally beaten. Everyone I saw had blood on them" #SaveSheikhJarrah https://t.co/Sdl2Yz5pp3

— مريم البرغوثي (@MariamBarghouti) May 12, 2021
And Palestinian activist Muhammad Smiry tweets about life under Israeli occupation:
Heavy explosions at the moment.

— Muhammad Smiry 🇵🇸 (@MuhammadSmiry) May 13, 2021
Keep up to date
As The Canary's Steve Topple highlighted, the BBC's reports of Israel's bombing of Gaza revealed the UK's mainstream media bias. Accounts posting information and updates on the situation in Palestine include:
Dear @BBCNews @CNN @NBCNews @FoxNews @SkyNews #SaveSheikhJarrah pic.twitter.com/8PopIOe6WW

— KEY48 – مفتاح ٤٨ (@key48return) May 12, 2021
THREAD: 6 Things to Know about Jerusalem violence

Amidst all the headlines and breaking news, it can be confusing to make sense of what's happening in #Palestine/#Israel right now. Here are 6 things you need to know to understand what's going on:

— IMEU (@theIMEU) May 10, 2021
For a full timeline of events and live updates, follow our thread on #SheikhJarrah, #Jerusalem and #Gaza here 👇 https://t.co/hQQvU9bCHP

— Middle East Eye (@MiddleEastEye) May 12, 2021
Does this look like a democracy with equality and dignity for all of its citizens? Or does it look like an apartheid state with a long and ongoing history of racist violence? https://t.co/vByVcUwmh5

— JVP #SaveSheikhJarrah (@jvplive) May 12, 2021
Israeli forces shot and killed Bashar Ahmad Ibrahim Samour, 17, today near the Gaza perimeter fence east of Khan Younis. Israeli forces deployed on the other side of the fence shot and killed Bashar around 10 a.m. He sustained two gunshot wounds to the right side of his chest. pic.twitter.com/8ox9Xm4e58

— Defense for Children (@DCIPalestine) May 12, 2021
The UK is not innocent
At the time of writing, Israeli air strikes on Gaza have left at least 69 Palestinians dead since 10 May. This includes 17 children. Sharing her heart-wrenching experience of loss, one Twitter user said:
Israeli forces just murdered my Aunt and my cousin, Miami and Hadeel.
Miami is my mother's only sister,
And Hadeel was a bride to be.

They were peacefully sitting in their house in Khanyounis city, southern Gaza Strip, when they were bombed.#GazaUnderAttack

— Bayan 𓂆 (@BayanPalestine) May 12, 2021
More than 300 people have been wounded by the violence. Palestinian journalist Aya Isleem lamented:
Palestinian children were supposed today to wear new clothes to celebrate Eid al-Fitr a holiday that marks the end of Ramadan,the Islamic holy month of fasting.They were supposed to send greetings,pray,feast with families.But Israel decided to launch bombing raids on them instead

— Aya Isleem 🇵🇸 #Gaza (@AyaIsleemEn) May 13, 2021
The Canary's Kerry-Anne Mendoza set out:
A ground invasion of Gaza serves no purpose but to terrorise and kill Palestinian civilians.

Gaza is the most densely-populated area on earth. Apartheid Israel built a wall around it. The people have nowhere to go.

Can you understand that? Can you imagine the terror?

— Kerry-Anne Mendoza 🏳️‍🌈 (@TheMendozaWoman) May 13, 2021
And explaining the role of western imperialism in the Israeli state's reign of terror, Kehinde Andrews said:
We are witnessing Israel continue to wield the settler colonial violence that was so central to building the modern racial order #FreePalestine pic.twitter.com/buy4EDUT9T

— Kehinde Andrews (@kehinde_andrews) May 12, 2021
When highlighting the ways in which Britain is complicit in Israeli settler-colonialism and ethnic cleansing, MP Claudia Webbe tweeted:
The slaughter of children is ongoing.

The UK has a responsibility to protect the Palestinians and take action for a situation Parliament caused as the author of the Balfour declaration.

Adding fuel to the fire Britain has licensed £400 million of arms sales to Isreal since 2015

— Claudia Webbe MP (@ClaudiaWebbe) May 13, 2021
Rebutting prime minister Boris Johnson's Eid message, Friends of Al Aqsa chair Ismail Patel said:
We are not in need of your #EidMubarak while you supply bullets grenades and bombs that are used to desecrate the Holy Aqsa Mosque and kill Palestinians
RT if you agree #IsraeliTerrorism #FreePalestine #AqsaUnderAttack https://t.co/xuENTvpZP1

— Ismail Patel (@Ismailadampatel) May 12, 2021
On the need for global solidarity, Khaled Beydoun added:
You don't have to be Palestinian or Muslim to speak up on what's happening in Sheikh Jarrah or Gaza.

Palestine isn't an ethnic or a religious issue – it's one of humanitarian and universal concern

— Khaled Beydoun (@KhaledBeydoun) May 13, 2021
It is up to us to act in solidarity with Palestinians. It's time to build a global movement for justice.
Featured image via Ahmed Abu Hameeda/Unsplash.
Support us and go ad-free
We know everyone is suffering under the Tories - but the Canary is a vital weapon in our fight back, and we need your support
The Canary Workers' Co-op knows life is hard. The Tories are waging a class war against us we're all having to fight. But like trade unions and community organising, truly independent working-class media is a vital weapon in our armoury.
The Canary doesn't have the budget of the corporate media. In fact, our income is over 1,000 times less than the Guardian's. What we do have is a radical agenda that disrupts power and amplifies marginalised communities. But we can only do this with our readers' support.
So please, help us continue to spread messages of resistance and hope. Even the smallest donation would mean the world to us.
Support us