The British man arrested at a Trump rally reveals his plan to assassinate him (VIDEO)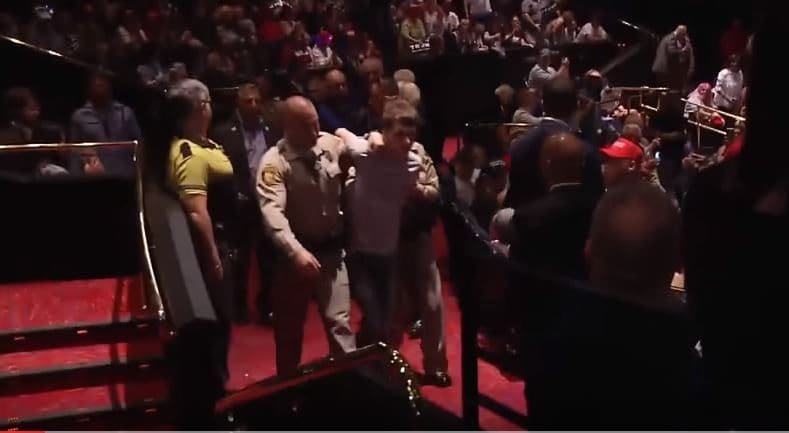 A British man was arrested at one of Donald Trump's rallies in Las Vegas on Saturday. Considering that people being removed from the candidate's rallies for making a scene is fairly regular, it wasn't particularly big news at the time.
But police reported late on Monday 20 June that while in custody, the man has admitted that he's been plotting to kill Trump "for about a year".
https://www.youtube.com/watch?v=xl0DLmzSEzI
He is identified as 20 year old Michael Sandford, reported to be living out of his car in the US, having outstayed a visa.
Sandford had attempted to "grab a gun" from a police officer at the rally, and said that he fully expected to be killed after getting only a couple of shots at the candidate. He had never fired a gun before, and stated to police that grabbing the officer's gun was the easiest way of getting one. He claims to have had a contingency plan in case he decided against the attempt in Las Vegas; his tickets were booked for Trump's rally in Phoenix, also.
Sandford is charged with "an act of violence on restricted grounds" and could face up to a decade in prison. After appearing in court Monday night, entering no plea, he is denied bail and remanded in custody until early July.
The BBC's James Cook has likened the current atmosphere in the US to that of 1968 when Bobby Kennedy was assassinated at the Democratic Party convention, sparking riots. Cook writes that the 2016 campaign has been "fringed" with violence, and that while events "have not descended to those awful depths", still the country appears "edgy" and the Secret Service, which guards candidates as well as presidents, has been on "high alert."
Gregg Donovan, a Trump supporter at the Las Vegas rally, told Associated Press (AP) he was fifth in the queue to get into the event. He reports that he had not been aware that anyone had been charged for an offence, but then recognised Sandford on a news report. AP reports:
the two had stood in line together for nine hours waiting to get into the Trump event. Sanford even held Donovan's spot in line for a bathroom break. "I was No. 5, and he was No. 4," Donovan said.
Sandford's mental state has already come the forefront of the conversation. Though not actually diagnosed with a mental illness, the prosecution claimed he may have "mental health issues", and the public defender representing him reports that he is autistic. Court researchers who obtained information from his mother say that he was treated for anorexia and OCD in England, once escaping from hospital, and that he has previously attempted suicide.
These are the very earliest reports about Sandford. His historical and current mental state may be relevant, but it is again, as in recent weeks, important to stress that the work done socially to combat the stigma of mental illness is not undone by media and public reactions to individual events.
With no criminal history, the defence argued that Sandford should be sent to a halfway house before his hearing. The judge, however, considered him "a potential danger to the community and a flight risk", and has remanded him in detention pending a hearing.
Trump has not publicly acknowledged the incident.
This week, the US Senate once again voted against any further gun control laws after different proposals were put forth by both parties in response to the Orlando shooting.
Image via Youtube screenshot
Since you're here ...
We know you don't need a lecture. You wouldn't be here if you didn't care.
Now, more than ever, we need your help to challenge the rightwing press and hold power to account. Please help us survive and thrive.
Support