The most scandalous moment of PMQs happened before Theresa May even opened her mouth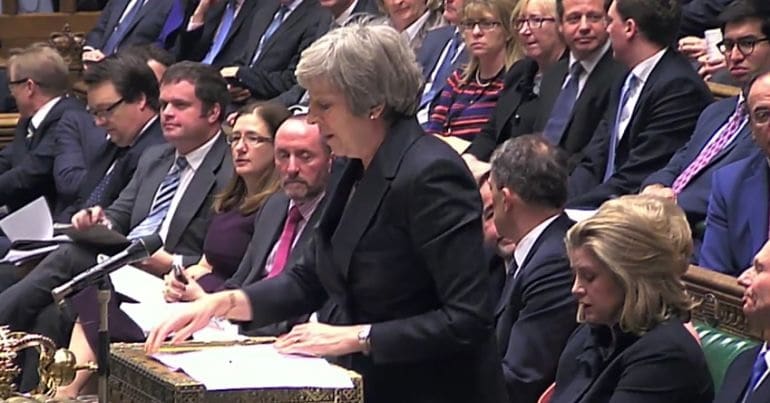 The most scandalous moment of Prime Minister's Questions on 21 November happened before Theresa May even opened her mouth.
Priorities
Minutes before the PM stood up to defend her deeply unpopular Brexit plan in parliament, international development secretary Penny Mordaunt took to the despatch box. She was responding to questions relating to her department, the Department for International Development (DFID). One such question came from the Conservative MP for New Forest West, Desmond Swayne, about two and a half minutes in.
He asked Mordaunt:
Will she take note of World Vision's campaign on behalf of children in conflict, It Takes a World?
World Vision is a global Christian partnership which works "with the poor and oppressed to promote human transformation". It particularly focuses on helping children, launching the five-year-long 'It Takes a World' campaign in 2017 to help end violence against them.
In response to Swayne highlighting the partnership's work, Mordaunt said:
I will certainly do that and I praise them very much for the campaign and all the work that they do. Children in conflict zones are a priority for my department. And I would like to put on record our thanks to the Evening Standard for the War Child fundraising appeal that they have been doing.
She also reaffirmed her dedication to children in war zones in the media outlet she thanked above. In the Evening Standard, now run by Mordaunt's former ministerial colleague George Osborne, she urged people not to let "them become a lost generation". Noting her department's efforts to help children affected by war, Mordaunt wrote:
I want others to follow our lead in helping to rebuild the shattered lives of children and heal the mental scars of war so they can look forward to their tomorrow.
Oh really?
As Mordaunt notes, the DFID is taking action to help young people in these circumstances. For example, it's pledged to match "pound-for-pound" the first £500,000 donated to War Child "for children in the Central African Republic". In 2017, it also promised to send another £50m of aid to Yemen, reportedly making it the third largest supplier of aid to the country.
But here's the rub – and what makes Mordaunt's comments so outrageous. The UK government is partly responsible for the "shattered lives" of children in war-torn countries because of its military, economic and diplomatic decisions. In the case of Yemen, it has supplied £4.7bn in arms to Saudi Arabia since 2015, according to Campaign Against Arms Trade (CAAT). Saudi Arabia began bombing Yemen that same year and continues to this day. The bombing campaign has, in large part, created the devastation in Yemen.
Meanwhile, the UK's not just providing the arms for Saudi Arabia's bloodshed. It's got staff working in Saudi Arabia's headquarters, where its targeting rooms are located. The UK is 'liaising' with the country and providing "information, advice and assistance" due to its 'strong' military and diplomatic relationship.
And the government's contradictory position on 'prioritising' Yemen's children is, of course, just one example. Children in Palestine, Syria, Libya and elsewhere suffer the same British treatment.
Not fit for purpose
In short, some UK governmental departments make decisions that aid in the maiming, killing and tormenting of the world's children. Then other departments, like the DFID, attempt to piece the "shattered lives" of surviving children back together; although to a lesser degree.
This government is truly shambolic. It can't even seem to agree on a common, unifying goal like 'don't kill children'. That's scandalous. Especially for ministers like Mordaunt who, despite now making emotional pleas for children in conflict, appeared perfectly comfortable working for the Ministry of Defence (MoD) just a couple of years ago.
Featured image via RT UK/YouTube
Get involved
Take action with Campaign Against Arms Trade.
Support Doctors Without Borders, provding vital medical assistance in Yemen.
Since you're here ...
We know you don't need a lecture. You wouldn't be here if you didn't care.
Now, more than ever, we need your help to challenge the rightwing press and hold power to account. Please help us survive and thrive.
Support