The spoof site Southend News Network has fooled so many journalists, politicians, and persons of interest that recognising its material should be lesson one of any media training course. And yet, despite there being so many instances, The Sun has just fallen for another. This time relating to a cow-onesie-wearing toddler being barred from a vegan birthday party.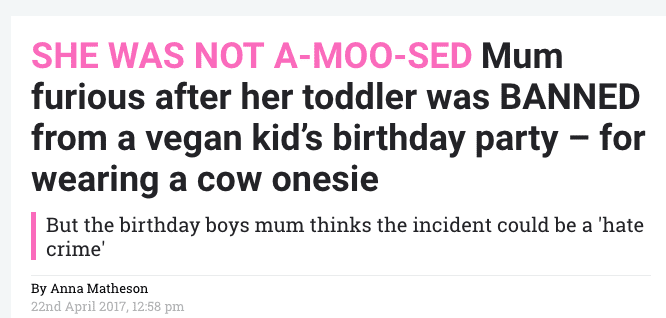 How now, low-brow?
The story in question included quotes like:
There's no way that she could plead ignorance and say that she didn't know that I am a vegan and that I am raising my child to follow these beliefs.

I make it my business to let everyone in my circle of friends know on a regular basis, and my Facebook cover image is a large meme saying 'Hardcore Mega-Vegans Do It All Night Long'.
And:
You wouldn't take your child to a Muslim birthday party dressed as a side of gammon after all.
The Sun quotes this almost word-for-word. Despite Southend News Network being notorious for duping public figures. Despite the piece clearly being preposterous. And despite the sidebar of the page containing links like the following: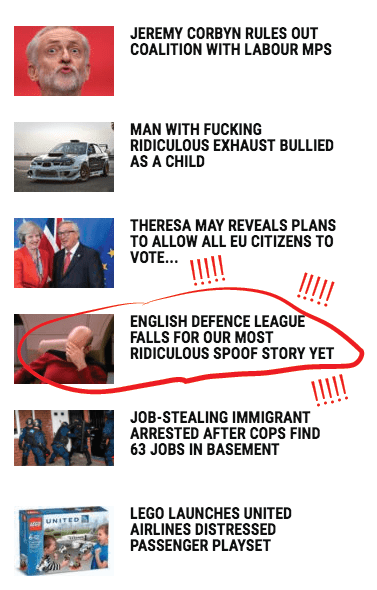 The internet responded accordingly: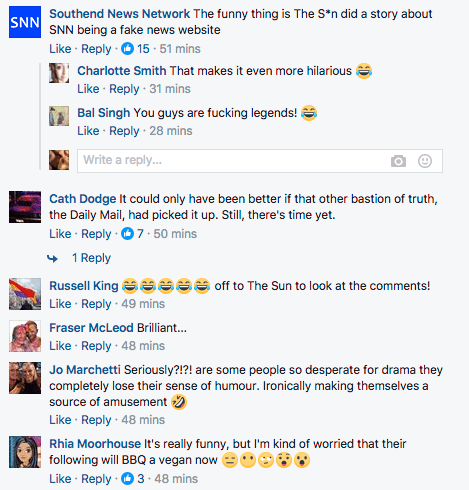 Fake news?
There are fake news stories which exist to trick people into believing them. And then there is satire. Usually involving tales so ridiculous that only a certain sort of mind could take them seriously.
Said minds up until today having included:
These people didn't have editors working behind them though. The Sun does. Or at least it should. Although if it doesn't, that would certainly explain a lot.
UPDATE at 16.55 : The Sun has now removed the story detailed here from its website.
Get Involved!
– For more satirical news, you can also follow Off The Perch on Facebook and Twitter.
– You can also follow Southend News Network here.
Featured image via Wikimedia / Screengrab