Corbyn has shown true leadership on Trump's 'reckless and lawless' actions against Iran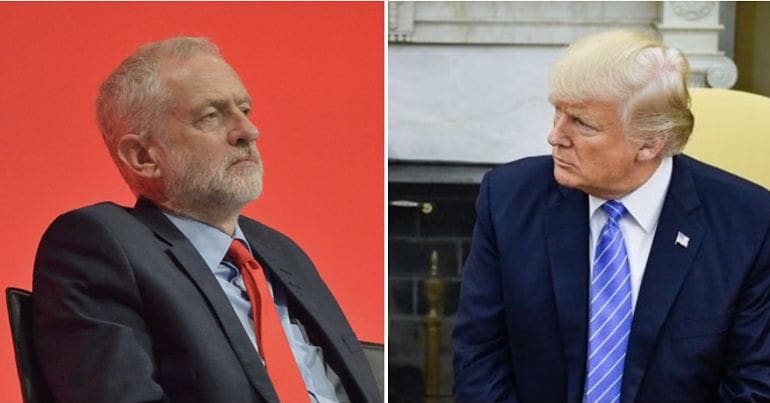 Support us and go ad-free
On 3 January, the US launched targeted drone attacks in Baghdad, killing Iranian general Qasem Soleimani and Iraqi commander Abu Mahdi al-Muhandis. Since coming to power, Donald Trump has escalated tensions between the US and Iran. This assassination took it to new levels, and some called it "an act of war". Iran has since retaliated, launching missiles at Iraqi bases housing US troops. As US justification for the initial attack weakens, meanwhile, the UK government and much of the establishment media has failed to challenge Trump.
Jeremy Corbyn is the only UK leader to respond to the real complexities and implications of this crisis.
Where's Johnson?
Corbyn immediately asked Johnson vital questions about the US assassination. Quite rightly, he also questioned where this left the UK in terms of international relations. But Johnson, as shadow foreign secretary Emily Thornberry noted, remained in Mustique "sunning himself, drinking vodka martinis". So Corbyn asked again on 5 January:
Two days since I asked Boris Johnson these vital questions about the US assassination of Qasem Soleimani and its consequences.

And no answer. https://t.co/2iJc95J2Pd

— Jeremy Corbyn (@jeremycorbyn) January 5, 2020

Read on...
Agnes Callamard, the UN's special rapporteur on extra-judicial executions, also highlighted the severity of this attack:
To be justified under international human rights law, intentionally lethal or potentially lethal force can only be used where strictly necessary to protect against an imminent threat to life. (2)

— Agnes Callamard (@AgnesCallamard) January 3, 2020
"Reckless and lawless"
With Johnson still absent, foreign secretary Dominic Raab told Sky News on 5 January that the UK was "on the same page" as the US. He called Soleimani "a regional menace" and said the UK was "sympathetic" to US actions. But as Corbyn pointed out, Soleimani's assassination was actually "reckless and lawless". He also insisted that Raab's response was "craven and dangerous". Speaking in parliament, Corbyn stated:
It's not in anyone's interests for this to escalate to an all-out war. All sides should exercise maximum restraint and allow for meaningful dialogue led by the UN… To prevent war we need a strong plan for diplomacy…

time and time again… the political and military establishments have made the wrong call on military interventions in the Middle East.
Referring to the invasion of Iraq, the "failed invasion of Afghanistan", and the bombing of Libya in 2011, Corbyn asked, "have we learned nothing from those events?"
The government must rule out plunging our country into yet another devastating war. pic.twitter.com/AuiPSc8vH6

— Jeremy Corbyn (@jeremycorbyn) January 7, 2020
On 8 January, Raab called Iran's retaliation "reckless and dangerous". But that same day, Corbyn also pointed out that Johnson won't "stand up to President Trump because he's hitched his wagon to a trade deal with the United States".
Corbyn's astute analysis shows clear understanding of the complexities of the political situation not only in Iran, but across the Middle East. He's criticised Iran 59 times since 1991, showing it's "possible to oppose Iran" but also avoid war. Equally, he understands the implications of years of US imperialism and interventionism in the region and just how "reckless" Trump's latest actions truly are – not least because UK governments continually back this up. Glaring gaps in much establishment media coverage of the crisis do little to help.
War and peace
The immediate and continued justification for the attacks from Trump and his administration was to insist that Soleimani posed a threat to US citizens. US secretary of state Mike Pompeo claimed Soleimani was killed following an "intelligence-based assessment" that he was "actively planning" to attack US interests in the area. As the Grayzone's Ben Norton commented:
If you listened only to the rhetoric of the United States government, you might think that fighters from the Iranian government and Lebanese armed group Hezbollah are bloodthirsty terrorists hellbent on attacking Americans anywhere, from shopping malls in Minneapolis to airports in New York.
Yet actually, Middle Eastern leaders have "repeatedly called for protecting civilians and retaliating exclusively against military targets". And many mainstream outlets failed to report that Soleimani was actually in Baghdad "not to plan attacks on American targets, but to coordinate de-escalation with Saudi Arabia" and that he was killed "while on an actual peace mission". As the Grayzone's Max Blumenthal also noted:
[Iraqi prime minister] Abdul-Mahdi said that Trump personally thanked him for the [peace] efforts, even as he was planning the hit on Soleimani – thus creating the impression that the Iranian general was safe to travel to Baghdad.
Shia and Sunni
The significance of Soleimani's talks with Saudi Arabia is crucial. Iran and Saudi Arabia are the regional strongholds of two opposing branches of Islam. Iran is predominantly Shia Muslim. Saudi Arabia, meanwhile, is majority Sunni. This simple explanation, however, doesn't take into account that Shia and Sunni minorities live in both countries. Thought to date back to the death of the prophet Mohammed in 632, Shia / Sunni opposition is complex. In simple terms, however, this division is still at the root of brutal wars and ongoing instability in the region.
Of an estimated 1.6 billion Muslims worldwide, 85% are Sunni and 15% Shia. Within this, ultra-conservative factions emerged such as (Sunni) al-Qaeda and Daesh (Isis/Isil), and (Shia) Hezbollah or Asaib Ahl al-Haq. Added to this, since its founding, Saudi Arabia has been grounded in another more extreme form of Islam known as Wahhabism. As The Canary has reported, there's a wealth of compelling evidence to show Saudi Arabian oil wealth and Wahhabi ideology fuelled the growth of al-Qaeda and Daesh. 
"Trump's agenda"
Yet even as Trump threatened to bomb Iranian cultural sites, Hezbollah leader Hassan Nasrallah urged caution, saying: "any harm to US citizens and civilians anywhere will only serve Trump's agenda".
According to Blumenthal, the Israeli state previously asked the US to assassinate Soleimani, but it:
vetoed or rejected those Israeli requests three times because they understood the repercussions would be global – it would be seen as an attack on all Shia people in the region. But this administration is different… [It's] come under heavy influence from the Israel lobby
Other crucial issues in this conflict that many establishment media outlets fail to note are the significance of oil and arms deals. Given that Washington's key allies are Saudi Arabia, Israel, and the UK, these become even more significant.
Oil, arms, and profit
The US is the world's largest oil producer, followed by Saudi Arabia. But although the US is the world's largest overall producer of oil, it's actually behind Iran in terms of exports. On 10 November, reports emerged suggesting Iran had found new oil fields that would increase its reserves by around one third.
According to former White House adviser Michael Hudson, Soleimani's assassination:
was intended to escalate America's presence in Iraq to keep control of the region's oil reserves, and to back Saudi Arabia's Wahhabi troops (Isis, Al Qaeda in Iraq, Al Nusra and other divisions of what are actually America's foreign legion) to support U.S. control of Near Eastern oil as a buttress of the U.S. dollar. That remains the key to understanding this policy, and why it is in the process of escalating, not dying down.
As Hudson also explained, since the 1950s the key US budget deficit comes from foreign military spending. So it juggles a complex system of international IOUs against the value of gold to keep the dollar stable. To ensure international financial leverage, this links to the global value of oil imports/exports. But Saudi Arabia also buys "hundreds of billion[s] of dollars of U.S. arms exports" which:
locks them into dependence on U.S. supply [of] replacement parts and repairs, and enables the United States to turn off Saudi military hardware at any point of time, in the event that the Saudis may try to act independently of U.S. foreign policy.
Following Soleimani's assassination, share prices of "defense giants Lockheed Martin… and United Technologies… exploded to all-time highs". In 2019, US arms deals to the Middle East "more than doubled", totalling $25.5bn. It's also worth noting that, since 2008, the UK's arms deals to Saudi Arabia total £11bn.
Have we learned nothing?
The 2003 invasion of Iraq sparked a conflict that killed hundreds of thousands of people. The Chilcot inquiry concluded it was unnecessary. Both the US and the UK, meanwhile, knew that it could lead to a rise in terrorism – as it did.
Trump's exit from the Iran nuclear deal in 2018 also further heightened tensions with the West. As Corbyn said to parliament, this plan "was working" to sustain peace until Trump 'ripped it up'. Since then, the US has sought to put pressure on Iran via brutal sanctions and military threats. Yet Iran has played an invaluable role in helping to defeat Daesh in recent years. In 2016, major US media outlets "praised" Solemani as "the driving force defeating" Daesh in Iraq. The story now playing out, however, is that he was somehow a major terrorist threat.
In June 2019, journalist Mehdi Hasan asked "Have we learned nothing from the Iraq war?". He also said:
the U.S. media appears to be falling into a familiar pattern, providing a sympathetic platform for the administration without fundamentally questioning its premises.
It's important not to lionise Soleimani. Because some called him "a genocidal man" responsible for killing "thousands of men, women, and children in the conflicts in Syria, Iraq and Yemen". Equally, Iran's human rights record is appalling, particularly for women. And according to Reporters Without Borders, Iran is one of the world's "five biggest prisons" for journalists and internet activists. However, none of this underplays the danger of continued US imperialism and constant intervention in the region.
Our country's imperialism in Iran created the pathway to this regime.

Our imperialism in Iraq is what created the circumstances there.

Our imperialism emboldened the Saudis in Yemen.

Our imperialism destroyed the #Irandeal & led to the brink of war.

ENOUGH. #NoWarWithIran

— Abdul El-Sayed (@AbdulElSayed) January 3, 2020
No matter where this crisis goes next, one thing's clear – Corbyn is the UK's best hope to sustain peace. And the opposition leader has shown more leadership than Johnson ever will.
Featured image via Wikimedia – Rwendland / Wikimedia – President.gov.ua
We know everyone is suffering under the Tories - but the Canary is a vital weapon in our fight back, and we need your support
The Canary Workers' Co-op knows life is hard. The Tories are waging a class war against us we're all having to fight. But like trade unions and community organising, truly independent working-class media is a vital weapon in our armoury.
The Canary doesn't have the budget of the corporate media. In fact, our income is over 1,000 times less than the Guardian's. What we do have is a radical agenda that disrupts power and amplifies marginalised communities. But we can only do this with our readers' support.
So please, help us continue to spread messages of resistance and hope. Even the smallest donation would mean the world to us.
Support us